Victoria's planning minister Richard Wynne has approved a second commercial tower for the proposed Melbourne Quarter development, a 2.5-hectare precinct to be constructed in Melbourne's CBD.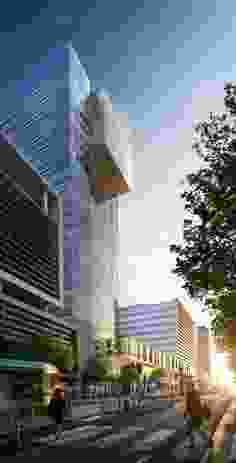 The 28-storey towers, dubbed Melbourne Quarter Tower, is designed by Denton Corker Marshall and will house approximately 55,000 square metres of office space and 2,500 square metres of retail space. It follows a 19-level commercial tower, One Melbourne Quarter, also designed by Denton Corker Marshall that was approved in March 2016 as part of the first stage of the $1.9-billion precinct.
Melbourne Quarter will be located between Flinders and Collins streets, near Southern Cross Station, and part of the development will be built over Wurundjeri Way and Collins Street. The precinct will be divided into two areas: commercial and residential. The commercial area will be located on Collins Street and the residential area will be bound by Flinders Street to the south, Wurundjeri Way to the west and the railway line to the east.
Melbourne Quarter Tower will be one of seven commercial and residential buildings planned for the precinct. In August 2016, the planning minister approved three residential towers designed by Fender Katsalidis Architects.
The precinct will also have a 2,000-square metre elevated park to be built 10 to 12 metres above Collins Street. The park is conceived by Denton Corker Marshall and developed in collaboration with Aspect Oculus. It is part of the stage one approved works.
Developer Lend Lease says more than half of the Melbourne Quarter site will be set aside for publicly accessible open spaces. In addition to the elevated park, the open spaces will also include a 3,700-square-metre public square (Melbourne Square) designed by Aspect Oculus, to be located on Collins Street underneath the elevated park. A 1,500-square-metre neighbourhood park will be located in the residential area.
The Melbourne Quarter precinct will be developed in stages over the next six years and is expected to be completed in mid-2022.
Related topics