The Desert House is nestled protectively into a line of rocky hills near Alice Springs in the Northern Territory. Its aspect opens to the west where it confronts the surreal scale of the West MacDonnell Ranges, which form an insistent burnt orange, quartz horizon.
While a desert setting poses obvious climatic challenges for housing, the sublime experiential quality of this landscape demands an equally important consideration of how domestic life might be framed in a place of such epic intensity.
The clients for the Desert House are an extraordinary professional couple, their eight bicycles and their two dogs. Alice Springs is a place of transience, where many professionals pass through on short-term placements. Its housing betrays a sense of hesitancy – much of it is generic, poorly suited to the climate and not built with longevity in mind. The clients wanted to make not merely a lodging in Alice Springs but a home, a statement of commitment to a town and landscape that had beguiled them. This house had to make a comfortable setting for life and work through the full complexity of the desert's diurnal and seasonal cycles.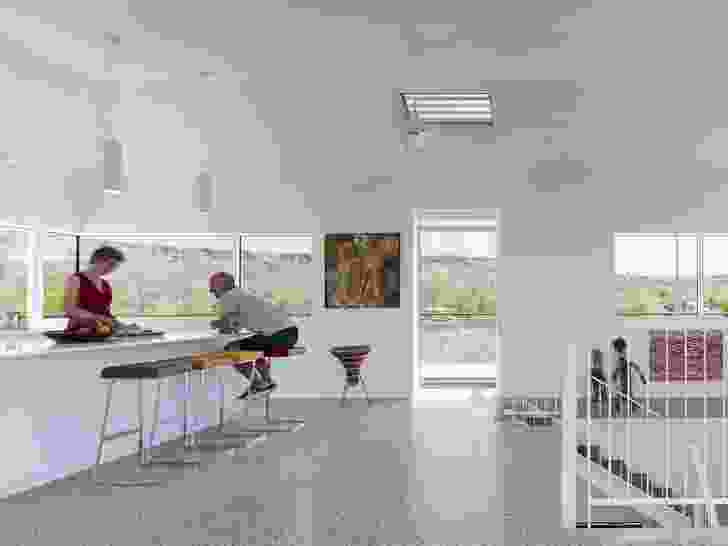 Dunn and Hillam Architects has made an architectural virtue of climatic constraint. The house needed to eschew the contemporary tendency to immerse inhabitants in the landscape by dissolving the distinction between interior and exterior. For most of the year, in Alice Springs, that distinction could not be more welcome. Separation is essential, but most importantly presents an opportunity for a precise re-engagement with the surrounding landscape to be staged.
The house is structured as a series of selectively permeable layers. Its outer shell is a lightweight steel "fly roof" that protects the house from unwanted solar load. The roof is set to ensure that its cupped form is always deferent to the ranges when visible from the walking tracks on the surrounding hills.
The body of the house beneath is lined in matt fibre-cement sheeting that sits passively against the strong hues and glinting light of its setting. Its neutral surface amplifies that much-sought-after desert element of shadow. The northern elevation is resolutely enclosing, but has two formed openings that can be drawn open to pull small, framed views and encounters with passing cyclists and walkers into the courtyard behind.
The courtyard allows northern sunlight to flood the plan in deep winter, but also makes a space of introspection and seclusion from the unrelenting visual lure of the ranges. This third layer of the house is lined in hardwood, a tactile skin that invites occupation and touch, its darker colour protecting the interior of the house from reflected glare.
The most intimate layer of the house is a restful, luminous, white interior. It has an almost monastic sensibility – a refuge, not only from climate and landscape, but also from the frenetic working pace of the clients. It is designed to slow and create pause. Rooms are simply arranged into three wings that skirt the courtyard. This spatial and tectonic layering offers myriad ways to move in, around, between, through, inside and outside the house in shade, alleviating cabin fever in torrid conditions.
Below this refined piano nobile, a small flat for guests or carers and probably one of Australia's most fastidiously tidy garages (actually a "temple" for bicycles) form a solid masonry plinth. A linear pool with an angled shade canopy completes the enclosure of the site's perimeter and makes a place apart, where you can look up towards the western facade and its rhythmic translation of the elemental grids that structure the house.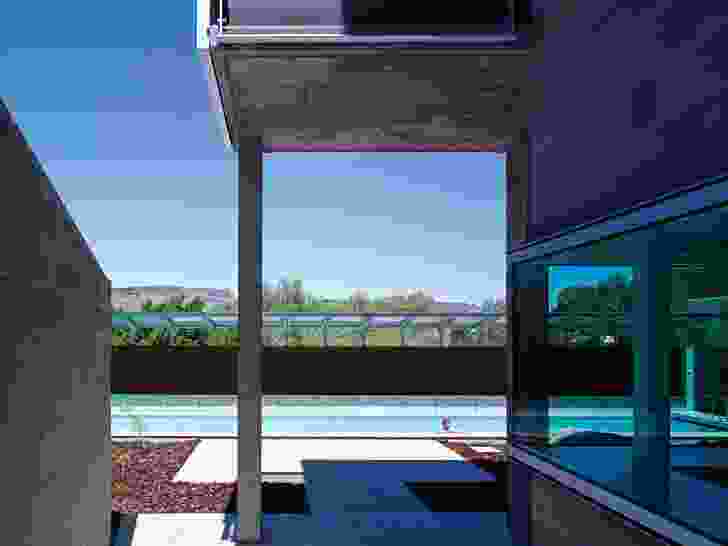 Windows breach the layers of the building with astute precision. They are frameless and thickened where they puncture thermally isolating structural insulated panels (SIPs). A vertical series is aligned to each of the circulation axes in the plan, offering longer moments of engagement with specific natural elements; the macro scale of the escarpment plays cleverly against the micro scale of the fractured rock face at the rear of the site.
Other windows operate on the oblique – piercing the plan with enlivening diagonal viewpoints that link the wings through the exterior courtyard. The ensemble of four on the western side of the living room is particularly engaging, isolating and intensifying the changing pulse of light and shadow that ripples across the escarpment.
But it is not all retreat and shelter. There is one special opportunity for full-frontal engagement with the ranges but you have to grasp it – on a delicate steel-and-timber deck that slides free of the western face of the building and, in suspension, propels you towards the ranges that it so deftly parallels. The deck is an exquisite release from this layered carapace, a suite of elements that allows its occupants to select the precise place between prospect and refuge, retreat and exposure, that best supports their life on the edge of the desert.
Products and materials
Roofing

Lysaght Custom Blue Orb in white; CSR Cemintel BareStone.
External walls

CSR Cemintel BareStone; concrete block; SIPS Industries 160 mm Structural Insulated Panels.
Internal walls

13 mm Gyprock; Better Tiles tiles in matt white.
Windows

AWS ThermalHEART; Viridian SuperGreen glass double-glazed units; Luxaflex motorized blinds in Translucent White.
Doors

AWS ThermalHEART; Centor internal sliding doors in white powdercoat.
Flooring

Polished concrete; Better Tiles marble slabs.
Lighting

Inlite Platform LED; Delta Light Boxy, Jeti Plano, Gala, Lay Out, Ultra C and Diro lights; Tovo Cape, Newport, Noosa, and Reef lights.
Kitchen

Corian benchtop in Glacier White; Franke Kubus sink; 2-pac joinery in white; Hansa Designo Neu taps in satin chrome finish; Fisher & Paykel dishdrawer integrated into joinery, pyrolitic built-in oven, fridge in stainless steel, built-in steam oven, built-in microwave; Electrolux induction cooktop.
Bathroom

Dorf Kytin taps and Tiber showerhead; Caroma Cube basin; Fowler Seido toilet; Hydrotherm towel rail; Better Tiles marble tiles in matt white; Stormtech drain grate.
Heating/cooling

Hydrospec hydronic slab.
External elements

Kwila decking with Intergrain UltraDeck finish.
Other

All joinery and bed designed by Dunn & Hillam Architects; outdoor table and benches by Join; artwork supplied by Talapi Gallery.
Credits
Architect

Dunn and Hillam Architects
Sydney, NSW, Australia
Project Team

Ashley Dunn, Lee Hillam, Linden Thorley, Jonathan Temple, Felipe Miranda, Grace Mortlock
Consultants

Builder Scope Building NT
Building surveyor BB Surveys
Communications consultant Binary Division
Cost consultant BDA Consultants
Landscaping Tavis Wilkinson
Lighting Inlite, Dunn and Hillam Architects
Mechanical engineer GHD Newcastle
Structural engineer John Carrick

Site Details

Location Alice Springs, NT, Australia
Site type Urban
Building area 350 m2

Project Details

Status Built
Completion date 2013
Design, documentation 24 months
Construction 16 months
Type New houses

Source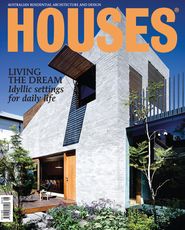 Issue
Houses, October 2014
Related topics