Pop Architecture and Hotham Street Ladies have won the 2018 Australian Tapestry Workshop's Tapestry Design Prize for Architects.
The prize invites architects to design a site-specific tapestry for a hypothetical site. The site for the 2018 edition was an unbuilt proposal for a cenotaph honouring physicist Isaac Newton, drawn by the French Neoclassical architect Étienne-Louis Boullée in 1784. Boullée's proposal was the inspiration for the recently completed Pharos extension to the Museum of New and Old Art (MONA) in Hobart, designed by Fender Katsalidis.
The brief for the prize, written by MONA founder David Walsh, noted the tapestry could potentially be hung on a wall of the Pharos wing behind James Turrell's spherical, experimental artwork Site Unseen.
In 2018, the prize was opened up to an international field of architects, and received 25 international entries in addition to 73 Australian entries.
Pop Architecture and Hotham Street Ladies' first-prize-winning design, titled Chaos and Fertility, imagines that the tapestry is the creation of the "secret sect of Diana of Ephesus" who carry out "needle work" in the "submerged, rocky base of Newston's Cenotaph."
"There was no place for them or their practice in Boullee's cult architecture […] Cast aside, they railed against Etienne-Louis Boullee's sphere as an absolute and perfect symbol of male reason.
"Instead, they conceived of a work that would blow apart this male fantasy: a resplendent, vivid and richly textured tapestry, which – when joined at the seams – would shroud the geometric purity of the sphere with a riotously decorative display. It would be a depiction of the hidden grottos at which they worshipped, each containing a female deity.
"When revealed, this would envelop Newton's Cenotaph with potent symbols of female fertility and fecundity."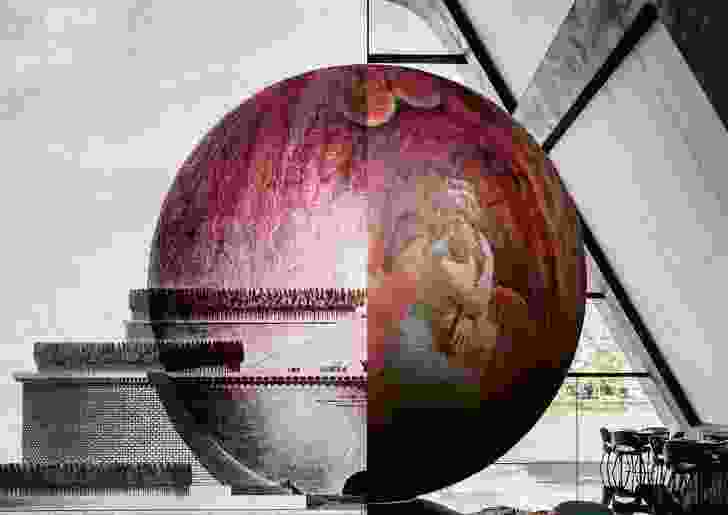 Kay Lawrence, chair of the judging panel and emeritus professor at the School of Art, Architecture and Design, University of South Australia, said the design "playfully responds to Walsh's brief through their subversion of the western canon, with a focus on transgressive textiles, female history and subjectivity."
The first prize winner received $5,000. The jury also awarded a $2,500 second prize to Arturo Muela, Paola Ibarra and Daniela Gutiérrez for their design, Colliding Universes in Saint Peter's Four Meter Woollen Eye – a representation of "Étienne-Louis Boullée's vision and megalomania." A $1,500 third prize was awarded to Kevin Liu for After Turrell, Backside of the Moon – a design that reinterprets one of James Turrell's recurring works, Backside of the Moon.
The Tapestry Design Prize for Architects was established in 2015. One of the inaugural winning designs, John Wardle Architects' Perspective on a Flat Surface, was produced by the Australian Tapestry Workshop for art collector and philanthropist Judith Nielsen. The 2016 winning design, 22 Temenggong Road by Justin Hill, is currently being woven by interns at the Australian Tapestry Workshop under the supervision of master weavers.
The 2018 prize is a partnership between the Australian Tapestry Workshop, the Museum of Old and New Art and Architecture Media, publisher of ArchitectureAU.
An exhibition of the winners and 15 finalists' designs will be held at the Australian Tapestry Workshop in South Melbourne.