Design competition for Australia's first purpose-built pride centre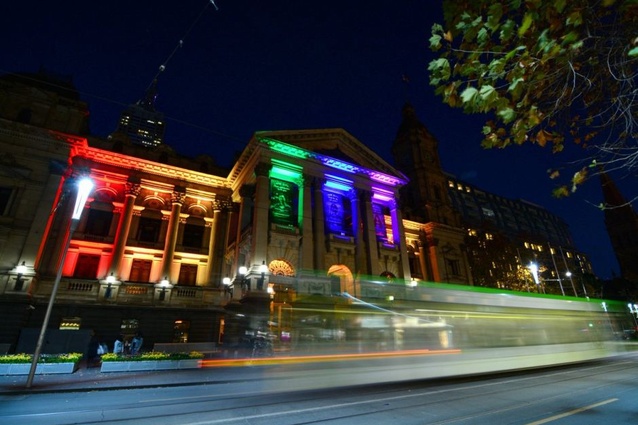 A competition for the design of Australia's first purpose-built Pride Centre in Melbourne will open for registrations on 28 August.
In 2016, the Victorian Government announced that it would contribute $15 million to the construction of a facility to "showcase LGBTI art and history, bring together advisory, health and support services, and feature community spaces to provide a safe social environment," as well as serving as "a hub for LGBTI groups and organizations, sharing ideas and resources to further their work in supporting equality, diversity and inclusion across the state."
The Victorian Pride Centre is house 10 major organizations, which are likely to include organizations such as JOY FM, the Victorian AIDS Council and the Australian Lesbian and Gay Archives. 
Victoria Pride Centre board chair Jude Munro described the Victorian government's grant as "the single most significant contribution that has been made by any level of government in Australia to the LGBTI community."
In March 2017 a 1,600 square metre site at 79–81 Fitzroy Street in the Melbourne suburb of St Kilda was announced as the eventual home of the centre. Fitzroy Street has hosted Melbourne's annual Pride March since it was first held in 1996. The City of Port Phillip offered the site, valued at $13 million, to the Pride Centre board gratis. The rest of the required funding will be sought through fundraising. 
The proposed building will provide flexible and multi-purposes spaces, a health service, library, training room, meeting rooms, a prayer room, a café and bar, theatrette, and gallery.
The competition will be conducted in two stages. Entry to the competition is open to architectural practices that have been registered in Victoria for at least ten years, and have lead the design of a project with a budget of more than $10 million. Practices must also have won at least two design awards in the past decade – one of which must have been a state or national award from the Australian Institute of Architects. Architects have a total budget of $25 million to work with in their design proposals, which will be inclusive of all consultant fees, and costs of demolition, construction and interior fitouts.
Entries will be judged by a panel comprising jury chair Dimity Reed (retired architect and writer), Tim Bamford (principal, Tim Bamford Consulting), Stephen Barrow (Victoria Pride Centre board member), Sophie Dyring (Schored Projects), Peter Elliott (Peter Elliott Architecture and Urban Design), Jill Garner (Victorian Government Architect) and Shane Murray (dean, Monash University, Faculty of Art, Design and Architecture).
Registrations for the competition close 11 September. Approved registrants will begin stage one on 22 September, which will be judged on 25 October. A shortlist for stage two will be announced on 27 October. The winner will be announced in January/February 2018. To register for the competition, go here.
The idea of a purpose-built pride centre is inspired by the San Francisco LGBT Community Centre, designed by architects Cee/Pfau Collaborative (a joint venture) and built in 2010.
Although the Victorian Pride Centre will be the first purpose-built facility of its kind in Australia, a community organization in Sydney called the Sydney Pride Centre was established in 1989 and based at Erskenville Town Hall. 
In addition to financing the centre, the Victorian government has publicly supported marriage equality. "Hundreds of thousands of Australians are currently discriminated against under Australian law," Victorian premier Daniel Andrews wrote in an open letter addressed to prime minister Malcolm Turnbull in 2016.
The City of Port Phillip has encouraged the public to ensure that they are correctly enrolled before midnight 24 August ahead of the Australian Marriage Law Postal Survey being conducted by the Australian Bureau of Statistics and announced that all of its councillors will vote in favour of marriage equality.