Design competition searches for a new kind of public housing
The Western Australian government is calling on architects to design new public housing in the Perth suburb of Hilton, as part of a competition intended to change expectations around public housing.
Announced by the Department of Communities, the Hilton Design Competition seeks the best design for public housing units to be spread across seven lots.
According to a statement released by the department, the competition will be a search for a "new kind of public housing."
The department said the competition is looking for novel typologies for infill development that will challenge expectations and generate variety, equity and affordability.
"It will demonstrate how design quality can be achieved through an 'economy of means' to create public housing that is modest, inclusive and 'placeful,'" the statement reads.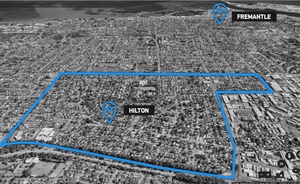 The competition is to be divided into two stages. First, architects will be required to submit an
initial concept design for two units of up to 80 square metres each, to be located on a battle-axe lot. A maximum of four shortlisted entries will then progress to the second stage, in which they will submit more detailed designs of the initial concept that can be adapted to six other infill lots in Hilton.
Hilton is located within the City of Fremantle and is approximately five kilometres east of the Fremantle town centre. Originally developed for state housing in the post-war period, the suburb contains a number of the mid-century houses designed by notable Western Australian architects Krantz and Sheldon.
A competition brief notes that the suburb has become a desirable place to live due to its close proximity to public transport and Fremantle and that its older homes have become particularly attractive to people interested in mid-century design.
It also states, however, that the increased gentrification of the area, along with a lack of housing diversity have contributed to a rise in unaffordability.
"Designs should exhibit a considered relationship with Hilton's unique cultural heritage and incorporate a cohesive, integrated approach to energy efficiency and water saving based on whole-of-life cost principles," the department says.
"Designs must also demonstrate a thoughtful approach to environmental sustainability, including passive solar design, cross ventilation, smart technologies and building performance in terms of thermal comfort. Landscaping should be designed with an equivalent level of consideration as the building and considered as part of a holistic site response."
The competition is open to registered architects in WA and practices or multidisciplinary teams of no more than five people and at least one WA registered architect.
Each shortlisted entrant will receive an honorarium of $10,000 and the winning architect or team will be offered a contract to apply their model to the design of 14 new public housing units across the seven lots.
The competition is the first step in the government's Hilton Revitalisation Project, which has the goal of bringing about positive change in the suburb and contributing to the development of new approaches to counteract urban sprawl.
The City of Fremantle is also home to the nearby WGV in White Gum Valley, another government-led housing project looking to be a hotspot for "innovation through demonstration."