Design Office is a Melbourne design firm whose work is underpinned by a left-of-centre, exploratory approach. This willingness to let the imagination run free is nowhere better on display than in a recent project called The Happy Place, an "architectural insertion" that acted as a seminar space at Designex 2012. The space was constructed with – believe it or not – doonas. Yes, the same ones that we sleep under at night. Doonas were chosen for their ability to create "familiarity and tactility," according to Design Office's Mark Simpson: "The environment was conceived to create an inclusive and uplifting ephemeral setting for engaging in discussion about the relationship between design and emotion." After the event the doonas were donated to a homeless shelter.
In another key part of the exhibition's infrastructure – the bar, designed by Daniel Dalla Riva of 6 Hats – the walls evoked the porousness of honeycomb. The pattern was used in two large, semi-transparent screen walls, which were set against a mesh "ceiling." A black colour palette tied the project together and created a sense of it being architecturally solid despite its transparency, as well as a feeling of night-time glamour. Bar seating was complemented by small, grouped lounging chairs on circular rugs. The bar was designed to "touch the earth lightly," with key architectural components designed for reuse.
The 2012 Designex also celebrated emerging design through the Australian Graduate of the Year Awards (AGOTYA), a program run by the Design Institute of Australia (DIA) for final-year students of university design programs across the country (judges included Architecture Media's Jan Henderson). Similarly, the Hettich Design Challenge supported emerging design – four designers were asked to design an object using Hettich products, each working at a desk behind glass at the fair, fishbowl style. At the end, three judges gave feedback and awarded a winner.
Source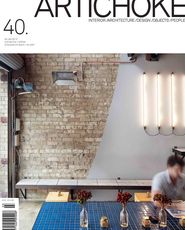 Issue
Artichoke, September 2012
Related topics