Don Bates, and even more so Jill Garner, has spoken optimistically about what might be with the Fed Square Apple store, but I'm here to discuss the proposal that's on the table. However, it's unclear what the proposal's status is – at least in relation to the images released to the public. It looks like life imitating art – an episode from Utopia played out in real time, in which Rhonda and Karsten have published artist's impressions that may or may not show the truth of the project, but certainly don't show the whole truth. A small example is the fact that the renderings show all of the public lighting removed from Federation Square. That's not because the drawings are incomplete or because the design is undeveloped. The lighting has been deliberately Photoshopped out.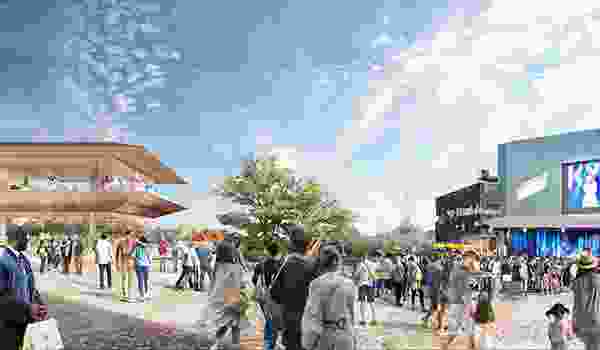 The proposal raises many questions. What else is being hidden? Why offer special favours to one tech company when the world is filled with rival tech companies? Why accept a single financial offer for a unique business opportunity when there's no way to benchmark its value except through competitive bidding? Why should the Grand Prix get lavish public funding but not Fed Square? Lots of questions, but I'm focusing my comments tonight on urban design.
A key concern in urban design is activating the public realm to create vibrant and safe spaces. It's often not the design of a space itself, so much as its edges that make a public place work well. It's also not just the extent of shopfronts that counts. Their diversity, and their complementary and competitive relationships help make places buzz.
In his defence of the Apple store proposal, Donald Bates has pointed out that the Yarra Building was not part of the Federation Square design brief. In Bates's words: "We as architects added it, so that we would have a more contained edge to the southern side of the plaza. We wanted three activated edges to the plaza."
This was a good move, but wasn't enough. More activation is desirable, and I'm obviously not alone in thinking this. Federation Square has already been changed to address this shortfall by adding a beer garden at the east end of the plaza, under Maddison Architects' award-winning canopy.
Of course there's tension between the aims to activate the plaza and to link Federation Square to the river, but this is only a problem if you think the link must be between the plaza and river. Lab Architecture Studio designed an enclosed plaza with buildings facing north onto it to activate it, and with other spaces – like Deakin Edge – which relate to the riverside. The Apple store undermines this fundamental design strategy. It replaces the three-storey Yarra Building with a two-storey building with a smaller footprint, and replaces its three cafes and the Koori Heritage Trust with one shop. An Apple shop may pull crowds, but traffic generation and frontage activation are not the same.
And of course, physical access through Federation Square is a problem. In part, this is because of the level change between the river and the deck over the railways, but that means the problem is greatest near Birrarung Marr, not near Princes Bridge. Access near the Yarra Building is relatively easy.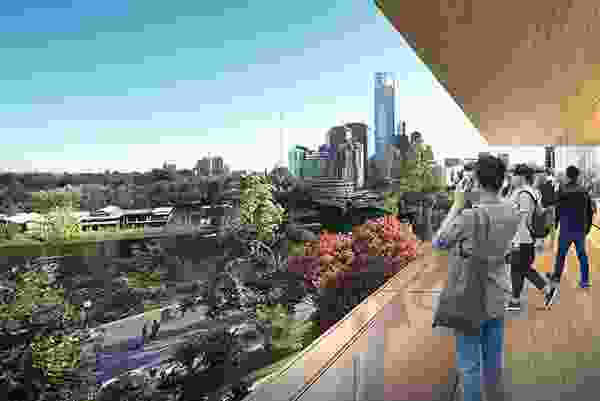 A second urban design concern is how a design responds to its context. This isn't a concern about architecture on its own, but rather how it contributes to the design quality of the city more widely. It's a question of how a design, in effect, acts as a good citizen. I think this is a valid concern in important civic spaces.
How does the proposal fit in? Quoting Donald Bates again, it is a "major departure" from the design of Federation Square. One of Federation Square's most conspicuous qualities is an absence of defined corporate imagery, despite the mix of businesses and institutions it houses. Not even the National Gallery of Victoria and the Australian Centre for the Moving Image have their own architectural expression. None of the buildings has a distinct identity as a separate object. Each is a conglomerate of elements that repeat from one to another. Federation Square is a composition of masses that frame open spaces, rather than an arrangement of buildings as distinct objects.
In contrast, Foster and Partners' notable Apple store designs have two vital characteristics: an obvious aesthetic kinship with Apple products, and a minimalist character that contrasts with the complexity of their settings, ensuring that they stand out in the crowd. The design strategy is to create an object that is a symbol of other objects. The Chicago Apple store takes that to an extreme, with a roof that looks like an iPad. The fact that Apple's logo is hard to spot on most Apple stores shows how much they have invested in this architectural approach.
Of course this describes the architecture, but how does it relate to its context? Apple's Chicago store is surrounded by buildings that, like it, boldly make their own individual corporate statements. Architecturally, it meets Apple's objectives, but behaves like its neighbours. But as a response to its context, Foster and Partners' design for Federation Square basically says, "up yours."
So what do we get in exchange? One little sweet dangled in front of us is the promise of nearly 500 square metres of new public space. But this is only a little over 1% of the total Federation Square site; if a lack of space is a real concern, the offer is insulting. It's also claimed that this will create more space for watching the video screen, but the new space is fragmented into a little amphitheatre separated from the plaza, and stepped seating south of the Apple shop that's likely to be in year-round shade.
Another offer is improvement of the former Batman Avenue alignment, which was outside the original Federation Square project scope. The proposal is to build up part of the old roadway into a grassed slope facing over the river. The planting scheme looks like a Balwyn backyard, but otherwise this idea has merit. However, this could be implemented without replacing the building.
Lab Architecture Studio's design for Federation Square succeeds on many counts, but it's not perfect; some change is appropriate. The design is also amenable to change in ways that some designers' work is not. But one must ask, does the proposed Apple store improve Fed Square's urban design quality?
Does it seem likely that the design will develop into an appropriate response to the site?
That's a theoretical possibility, but requires more than evolution of the design; it requires a fundamental rethink.
Ron Jones appeared as part of the negative team in the public debate on the topic, "The proposed Apple store will be a win for Fed Square and a win for the city." His teammates were Rohan Leppert (City of Melbourne), Tania Davidge (Citizens for Melbourne) and Esther Anatolitis (National Association of Visual Arts). Speakers for the affirmative team were Donald Bates (Lab Architecture Studio), Jill Garner (Victorian Government Architect), Martine Letts (Committee for Melbourne) and Jonathan Tribe (Federation Square).
Watch the debate below:
Related topics