Ross Didier
Ross Didier first studied sculpture at university before moving onto furniture design, despite the fact that his family owned a furniture manufacturing business. But this only helped him develop a highly attuned sense of aesthetic form, which has resulted in a number of furniture pieces including the Elfin stool, the Bombala chair, and the Tiller chair.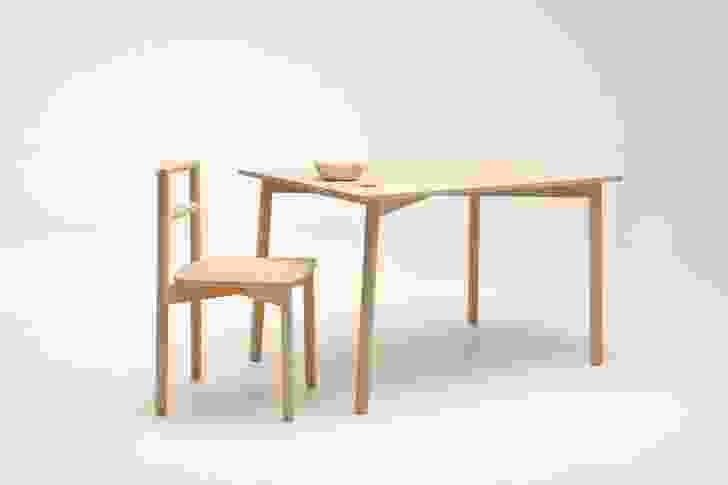 Recent work includes chairs for new restaurant Vue de Monde, made with kangaroo leather and fur. And, a lot of care and attention to detail has gone into another new range, Fable (pictured), to create something so deceptively simple that it might have come from a fairytale. "It's the typical Goldilocks chair but very refined and very comfortable," explains Didier.
Corporate Culture
+61 2 9690 0077
corporateculture.com.au
Interstudio
+61 1300 785 199
interstudio.com.au
Jon Goulder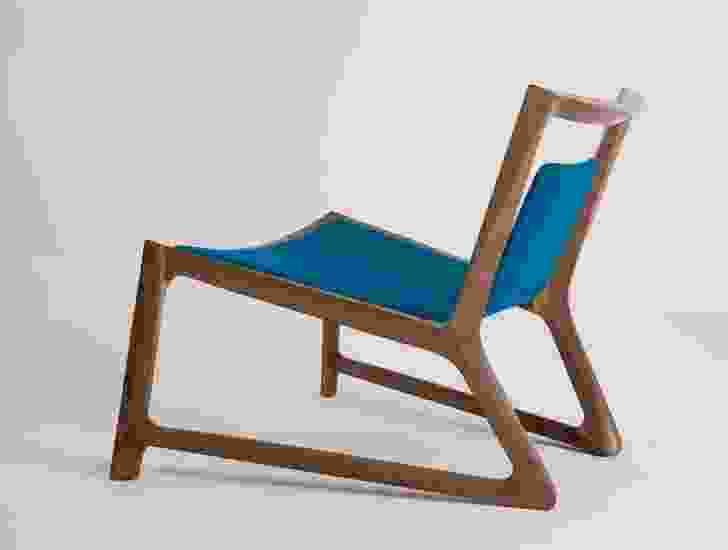 The inaugural winner of the Bombay Sapphire Design Discovery Award in 2003, Jon Goulder, has been instrumental in putting Perth on the design map, despite his being originally from New South Wales. This is thanks to a collaboration with Form and, through them, the Midland Atelier, Perth. As part employee, part artist-in-residence, Goulder creates his own work and acts as a mentor to young designers, most recently collaborating with them on an entire suite for a house in Cottesloe and for the new executive level of Wesfarmers. His Amore Mio chair (pictured) is part of a new focus on limited edition, handmade pieces – what he terms "true collectables."
Form
+61 8 9226 2799
form.net.au
Korban Flaubert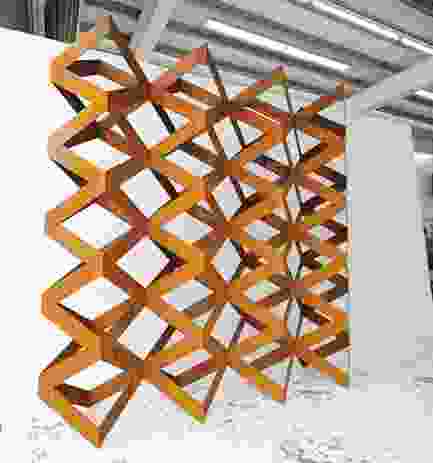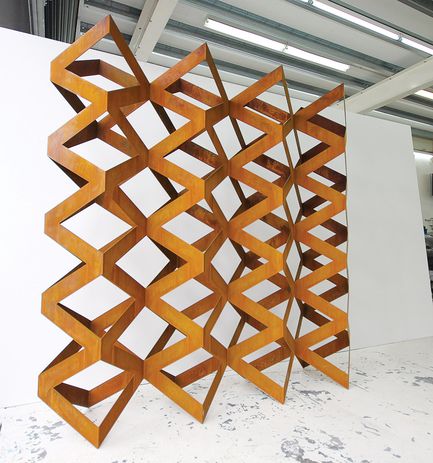 In 1993, metal specialist Janos Korban and architect Stefanie Flaubert set up a design studio in Sydney. Since then, Korban Flaubert has produced a range of furniture pieces, decorative screens and sculptural works. Their work is geometric, revealing the beauty behind mathematical forms and exploring pattern, growth and sequencing. They are probably best known for their Block, Drum, Bongo and Bubble stools/tables. Recently their work has included a new range of freestanding, customizable, decorative screens that are made of welded, polished stainless steel, including Crystal (pictured) and Hive.
Korban Flaubert
+61 2 9557 6136
korbanflaubert.com.au
Adam Goodrum
Adam Goodrum's fascination with colour and moving parts has continued following the success of the Stitch chair. This has resulted in new products Carousel, Birdsmouth and Chatterbox.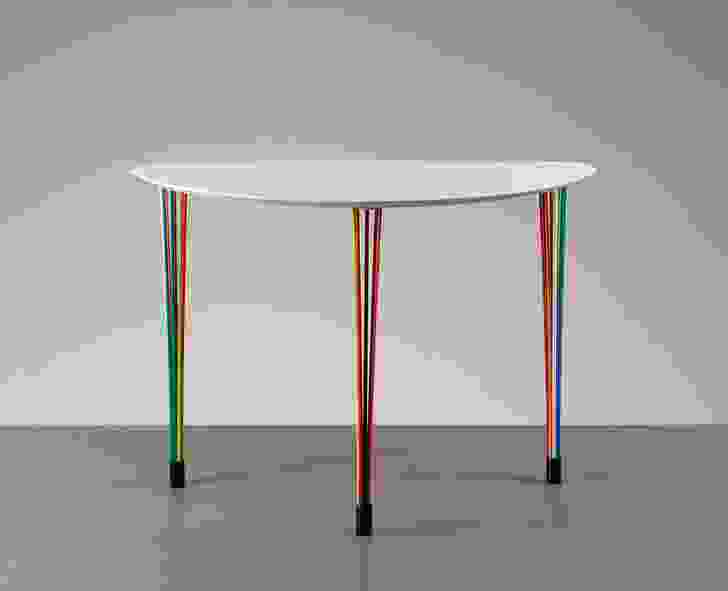 A limited edition table commissioned by Galerie Gosserez in Paris, Carousel (pictured) evokes childhood carnivals, with a top in Corian and legs in painted stainless steel. Also using colour but this time on timber, Birdsmouth is part of Broached Commissions, responding to Australia's colonial history. Chatterbox is a folded stool made of ceramic, and is on show at the 2011 Prototyping exhibition at the JamFactory in Adelaide.
Corporate Culture
+61 2 9690 0077
corporateculture.com.au
Charles Wilson
Charles Wilson is a man of few words – he likes to let his furniture pieces speak for themselves. He shot to fame as a young designer working for Woodmark and received early recognition for work like the SW1 swivel chair. Other well known pieces include Boulder, Heron and Cassandra Credenza.
Last year, the Andrea sofa (pictured) was launched, the result of a collaboration with King Furniture. And, recently, a fruitful collaboration with Herman Miller has resulted in the Aril chair as well as a manufacturing partnership – Herman Miller will licence Wilson's Woodmark designs to sell in Asia and Europe.
King Furniture
1300 546 422
kingfurniture.com.au

Woodmark
+61 2 9756 3066
woodmark.com.au

Herman Miller
+61 2 8211 0480
hermanmiller.com.au
Alex Lotersztain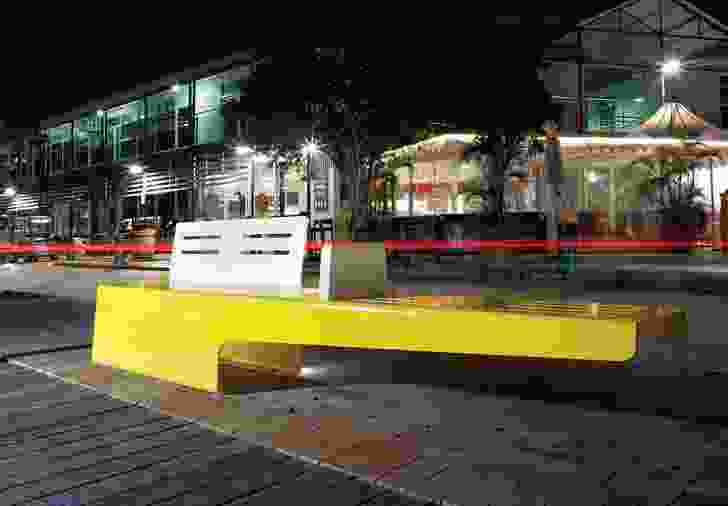 Alex Lotersztain was born in Argentina and spent his childhood travelling the globe before settling in Brisbane in 1998. Since design school, he has applied his skills on a vast range of products, from photo frames and water bottles to bookcases, tables and sofas, as well as designing the interiors of the Limes Hotel in Brisbane. Under the brand Derlot, which he established in 2003, he produces a range of work, including the Marine series of outdoor benches (pictured), designed for the Gold Coast resort Sanctuary Cove. The benches are made of folded steel and are inspired by the forms of sailing vessels.
Stylecraft
+61 2 9355 0000
stylecraft.com.au
Marc Newson
Marc Newson is undeniably Australia's best-known designer, despite the fact that he lives in London. In Australia recently for the Sydney Design Excellence Forum, he spoke about travelling the world and working on a diverse range of products including boats, cars, cameras, telephones, sanitary fittings, spacecraft and jewellery. Perhaps most famous for the Lockheed lounge ("I feel dissociated from it – like all the stuff I've done in the past – I move on"), he still sees himself as a furniture designer, with recent work for Magis and a new range (pictured) reproduced from his designs for the Qantas First lounges, available from Living Edge.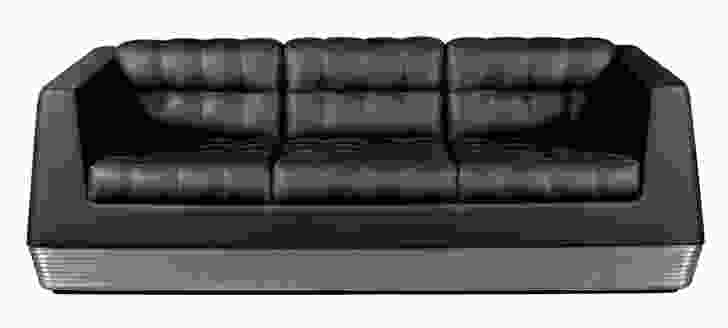 Living Edge
+61 2 9640 5600
livingedge.com.au
Corporate Culture
+61 2 9690 0077
corporateculture.com.au
Helen Kontouris
Helen Kontouris has just launched the Panier stool (pictured), the first in the new Helen Kontouris range, which is stocked by Space Furniture. Experimenting with a range of different production methods, her recent work has been: manufactured by big Italian brands (Chloe table for De Padova, and Scoop egg cup and spoon for Alessi), produced locally (Vene chair for Schiavello and Zoie planter for Ambius Indoor Plants) and created as limited editions ("41," which are solid copper sculptures created for TLC for Kids Charity). A passionate supporter of Australian design, Kontouris is also the co-founder of How We Create, a website for designers promoting conversation, collaboration and innovation.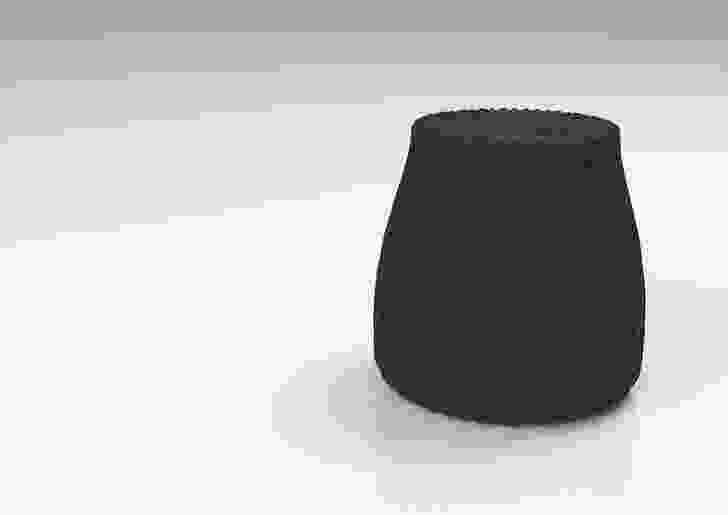 Space Furniture
+61 2 8339 7588
spacefurniture.com.au
dedece
+61 2 9360 2722
dedece.com
Schiavello
1300 130 980
schiavello.com
Design Practices
Ross Didier
+61 3 9459 1893
rossdidier.com

Jon Goulder
+61 401 452 867
jongoulder.com

Korban Flaubert
+61 2 9557 6136
korbanflaubert.com.au

Adam Goodrum
+61 425 239 960
adamgoodrum.com

Charles Wilson
+61 417 357 452
charleswilsondesign.com

Alex Lotersztain
+61 7 3129 4379
derlot.com

Marc Newson
+44 20 7932 0990
marc-newson.com

Helen Kontouris
+61 3 9646 1732
helenkontouris.com
Related topics