In recent years, ArchitectureAU has featured a number of articles on designer public dunnies, encompassing delightful little amenity blocks set in public parks with a level of ambition disproportionate to their modest volumes. Across the Australian Institute of Architects 2017 state architecture awards, a trio of awarded and commended projects comprising CHROFI's Lizard Log Amenities, Sam Crawford Architects' North Bondi Amenities (both in New South Wales), and Terroir's Princes Park Toilets in Salamanca, Tasmania are testaments to the importance of these small projects within the discourse of public architecture. Viewed in isolation each project represents a deftly considered response to their respective settings, which transcends mere utility. However viewed at a city or even national scale, this pattern of public agency investment in the design quality of such essential small public works offers an opportunity to promote civic dignity and architectural value in an unexpected typology.
In inner and middle ring Sydney in particular, an analysis of the spatial distribution and quantity of designer dunnies reveals the extent of the phenomena. Viewed as a total body of work, it could conceivably catalyze a new form of architectural tourism for avid design nerds. This is precisely the tour I undertook in April and May 2017, complemented with a range of interviews with designers and public servants to reveal a more comprehensive picture. Helpfully the team at Panovscott has contributed this beautiful taxonomic sketch study, which is an essential starting point for any tour. The diversity of approaches evident through a survey of completed projects invites comparison with the Bus:Stop project, a program of architect-designed bus shelters in the village of Krumbach in Austria to boost tourism in the region.
While other municipalities across the country have experimented sporadically with loo architecture in recent years, the concept originates from a public works program within the City of Sydney in the mid 1990s. Forced by the near bankruptcy from the early 90s recession, the City slashed staff numbers and shifted to a competitive tendered approach to public works by the private sector. Such a process is by no means a guarantee of quality, however the specific pre-Olympics agenda enabled a gearing of tenders towards design. A carefully curated panel of "preferred consultants" favoured emerging practices with demonstrated skill in the residential sector. This was then used to circumvent the risk of conventional local government cost-based open tenders, in favour of invited tenders from the shortlist with a design focus and guarantee of practice quality. In contrast to approaches taken by other cities, which is to standardize civic fixtures, this competitive tender process has resulted in immense diversity of local practices engaging in public works, fostering context specific focus, and richness of identity.
The emphasis on public toilets emerged as a byproduct of a focus on investment in tired parks, which were plagued by underuse derived from a chronic lack of investment, drug abuse, and vandalism. The toilet block, as the (often legitimate) scapegoat for such attention, became a natural focus. The jump from "minimal update" to architectural opportunity was less obvious however, given the public and political scrutiny of any new construction within high value green spaces.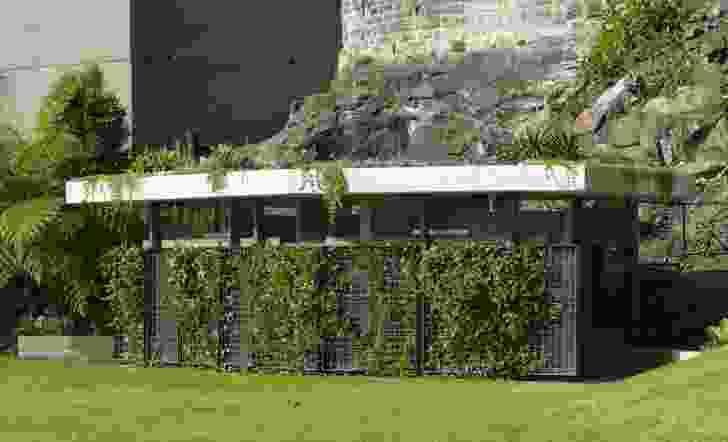 The Beare Park Amenities in Potts Point, Sam Crawford's first foray into this typology, offers a demonstrative case where a characteristic post-war block was retrofitted in response to a range of competing public and political demands. Completed in 2008, the new structure could not increase the site coverage of building within the park, yet required additional facilities, a facelift and enhanced public safety. Concerns about the view of the roof from the towers above gave rise to a verdant green roof atop a new concrete roof structure, while the wash basins were moved into a ventilated corridor open to the public, which provided layered privacy and maintained a perception of openness and safety. Within a tightly politicized envelope, an elegant solution emerged, which now sits delightfully at the edge of the park, complete with filtered harbour views from the shared wash basins.
Consistent throughout these projects is the challenge of a surprisingly complex public brief, which simulates the stakeholder engagement, maintenance and regulatory requirements of a much more substantial public building, albeit on a smaller scale. Sam Crawford's ongoing engagement with the type since Beare Park include the highly successful Marks Park, Sydenham and North Bondi loos, which speak of the depth of interaction with accessibility consultants, police officers, and a range of council staff from departments who rarely present a coherent set of requirements.
With the right support from council designer managers, it is evident that this medium can afford the opportunity for small practices to cut their teeth on public work, and progress from the crafted private realm of residential projects toward higher impact buildings within the urban environment. To extended this approach further, perhaps it could reverse the trend toward risk-averse and experience-biased tenders, resulting in repeat commissions to practices lacking in what Bill Tsakolos, architect and urban designer at Blacktown City Council, describes as the enthusiasm that is characteristic of an emerging practice.
Tsakolos and others of his skill in procuring design excellence add a second layer to the story of high-quality small civic works, as one of a handful of City of Sydney émigrés who have exported the lessons from the central city context into the broader Sydney region. Further, the lessons observed across the region are increasingly being picked up as precedents by local authorities in other states, through a suite of municipal "public toilet strategies" being rolled out, such as City of Hobart's 2015 strategy, which led to Terroir's Princes Park Toilets among a suite of new commissions.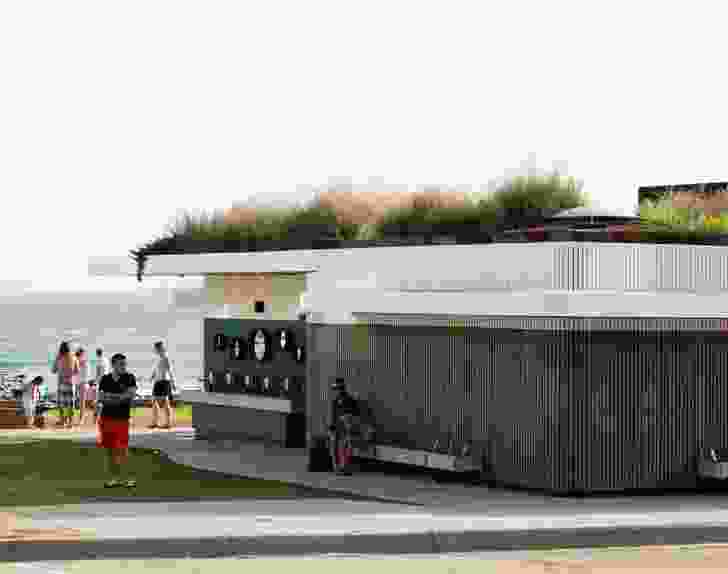 North Bondi Amenities by Sam Crawford Architects with Lymesmith
Set within the global foci that is Bondi Beach, Sam Crawford's latest loo contribution foregoes the singular object in favour of a more urbane sensibility, replacing a former post-war block with a hybrid toilet, bus shelter, external wash basin and a pump house enclosure. The brief imposed limitations on the volume, which pushed the wash basins and mirrors into public space, fit for the application of post-surf make-up or a shave before work. The civic gesture of the bench seat and externalization of typically concealed functions contributes to the surrounding public realm well beyond its tightly bound footprint. The structure carefully considers its approach from all directions, extending to downward views through the use of a green roof, repeating the successful strategy from the earlier Beare Park project. In concert with the North Bondi Surf Life Saving Club by Durbach Block Jaggers, the project contributes to a cluster of architectural quality along the beachside promenade.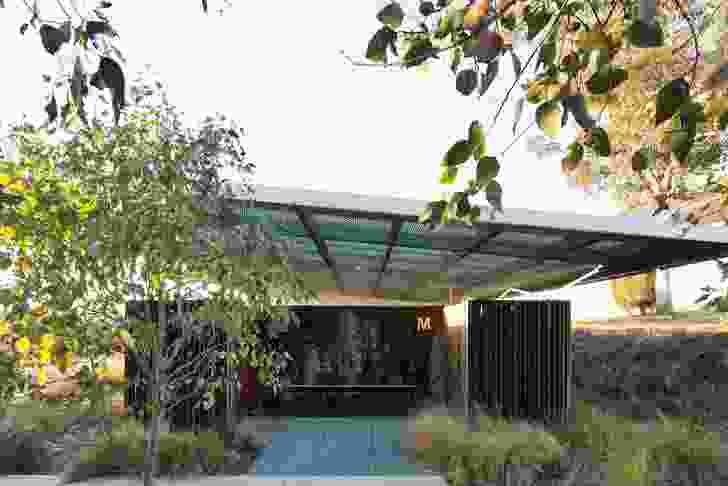 Lizard Log Amenities and Events Pavilion by CHROFI
The structures by CHROFI within McGregor Coxall's Lizard Log Park is positioned at the suburban fringe, within the Western Sydney Parklands. Built to serve the rapidly growing western suburbs, the parklands project scatters a series of shelters – gathering and amenity facilities – throughout a native landscape setting. The park, commissioned by the Western Sydney Parklands Trust represents one of a series of concentrated nodes of activity within a broader north-south band of green space stretching some 30 kilometres in length. The park is one of the more significant investments in a metropolitan green belt in the Australian context. The structures are poised elegantly within the park, with an impossibly light series of roof planes floating over silvering timber and creeping vegetation-clad concrete volumes. This roof and nested module language can be seen as a contextually responsive extension of CHROFI's Ballast Point Amenities and Port Botany Amenities, as well as part of an ongoing fruitful collaboration with some of Sydney's best landscape practices. This project not only offers a beautifully resolved series of structures, but also hints at the possibilities of a more generous architectural contribution within outer suburban regions often lacking in architectural investment.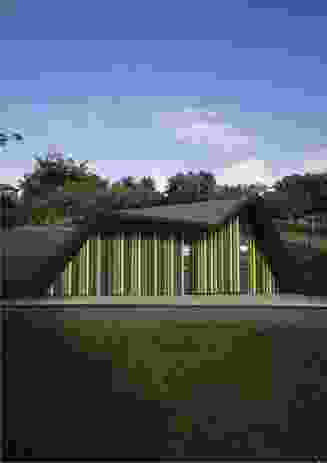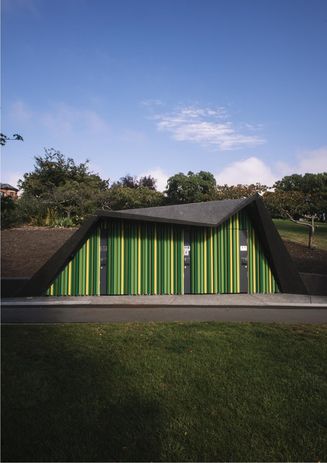 Princes Park Toilets by Terroir
Nestled within the embankment of a sloping city park, between Salamanca and Battery Point, Terroir's Princes Park amenity block announces a sharply folded series of precast concrete planes in contrast to the ordered sensibility of the 1930s garden, providing a rare contemporary delight within a heritage context. Flanking the high side of an existing pedestrian path, the structure contains the enclosed areas within the slope, avoiding the creation of a "back" and ensuring maximum surveillance of the stalls on approach. The careful arrangement of the battened infill cladding recalls the varied tones of the surrounding European garden, while avoiding immediate identification of door hardware. The effect is to dignify the toilet structure as a piece of garden sculpture.
In these three recent completed projects, along with the plethora of examples by Lacoste and Stevenson, Richard Leplastrier, Panovscott, Fox Johnston, Lahznimmo and a range of other practices, we can see the proof of value in investing in the architectural quality of small public works. Within the context of shrinking government budgets and the challenge of cost-based tender processes, this typology and its legacy of enlightened procurement offers a counterpoint of civic generosity, which is teamed with a program that supports the growth of some of our emerging practices. It might even stimulate some architectural tourism of a highly unlikely building type.
Related topics