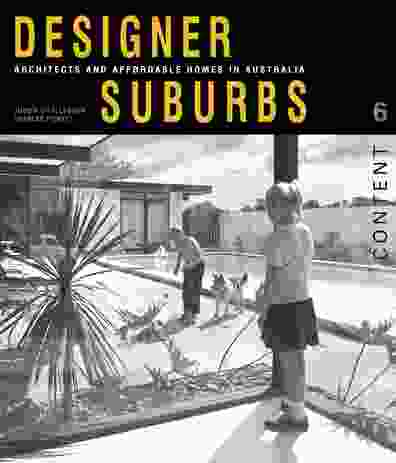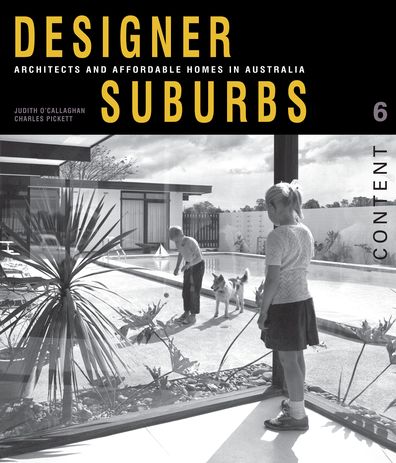 Well researched and well illustrated, Designer Suburbs primarily tells the story of the project home in Australia, from its earliest prewar influences until its demise in the 1980s. Major postwar labour and material shortages forced many would-be suburbanites to become owner-builders, who, "looking ahead to the promise of the future," were easily influenced by the media's considerable focus during the 1950s on the "ideal home." The role of the popular press at this time is well documented here, with major newspapers and magazines sponsoring "homes competitions," and featuring the work of architects such as Walter Bunning and Arthur Baldwinson who were driving a new modernist approach to suburban living.
The 1960s saw a different, wealthier society. The brick cottage was losing its grip in the suburbs, and buying a house "off the hook" was suddenly a possibility. The AVJennings and Sunline Homes were the beginning of a movement that culminated in Lend Lease Homes, Pettit & Sevitt, Merchant Builders, Civic and Habitat: the glory days of the 60s and 70s project home.
Young architects will no doubt be surprised at the number of leading architects involved in the design of these off-the-shelf houses, by the quality of their work, and by the influence they had in shaping the mass-residential market.
A property crash in the mid-70s heralded the end of these companies. Ken Woolley concisely summarized their passing, attributing it to "… the downturn in the housing economy and the exhaustion of suitable land for the kind of people who bought these houses, who turned to renovation and inner-suburb gentrification in response to the critical issue in housing: locality." Then came the McMansion!
Although the title of this book seems a poor description of its contents, Designer Suburbs is an important and timely book, a must-have for all those interested in the sociocultural values that underpin suburban living, and the period of the project house. There is, disappointingly, one flaw: the plans shown are illustrations directly from sales brochures reproduced in a variety of scales and clarity, which, while historically fascinating in terms of graphic style, are not comparatively useful. Given that the planning of these houses was super efficient, with not a wasted millimetre, an addendum of similar scale plans would have been a logical addition for architects. Who knows, with Australians still using resources as though there were three planet Earths, we might soon need to refer to them again!
Designer Suburbs: Architects and Affordable Homes in Australia (Judith O'Callaghan and Charles Pickett, NewSouth Publishing, 2013)
RRP $49.95 / $44.95 to AIA members at Architext Sydney and Melbourne
This review originally published in the Autumn 2013 edition of Architecture Bulletin.
Read Stephen Batey's pilgrimage to 1960s display homes as part of the Carlingford Homes Fair 50th anniversary tour.
Related topics