With fewer and fewer people identifying as belonging to a faith community or having any religious affiliation, and even fewer admitting to attending regular worship services, Australia appears to be growing increasingly secular. Church buildings across the country are being merged, closed, abandoned, sold or razed. The Australian Bureau of Statistics' 2016 data reported an accelerating incidence of Australia's population reporting no religion. Christianity, the largest religious group in the country, has fallen as a religious affiliation from 88.2 percent in 1966 to 52.1 percent in 2016, while those reporting no religion has risen from 0.8 percent to 30.1 percent in the same time period. However, the data also reveals an increasing diversity of religious affiliation among the population, with Islam, Buddhism, Hinduism and Sikhism all on the rise.1
Aboriginal sacred sites, European church buildings – from the earliest Georgian and Gothic Revival examples through to modern and contemporary churches – and the growing number of mosques, temples, shrines and stupas attest to a rich and diverse heritage within Australia. This heritage is manifest in the tangible: buildings, precincts, landscape, environment, gardens, trees and artefacts; and the intangible: customs, language, stories, beliefs and memories.
The relationship contemporary society has with religion has been complicated by the failures and crimes that are connected to different faiths. Radicalization, fundamentalism and extremism, deep-rooted conflict between ethnic groups, and clerical sexual abuse have fundamentally changed the way religion is perceived, practised and discussed.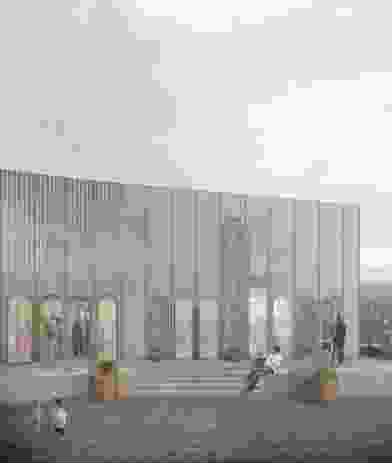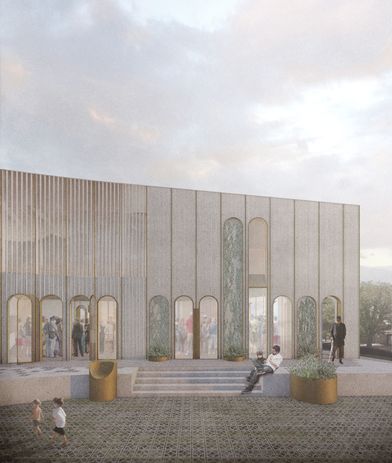 In the face of the shifting role of religion in contemporary society, there is still a marked interest in sacred spaces and religious buildings of the past, present and future. Culture is more than what we have inherited from the past; it is a living, dynamic and participatory present reality. The present marks a moment on a journey, which can be characterized as a continuum from the past into the future. Humans' desire for gathering places, meeting places, reflective and prayer places and final resting places seems to be universal. Place offers people a sense of relationship with the world, with other people and with a transcendent being. In spite of many differences, notions of the sacred, of community and of belonging are widespread across denominations and faith traditions.
In August 2018, a symposium entitled "Constructing religious territories: community, identity and agency in Australia's modern religious architecture" at the University of Melbourne explored the relationship between religious architecture and community formation in the years following World War II, while in February 2019 an international symposium at the Australian Catholic University in Melbourne, entitled "Where your treasure is, there will your heart be also: Catholic liturgical heritage," examined the relationship between places of Catholic worship and contemporary liturgy. These contexts and forums make for a rich milieu in which to consider sacred places and religious buildings and to reflect on contemporary practice.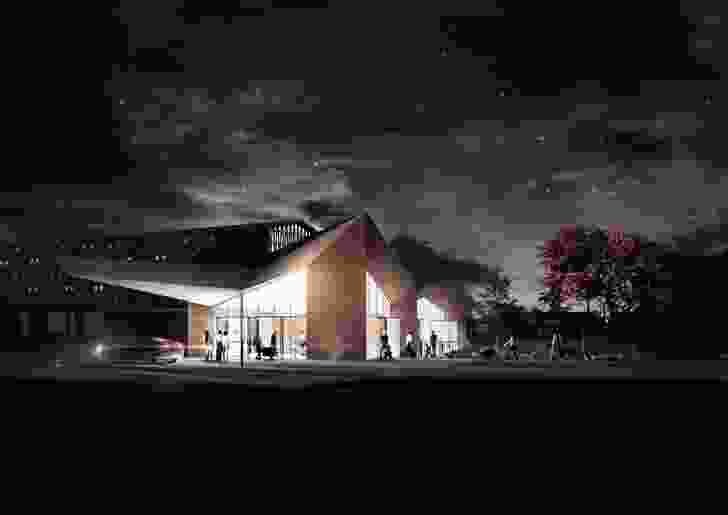 Current research and arguments around heritage protection for religious buildings inform debate, understanding and articulation of values, and also highlight some of the complex issues associated with the architecture of sacred places and religious buildings. Contemporary practice is rich and diverse. It encompasses the refurbishing, re-ordering, completing, extending and re-thinking of existing buildings as well as the designing of new places, spaces and buildings. In the book about his design of St Patrick's Cathedral in Parramatta, New South Wales, Romaldo Giurgola asked Australians to bear in mind "that architecture remains a symbolic expression of people's cultural identities and aspirations in all facets of life."2
Giurgola was commissioned to design a new cathedral for Parramatta after the historic building (which dates from 1857) was destroyed by fire. The new complex, which opened in 2003, incorporates the site's history, memory and fabric. The remaining shell was redesigned and repurposed as the Blessed Sacrament Chapel, the baptistery and the main entrance to the new cathedral. The people's seats are arranged in tiers so that, gathered around the altar and ambo, the assembly is celebrant of the liturgy. For Giurgola, St Patrick's represents "a sublime narrative of spiritual life."3
For the Catholic church, the Second Vatican Council of 1962–65 marked a period of spiritual renewal following cultural changes in the aftermath of World War II. The impact of the work of this ecumenical council is evident in a number of postwar religious buildings in Australia. The 2015 restoration and reordering of the parish church of Saints Peter and Paul at Bulimba, Queensland, (a Jeffersonian neoclassical building designed by Harry J. Marks and opened in 1926) exemplifies some of the rethinking that has gone into capturing the understanding that the liturgy is offered by the whole Body of Christ, all the baptised. Here the longitudinal emphasis has been turned around, so that church has been ritualistically reorganized horizontally.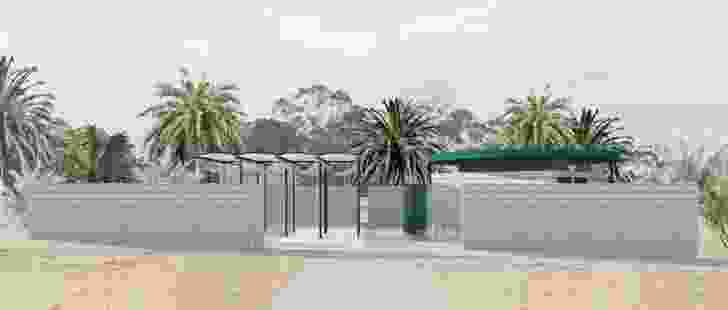 One of Australia's most distinctive cathedrals, St Francis Xavier Cathedral in Geraldton, Western Australia, was designed by John Cyril Hawes in 1916–38. A $9 million project to conserve and enhance the heritage-listed ecclesiastical building and its precinct, including a major conservation program, the development of a Hawes interpretative centre and piazza, a cathedral forecourt and a wildflower garden, opened in 2018. The Burra Charter principles were fundamental to the work. 4 Appreciation of liturgy and heritage is manifest in the reordering of the interior space, which fosters dignity and respect among the building's users for the heritage structure.
Different design approaches are used in new work at two nineteenth-century Gothic Revival precincts. In Eltham, Victoria, Atelier Wagner Architects' scheme for the extended worship space, new foyer and refurbished parish centre at St Margaret's Anglican Church has responded to the architectural heritage of the site as well as the needs of the parish community. The proportions and scale of the Nathaniel Billing-designed brick building are respected by the contrasting new dark shingled three-bay addition, which sits side-by-side with the old, cleverly integrated into the existing building via partial demolition and new construction. The final built outcome is elegant, sensitive and transformative. In a very different architectural language that echoes the Gothic Revival architecture of the adjacent St George's Cathedral, Perth, Palassis Architects designed a small-footprint new Song School for the choir of the cathedral to seamlessly fuse with the surrounding 140-year-old architecture. The Song School steps down the site and features two "tuning-fork" spires and lancet-inspired arches that maintain existing sightlines. This insertion is light, ethereal and stunning.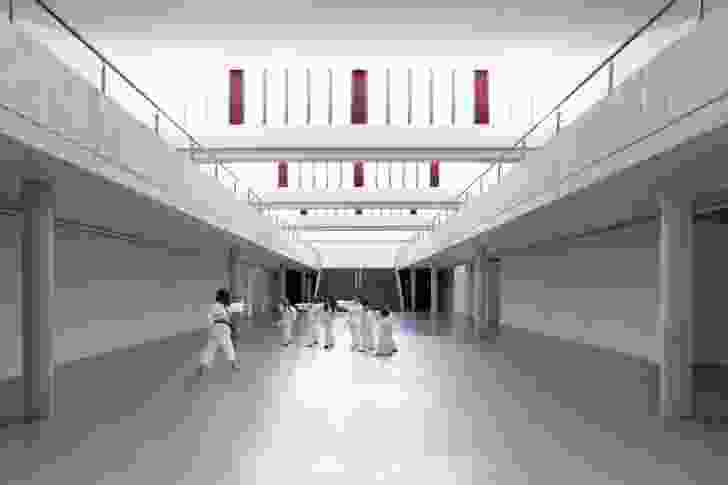 Architects are increasingly being asked to design incredibly diverse spiritual places. Smart Design Studio's remarkable conversion of a factory and its site in North Rocks, Sydney, into an inspiring, functional and welcoming place of worship for the Sydney Saesoon Presbyterian Church turns the notion of adaptive reuse on its head. In Punchbowl, Candalepas Associates' concrete mosque respects the sacred traditions of the Islamic faith while also using the ancient tradition of the dome and the arch in a new way. In Newport, Melbourne, the Australian Islamic Centre by Glenn Murcutt and Elevli Plus establishes a new architectural language for Islamic architecture in a contemporary Australian context. These remarkable buildings tell a story of acceptance within their local suburban communities, marking a place for Muslims in Australian society. The proposed design for a gathering space inside an Islamic cemetery in Sydney by Other Architects is a small walled complex at the entrance incorporating a multipurpose prayer and gathering space, ritual ablution stations and accessible washrooms within a walled palm garden. Layered, folded lightness and transparency are created by a steel and mesh structure while water drips in a "landscape" of palms and sand. Place invites prayer. In these projects, design challenges assumptions of historical architectural typologies and aesthetics.
A progressive and growing community inspired the architecture of Sydney's Emanuel Synagogue by Lippmann Partnership. The striking new linking pavilion, in steel, glass and plywood, is designed to be both a cultural centre and place of worship, serving the congregation and the wider community. Environmental and social sustainability are at the forefront of design considerations, but not at the expense of visual delight and the spirituality of the space. While the orientation and dimensions of the new sanctuary are based on specific biblical references, reinterpreted to respond to contemporary conditions, the warm red, the use of primary colours and the abstract artworks ensure its success as a vibrant and flexible multifunctional space.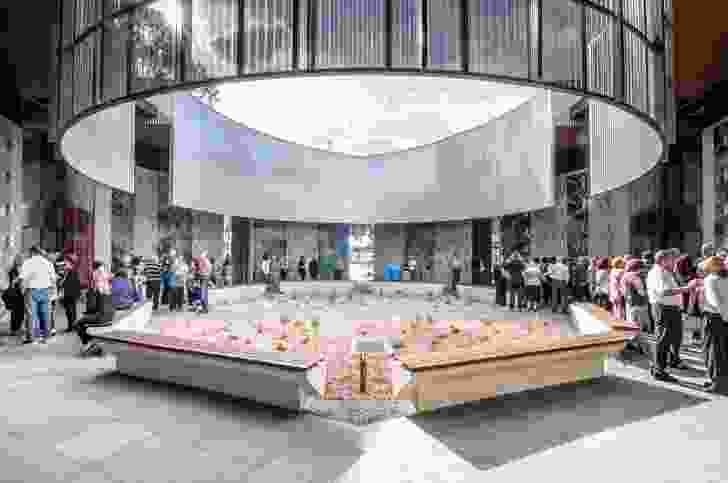 Harmer Architecture's Atrium of Holy Angels Mausoleum (2017) is part of the ongoing transformation of Victoria's Fawkner Memorial Park. The design team explains that the concept and design celebrate "a centuries-old tradition of arranging places for burial into a circle." The mausoleum is open and accessible from eight different points of the compass, and these axes provide dramatic framed views of the landscape from within the new central courtyard and of the courtyard from the perimeter of the building. It is both a final resting place and a sanctuary for the living: a welcoming place where families can honour their dead. In its heaviness, however, the final resolution lacks the subtlety of transparency and veiling being explored in the design by Other Architects. Gardner Wetherill Associates' Macquarie Park Cemetery and Crematorium for the Northern Metropolitan Cemeteries Trust in Sydney is a precinct set among trees and in natural clearings, planned to respond to the natural topography of the land. The architects aimed "to provide a 'journey' that appeals to our senses offering solitude for contemplation or simply gathering for reflection." However, a more sensitive exploration of the landscape through an intuitive and thoughtful response to place would open up new possibilities for cemeteries and crematoriums to be redefined as places for the celebration of life and memorialization. David Neustein and Domenic Trimboli and Benjamin Juckes expand on the new possibilities for funerary architecture in this issue.
Wilson Architects' non-denominational Kooroomba Chapel in Mount Alford, Queensland, a bespoke wedding and event chapel, raises questions about the understanding of the sacred. A gabled bellcote sits above a transparent temple form, a space-marker that responds to the landscape. This glorified shed has appropriated the design of sacred spaces for something more commercially minded. It is presented in a romantic, picturesque setting of mountains and cultivated fields of lavender and vines designed for photography more than for spirituality. Is this placemaking expressed through an ersatz chapel?
Notions of the sacred, of community, of belonging and of place are at the heart of the design briefs for all of these projects, regardless of denominations or faith traditions. Architects express the need to bring people together and to design for the future with sustainable and environmental concerns at the forefront, regardless of whether they are working on a new building, extensions to existing complexes or in heritage areas. Inspiring change and leading transformations of ideas, form, concepts, the sacred and everyday realities are key to the emerging and unfolding creative explorations and experimentations in Australian sacred spaces and religious buildings.
1. Religion in Australia, Australian Bureau of Statistics, 28 June 2017, abs.gov.au/ausstats/abs@.nsf/Lookup/by%20Subject/2071.0~2016~Main%20Features~Religion%20Data%20Summary~70 (accessed 12 March 2019).
2. Romaldo Giurgola, Luminous Simplicity: The Architecture and Art of St. Patrick's Cathedral, Parramatta (Macmillan Art Publishing, 2006), 27.
3. R. Giurgola, Luminous Simplicity , 37.
4. Australia ICOMOS, Australia ICOMOS Charter for Places of Cultural Significance, The Burra Charter 2013 , 31 October 2013.
Source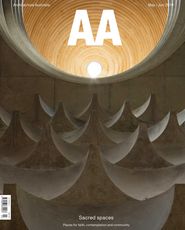 Issue
Architecture Australia, May 2019