The experience economy is being fuelled by a generation of millennials who would rather spend their money on accumulating memories than objects. At Artichoke Night School session twenty-two, held on 26 October 2016 at Space Furniture's Sydney showroom, four speakers discussed the design of experience-based environments for consumers and brands.
According to Kim Verbrugghe, senior strategist at marketing and communications agency Deepend, our state of happiness lasts longer after buying an experience than buying a product. Verbrugghe laid the foundation for the evening by outlining Deepend's "experience barcode" – "a magic formula for creating a successful experience." As the other speakers – architects Christie Petsinis and Tim Wilson of Folk Architects, and Chris Bosse of LAVA – presented, it was interesting to consider how their buildings and spaces fit into the barcode.
The experience barcode begins with exploration: the spark when some-thing new grabs our attention, our interest to learn more, and our commitment to buy a product or visit a place. "It needs to meet needs, be easy and be enjoyable," Verbrugghe explained. This was certainly evident in Folk Architects' Hortus, a temporary cafe that is now in its third year. Located in Melbourne's Docklands Harbour Esplanade, Hortus activates an expansive and underused space with an approach "on a human scale." Folk Architects engaged local companies and brands, asked people what they wanted to see in the area, and used foraged materials for intriguing forms. "We tried to look at it as a catalyst of how people could use the area," Petsinis said, and the result is a social space that functions as an interactive information hub and a cafe.
Anticipation, as the second stage of the barcode, is the imagining of future pleasures and the process of discovery. Both Folk and Bosse presented a number of environments in which the buildings slowly reveal themselves as visitors approach them or move through them. Folk's sculptural winemaking facility for Medhurst Winery in Victoria offers visitors a series of ever-changing views, while LAVA's Greenland Display Suite transforms a 1960s lobby and takes visitors on a journey through space.
Consumption is the third stage in which users evaluate whether their expectation lived up to the actual experience. Here, Verbrugghe suggested designers should also consider the notion of "surprise and delight," which can intensify our emotions by four hundred times (positively or negatively), and "enrichment," which can improve our relationships with others, ourselves and the environment. Bosse presented a multitude of remarkable projects demonstrating LAVA's approach to design, which combines the dichotomies of slow-moving nature and fast-moving technology. This could be seen in the Beijing Watercube created for the 2008 Olympics, which submerges visitors in light and pattern in order to manifest an experience like being underwater, and in Green Climate Fund Bonn, which is inspired by the landscape of the Rhine Valley and encourages users to engage with the building and each other.
The final stage of the barcode – "effect" – pertains to the role of memory. The final moments of an experience define how people will remember it and for how long, and as such designers should create a significant experience that ends positively. The Martian Embassy is a creative writing centre for which LAVA designed an immersive space intended to help children forget they are in school and to enjoy and remember the space around them.
The evening concluded with all speakers agreeing succesful design needs to offer authentic experiences. "You have to extract what the project is and what the people want," Petsinis described. "You have to engage and invest in understanding the person, the client, the brief, the audience and the space." Indeed, and as Verbrugghe concluded, "design thinking puts the user at the centre."
The Artichoke Night School series is presented by Artichoke magazine in partnership with Space Furniture. Night School session 22 was held at Space's Sydney showroom.
Source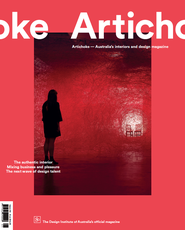 Review
Published online: 20 Mar 2017
Words: Rebecca Gross
Images: Neil Fenelon
Issue
Artichoke, March 2017
Related topics