Ahead of an appearance at the Old School / New School conference in Sydney on 16 October, Karl-Martin Buch Frederiksen of Copenhagen-based practice Kant Architects spoke to ArchitectureAU associate editor Patrick Hunn about designing education projects in the Scandinavian building tradition, what digital technologies mean for the delivery of education, and the importance of maintaining a sense of optimism.
How do you personally measure success in education design?
Personally, I measure success in educational design by comparing measurable and sensible values. The architect today tends to have too much focus on the measurable values, "if there is enough light, if there is enough airflow, if the sound is sufficiently reduced". Here it is important to me that we look at the sensible values. That with our architecture and design, we are aware that we can change the behavior of the user: how we sense the space and how the space affects the sensory learning.
As architects, we have the opportunity to improve learning through the architecture that we create. In this way, we have the opportunity to change the behavior of the students.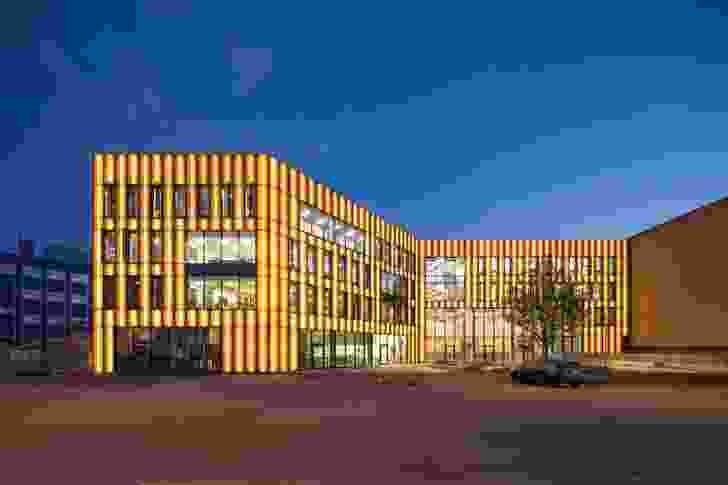 To what extent does, or should, architecture shape or inform the delivery of education?
We need to understand that the future is going to change the field of work that we as architects are part of. As architects, we should dare to enter into new relationships where we need to sit closer with learning consultants, educators and researchers. It is my clear belief that the learning method is directly related to the learning space we draw, and we must be aware that the spaces we create can help change the learning method that is practiced at the education institutions.
At Kant Architects, we have established a future and innovation lab called Agenda. Through Future Studies and innovation projects, the ambition for Agenda is to lead the way and set standards for how we will live and learn in the future.
Kant Architects is rooted in the Scandinavian building tradition and has actualized more than 100 educational buildings and housing projects in Denmark. By establishing Agenda, we are now adding a focus on future studies and innovation projects – and the international market. Very few in the architecture business has looked far into the future and tried to gather all of the future studies that collectively can indicate how current and future technological leaps will impact the way we arrange and organize ourselves at home, in school and in our urban spaces.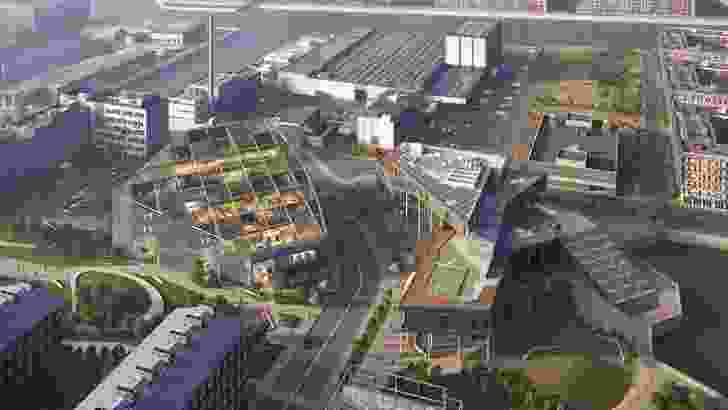 Digital technology is having a pronounced effect on the way education is delivered, and it's hard to know exactly how schools will be used in the future. How do you design a school without knowing precisely how it will be used in the future?
We talk about disruption in many fields and businesses, but it has only just begun. Before long, we will see a global disruption where technology will turn our behavioral patterns upside down, and we need to prepare ourselves for that.
With new, emerging technologies entering the scene – like artificial intelligence and Machine and Deep Learning, where computers, simply put, will be able to generate new knowledge on their own – we need to prepare ourselves for the fact that our educational facilities will change radically in the future. Technology will change our way of learning new things and all teaching facilities will need to question the way they teach – just as they will need to reflect on what is actually relevant to learn, now that computers can do so much of the work for us. And that is what Agenda is going to help achieve: finding new, thought-out and sustainable ways into the future.
In addition to sensing, it is also important to ask the difficult questions that we cannot immediately answer. Because if we can't, we'll probably design something that's been seen before. One of our next projects is about the future of learning, whereby we can ask the question: "What does digitalization mean in terms of learning?" There, we take up the entire question of Coursera, LinkedIn and other platforms, bring in future researchers and grow it. After all, we are building the physical world for this. We need to lift the architecture and dare to ask questions about it.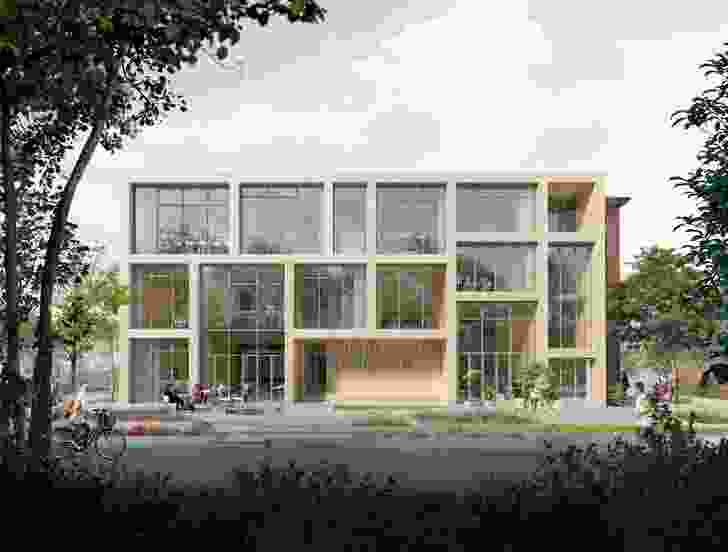 In many places, schools are enclosed and secure spaces. If we accept that this is a necessity, what role can architecture play in ensuring that these complexes still relate to the surrounding urban environment?
As part of the studio's method, I've introduced the concepts of respectively smart and common square feet. Several schools are facing the same challenges [in terms of how they use] square meters, which we at Kant Architects solve in the way that square meters become utilized throughout the day. The moment we introduce community to the school - not just across subjects and classes, but also across schools and local areas - we speak about smart square feet.
An example is the Kildevæld School, which is under development. It is both a school and a cultural center, where many of the common areas and functions are shared between the cultural center and the school. The school is open and active a larger part of the day, which creates ownership, a safe frame and a sense of being part of a community that goes across the entire local community.
Another example is Dyveke School, where we created a number of flexible common areas in their long hallways. It turned out that they couldn't figure out how to put them into use because they were used to having a culture where kids run down the hallway. Next, we did some workshops with the teachers and some of the students, which means that the room today is pretty much new, because they got one culture where they are proud of it and take responsibility for it. Since we submitted the project in 2014, we have therefore tried to follow up on our projects in a new way, so we partly know how the room has been used and is testing it in relation to, for example, the acoustics - and partly helps to convey how to use the school and the new learning spaces, so the children thrive and inspire.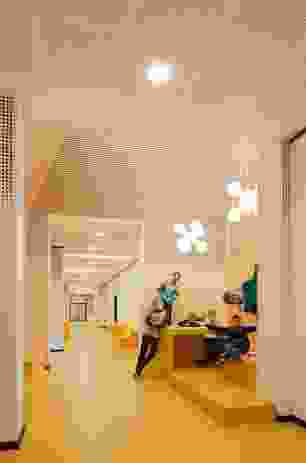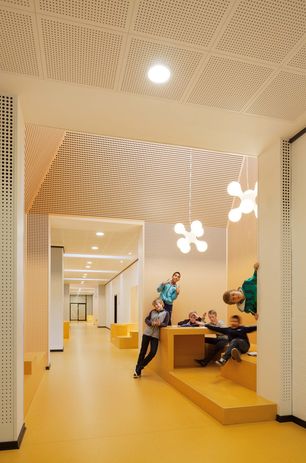 There is a huge divide in the funding available for public and private schools in Australia, with some private institutions spending enormous sums on facilities that are almost embarrassing in their ambition and size. Is the Danish experience similar or dissimilar? What is the Danish consensus on investing in the design of public education buildings?
In Denmark, we have a large range of public school offerings that meet the learning goals and forecasts that the Danish state has set as a benchmark. However, there is a picture that more and more people are choosing private school offerings. Not because the framework of the public school is not good enough, but because the teachers do not have enough time, or because the replacement of teachers is too large, which means that the students lose their relationship with the teachers and thus have a hard time having a continuous schooling.
However, some municipalities invest heavily in rectifying both the physical framework and the conditions of the teachers. It is particularly interesting to look at the Municipality of Copenhagen, which in these years is investing extensively in new schools as well as in the renovation and transformation of older schools.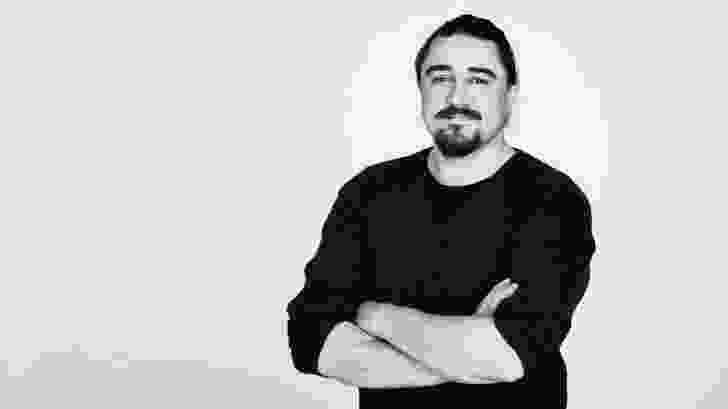 At Kant Architects, we are part of a partnering agreement called TRUST, where the municipality's youth management and a group of chosen contractors, engineers and architects have joined forces to lift the schools with a special focus on the relationship between the learning and the space in which the children learn.
We have to constantly stimulate our curiosity in relation to the trends in society and the future, because wonder if it will not also affect the school and the way we live. We need to find the courage and curiosity to keep embracing the new and examine it because that´s what develops us.
We have no idea exactly what will happen in 10-20 years, but we can be curious towards the movements we see. And we can be aware that we both digitally and technologically are going to move more than we have moved in the last 200 years. I think we're on the move with a showdown with many things about our behavior - at least when we talk about the Western world. Our way of using devices, learning, being present with each other as well as our way of living will change. I believe that one must go to the future with questions, joy and optimism. The future is not so dangerous and it is precisely the interesting questions for the future that make us draw better projects.
Old School / New School returns to Sydney on 16 October. For further information, head here.
Old School / New School, presented by Architecture Media, is part of Design Speaks, a series of talks, seminars, forums and conferences on and about architecture and design, for design professionals and their clients and interested members of the wider community. Old School / New School is supported by Allegion and Autex.
Related topics