The seventh edition of Design Speaks Work Place/Work Life took place in the historic Eternity Playhouse in Sydney's Darlinghurst, refurbished by TZG in 2013. Work Place/Work Life is a forum about the future of workplace design and brought together industry, client groups and experts to discuss the power of workplace design as a vehicle for change. The format of the forum combines keynote speakers, case studies, and discussion sessions.
At a time when the grey clouds of uncertainty hang over the international and Australian economy, the search for increased productivity balanced with concerns of worker wellbeing have never been more pertinent. Despite the differing backgrounds and contexts of the speakers and the diversity of workplace projects showcased the common thread that ran through all the presentations was the idea of "humanizing the workplace." It was agreed that a business that provides a well-designed environment that enhances the mental and physical well-being of its occupants and surrounding communities leads to greater productivity.
The keynote speakers brought a diverse range of views to the table. Paulette Christophersen, partner at PLH Arkitekter in Copenhagen, and Primo Orpilla , co-founder of Studio O+A in San Francisco, provided the international perspective on the future of workplace design. Christophersen discussed her firm's use of empirical data as a crucial means of justifying the value of good design in the workplace. She outlined what she saw as the "mega trends" affecting workplace design: a workforce geared for change; social sustainability and disruption. From the Danish perspective there is a strong commitment to social projects integrated into the design of the program of the building both internally and externally. She also emphasised the fact that buildings should "support innovation and not just look innovative." Orpilla contrasted the Scandinavian approach with O+A's work in the heartland of the USA's tech boom in Northern California. O+A's work highly focussed on narrative construction and experience, ranging from multi-storied experience environments like the Slack HQ through to experimental installations at the Salone di Mobile, or pop-ups in South Carolina. Orpilla saw the notion of spaces of "active respite" as becoming increasingly important in the 24/7 connected workplace.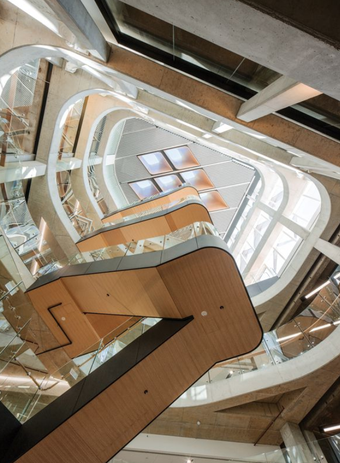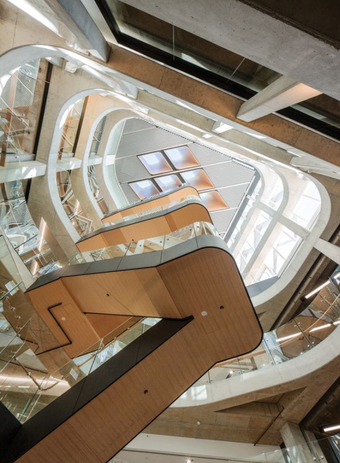 Sue Solly, spatial planning director, experience design at Deloitte Digital in Melbourne, focussed on the increasing importance of omni-channel experience design. She differentiated between designs that might look good but weren't "sticky." By this, Solly was saying that a workplace needs to "attract and not merely contain people." Like Christophersen, Solly stressed the importance of using data-driven design as this was essential to understanding the "wholistic" approach needed for workplace design and strategy. Solly sees workplace as an opportunity for experimentation, and said, "If we don't know that future looks like then let's make the office a lab." Dr Sally Cotto, co-director of transitioning of Wel, in Melbourne, discussed the complex and changing dynamics of the "five-generational workplace." Citing the increasing aging of Australia's workforce and considerations that need to be accounted for in terms of workplace strategy down through to design considerations such as glare and acoustics, also reinforcing Orpilla's concern for spaces of respite.
The forum paired these keynotes with a series of case study presentations by both designers and clients. Three very different approaches to three very different workplaces. Arup and Hassell (Arup Sydney) provided an insight an exceptional designer/client collaboration, while Barwon Water and GHD (Barwon Water HQ, Geelong) demonstrated the cultural change that can occur within an organisation when design excellence delivers. Bresic Whitney and Chenchow Little showcased the potential for organisations to engage with community through high-quality design, while also expressing the place of architectural poetics within the typology of workplace.
Bates Smart Studio Director Rachel McCarthy moderated the discussion forum that concluded the event. The panellists concurred that Australia had an "extremely mature" interior design profession and was without doubt a "world leader in innovation" in relation to workplace design.
Work Place/Work Life, presented by Architecture Media, is part of Design Speaks, a series of talks, seminars, forums and conferences on and about architecture and design, for design professionals and their clients and interested members of the wider community. The Major partner for this event is Planned Cover and supporting partners are Ownworld and Space Furniture.