Designs for a 3,700-square-metre public park in Melbourne's Southbank as part of the six-tower Melbourne Square mixed-use development have been released.
Designed by Taylor Cullity Lethlean (TCL), the park will "gently slope" from the site's edge on Kavanagh Street up to a "café terrace," creating an "amphitheatre feel." Water features will line pathways leading up the slope.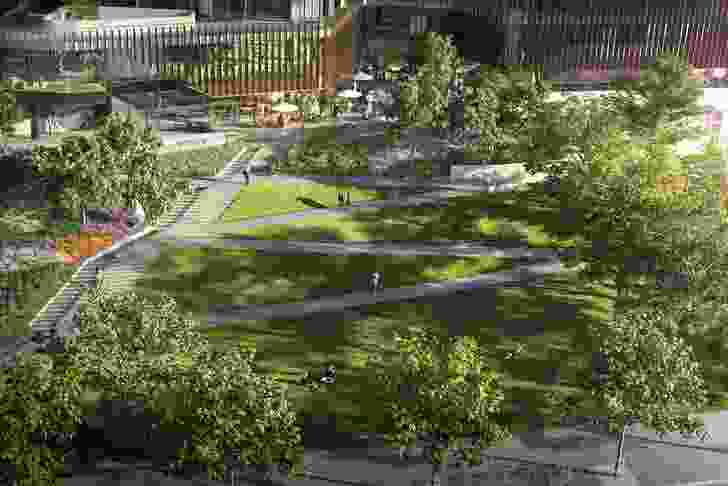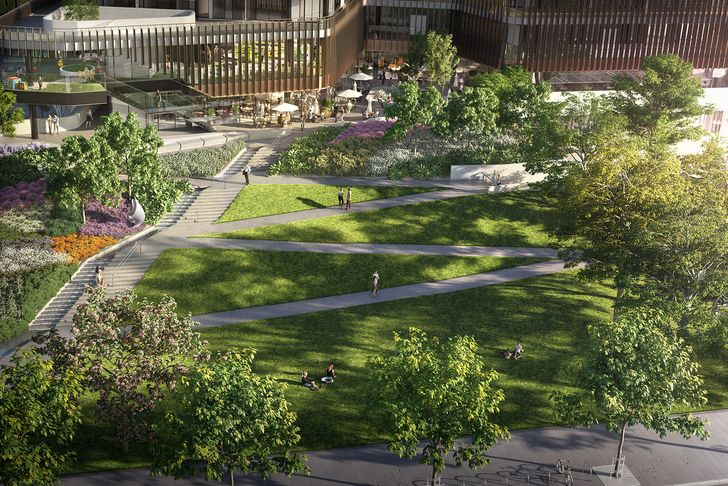 TCL managing director Perry Lethlean said, "The park [will be] part of a network of gardens inspired by Melbourne's iconic Royal Botanic Gardens and qualities from other cities such as Paris, Berlin and Spain."
Victorian planning minister Richard Wynne approved the Melbourne Square development, masterplanned by Cox Architecture, in 2015 for a site on Kavanagh St that is currently used as a commercial car park and abuts the West Gate Freeway on the south. Once complete, the site will be home to four residential towers, a commercial tower, a hotel and a supermarket. The park will take up 20 percent of the site.
Southbank is one of Melbourne's most densely populated and park-deprived areas, with less than 15 percent the recommended area of green space provision per person. "As this is such an urban environment, we have created vistas and seating nestled among the greenery," said Lethlean.
"It's about creating opportunities for residents of Melbourne Square and other buildings in Southbank to engage with nature."
The release of the designs come after the City of Melbourne unveiled, as part of its 2017-2018 budget, a scheme to reclaim a motor lane along Southbank Boulevard as a linear park
In a statement, developers OSK Property said that, like the council's proposed Southbank Boulevard park, Melbourne Square would be "actively programmed" to host public events for Southbank residents.
Related topics