Designs for new inner-Sydney public school on exhibition
Plans for a public school that would bring open space and nature into high-rise dominated Ultimo have been submitted to the New South Wales government.
Designed by a government-appointed consortium comprising DesignInc, Lacoste and Stevenson and Paris-based BMC2, the school – Ultimo-Pyrmont Public School – will be constructed at the site of the existing Ultimo Public School, between Wattle, Quarry and Jones streets in Ultimo.
The new school will increase capacity from 285 students to 800 students.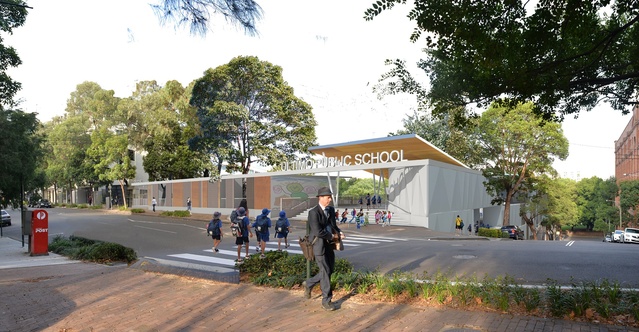 The consortium was selected in December 2016 following a design excellence competition. DesignInc Sydney managing director Sandeep Amin said at the time that the school's design will maximize play areas, with almost all of the rooftop surfaces being kept open.
"Our vision for the new school is one that [will] seamlessly blend imagination, learning and nature to enrich the students' early learning journey," Amin said.
"Ninety percent families and the children from those families live in high-rise apartments, so there's very little contact with actual nature.
"For us the basic driver for the design was how we can make use of the site in a way that we can bring contact with nature back to the children of the school."
According to the consortium's designs, the school will be single storey on its Jones Street frontage and increase in height as it moves towards Wattle Street, reaching three storeys.
The existing Ultimo Public School will be closed during the redevelopment. A "pop-up" school will be built at Wentworth Park to accommodate students. The pop-up school is expected to be ready for use in 2018.
The plans for Ultimo-Pyrmont Public School are on public exhibition for the month of November.