Detail in Contemporary Residential Architecture
Detail in Contemporary Residential Architecture.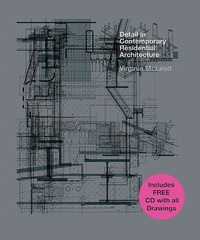 From expressions of luxury to a house made almost entirely of plastic, the fifty-plus projects presented in this book are all about the details that make each one unique. The technical and aesthetic importance of details in the development of residential architecture is analyzed, as are trends in detailing over recent years.
Australian projects include Peninsula House in Victoria by Sean Godsell, and Verandah House in New South Wales by Stutchbury and Pape. The inner workings of these houses are revealed through their detail drawings, which are easily accessible thanks to the CD that comes with the book. This exploration of details is a window into the preoccupations of the architects and gives the reader insight into the stories behind the finished buildings.
Virginia McLeod, Laurence King Publishing, 2012, pp 240, RRP $39.95