A proposal for the final tower in a set of three designed by Renzo Piano Building Workshop for Barangaroo South in Sydney has been submitted for planning approval.
The three towers, which make up the One Sydney Harbour development, will each be predominately residential and located to the south-east of the site of the under construction Wilkinson Eyre designed Crown Casino Tower.
The 250-metre-tall R4A tower and the 210-metre R4B tower were approved in two State Significant Development applications in late 2017.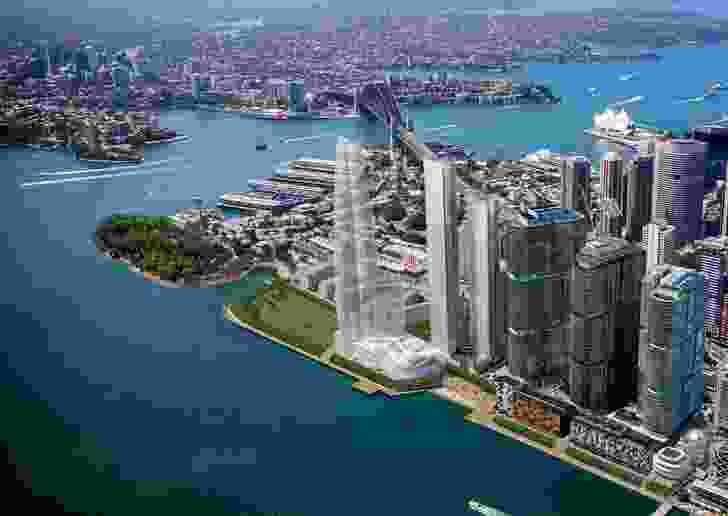 The third tower, fronting Hickson Road, is the shortest of the three at 30 storeys (107-metres), with a two-storey retail podium.
According to the practice's design statement, the towers' design is inspired by Sydney Harbour's "constant kaleidoscopic motion of colour and sparkle," as captured in a 1992 photograph by David Moore. The towers "have been conceived as crystals," with highly transparent facades.
Developer Lendlease paused the application for the shortest tower, R5, as a result of feedback from the community and government agencies. The submissions related to the building's form, residential amenity and the provision of key worker housing (KWH).
The refined proposal has seen the number of residences in the proposed tower increase and the floorplates and core rearranged to accommodate the changes. The fifty on-market dwellings in the original proposal have grown to 162 in the amended plans, mainly by increasing the proportion of one-bedroom flats. The nine KWH residences present in the original proposal have increased to 48. A new, dedicated KWH communal open space was added to the podium.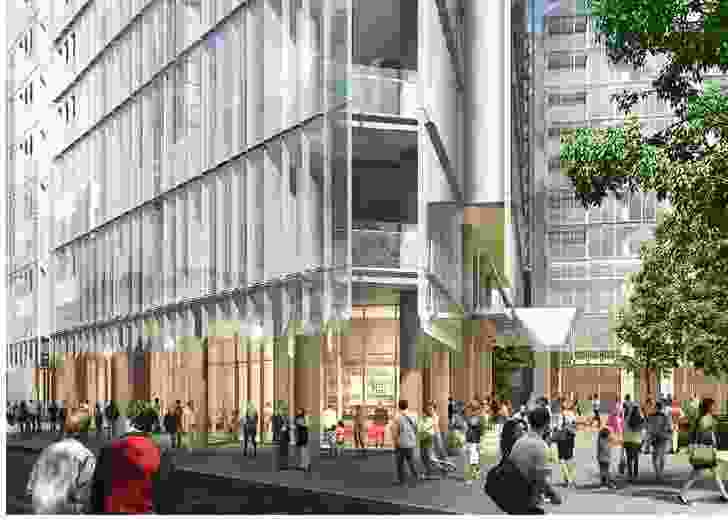 In response to queries about separate entrances to the on-market and KWH properties, the building's proponents said "community housing providers prefer that KWH dwellings are provided with a dedicated access point to enable efficiencies in servicing, cleaning and maintaining the properties. Community housing providers seek to minimize costs associated with maintenance, which is critical to ensuring that costs borne by the provider are minor and that rent charged for KWH remains affordable."
The design of the podium has also been tweaked in response to the submissions. These include the realignment of the south-western edge of the podium to better connect with nearby Scotch Row, and the addition of a chamfered corner at the north-eastern edge of the building to "create a natural transition to Hickson Park." A "notch" has been added on the tower's Hickson Road façade to "modulate" the perception of the building's bulk.
Renzo Piano Building Workshop was appointed to design the One Sydney Harbour tower complex in March 2015, following an international competition that attracted 25 submissions.
The full development application can be found here.
Related topics