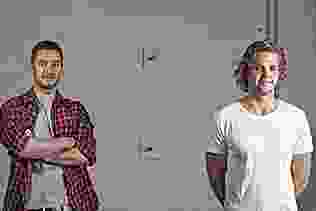 Most professional degrees proffer an intermediary step for graduates leaving university. This is generally a low-paid position churning out something for someone. For furniture design graduates in small states like Tasmania, this option does not exist – they must leave or leap. David Houbaer and Alec Balcombe chose "leap," forming Dhab Studios within months of finishing a degree in furniture design at the University of Tasmania School of Architecture and Design in Launceston.
With a long-term friendship forged in high school, avoiding class in the woodwork rooms, to working on shared projects at university, the move felt natural. Vindicating David and Alec's "leap" decision, Dhab Studios picked up the annual Springboard Scholarship with DOT (Designed Objects Tasmania), which gave them mentoring support and a workshop to use. In the first eighteen months of Dhab Studios, Alec and David have completed interior components for a delicatessen, seen their lights installed in the refurbished Tasmanian Museum and Art Gallery, completed private joinery commissions and had their Springboard exhibition at Arts Tasmania.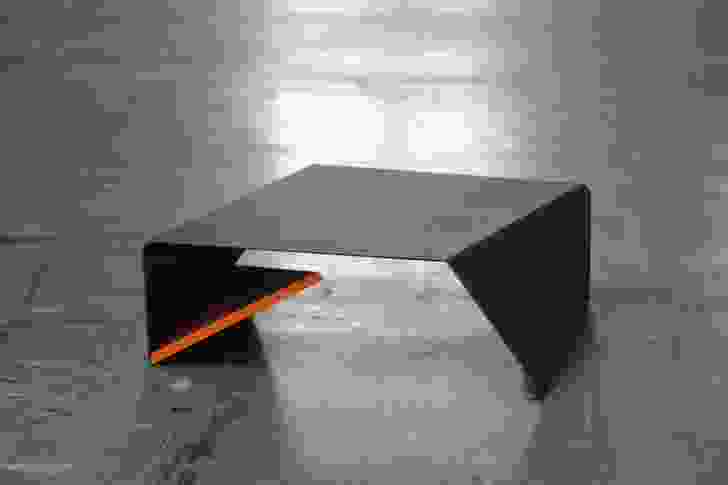 While Dhab Studios is still developing its style, its work to date reflects a desire to strip things back to the essential components, work with raw materials and build creative collaborations. Its Eco and Alumina lights reflect this approach. Eco is made from laminations of laser-cut, corrugated cardboard, built into an extruded bell shape. The gaps within the corrugate let the light spill along the whole form.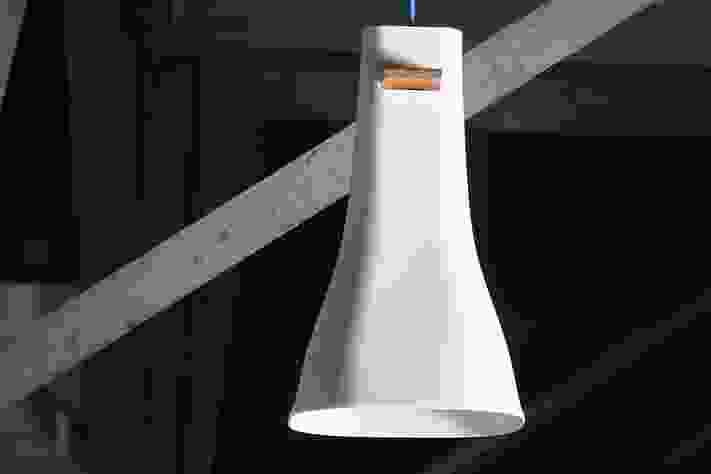 Of the same profile, Alumina comes from an ongoing collaborative relationship with ceramicist Sonja Brough and is made from slip-cast porcelain. Here the light is expressed through the translucent material, revealing the clay grain. The Stealth coffee table is part of Dhab Studios' latest collection, and is folded up out of steel plate, finished in black, and has a contrast piece wrapping to form a magazine rack. The practice plans to explore a range of different materials through this torsion form.
While David and Alec are interested in developing individual products, they are equally keen to use their design thinking to solve others' problems, as they get a buzz out of the relationships they build with clients and from unique outcomes. They are also interested in establishing entrepreneurial projects to achieve longer-term creative and financial stability. At this stage, though, they are building the business in the background while throwing Dhab Studios into the good things that come along. As Alec admirably puts it, " … we want to make our mistakes now, while the risks are low … and constantly push what we know."
Source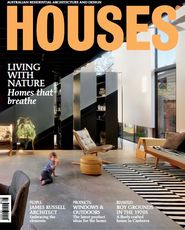 People
Published online: 14 Jan 2014
Words: Judith Abell
Images: Courtesy Dhab Studios, Osborne Images, Will Swan Photography
Issue
Houses, October 2013
Related topics