DIA names design graduates of the year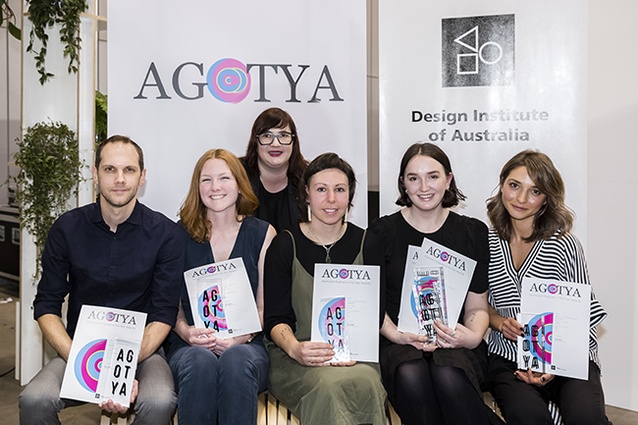 The Design Institute of Australia has announced the winners of the 2018 Australian Graduate of the Year Awards (AGOTYA).
Held as part of Denfair Melbourne in June, the AGOTYA program celebrates the best design graduates from around Australia, with educational institutions nominating candidates across five categories.
The overall winner of this year's competition was Jessica Gregory, a fashion design honours graduate from RMIT University who received the Madeline Lester Award for outstanding potential. She is also the winner of the Fashion and Textile Design category.
Gregory presented a range of contemporary clothing designs that featured printed extracts from social media messaging. The judging panel were impressed by the "strong conceptual lineage" throughout her work, which they said was "fun, playful and sophisticated."
Taking out the Interior Design and Decoration category was Chrissa Drosopoulos of Swinburne University. She presented a series of proposals, including a fit-out of Melbourne's heritage-listed Campbell's Arcade by the Flinders Street railway station, a memorial to Gough Whitlam in Batman Park on the edge of the Yarra river in central Melbourne and a cultural centre in Amarapur, India.
The judges praised her "strong sustainability solutions and innovative site-specific design responses."
Troy Baverstock from Queensland College of Art, Griffith University was named winner of the industrial and product design category. He presented a minimalist wooden music player, a 3D-printed device that enhances traditional prosthetic limbs and an ergonomic bicycle seat.
Louise Robinson of the University of South Australia took out the Visual Communications category, presenting an updated title sequence for a Pride and Prejudice adaptation, andRenee Hope from Melbourne Polytechnic won the Jewellery and Object Design category for her range of plastic jewellery.
The judges for the 2018 AGOTYA were: interior designer Adele Winteridge of Foolscap Studio; industrial designer Justin Hutchinson; Denfair director Claudio Oyarce; and Dave Giles-Kaye, CEO of the Australian Fashion Council.
The Design Institute of Australia's national president Claire Beale convened the awards.
To see the winning entries, head here.