The brief of the 15th International Architecture Exhibition at the Venice Biennale, Reporting from the Front, was in favour of a BC – "before computers" – survey of evolutionary building techniques. Curated by Alejandro Aravena, a declarative South American grand visionary, the first building blocks like bricks were endorsed as fundamental solutions to the "current crisis in architecture." There was a strong reference to refugee conditions, Third World housing and crisis accommodation. A perceived backlash took place – spectacularly so with the Zaha Hadid exhibition, sadly coinciding with her sudden death. Patrik Schumacher of Zaha Hadid Architects clearly stated that the biennale stood for a wave of politically correct architecture, encapsulating a "lack of confidence, vitality and courage" in the profession at large. However, somewhere in between there were solutions to Aravena's brief that did not ignore the digital Zeitgeist. Some projects displayed both characteristics, combining sophisticated digital techniques with primitive "making" to give original perspectives to architectural conceptualization and production.
The Swiss pavilion featured a cloud-like exterior and a cavernous interior in pure white cementitious material. The exhibition Incidental Space raised "controversial questions" about how architecture is produced and experienced. "Everyone says that manual labour is dying and the computer is taking over, but no, the computer is just a slave and we are doing the work with our hands still," quoted Peter Zumthor, the godfather of Swiss spaces.
Unlike Swiss watch precision, with its toy-like presence, "perceived virtuoso sloppiness" disguises the rigorous structural analysis that sophisticated computation can implement. Irregular forms of "incidental space" originated from small models built from sugar and dust with plaster casts. The full-scale version was made from panels of sprayed fibre cement, using plotting and milling techniques. It could be enjoyed like living play dough, possessing a multitude of interiors, interiority being the very essence of architecture.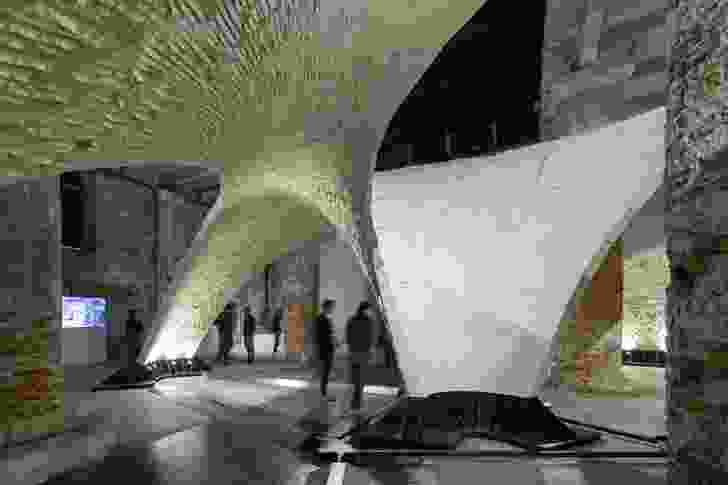 Beyond Bending, one of the biennale's main exhibitions, was conceived by Block Research Group. Four prototypes of vaulted floor systems, a series of graphical force diagrams and an expansive stone vault demonstrate how architecture can learn from the building techniques of the past. This three-dimensional arched active space has freakishly simple methods of attachment, essentially none. No mortar or glues, just the weight of the product itself, a magic possessed only by archaic classical ruins found in Ancient Greece or Rome. Pairing these methods with computational structural science, the pavilion is a rustic shelter acting as "moment," using the most powerful force to keep it together – gravity.
The Architectural Imagination exhibition at the US pavilion involved speculation about Detroit's Packard Plant by architect Greg Lynn. "Trimble mixed-reality technology and Microsoft HoloLens bring the design to life and bridge the gap between the digital and physical," Lynn explained. The redesigned complex prioritizes flow and movement in an interconnected network of products, people, robots and ideas. Packard was the perfect carcass for the smooth spaces, transitional programs and flux seen in Lynn's work for twenty years.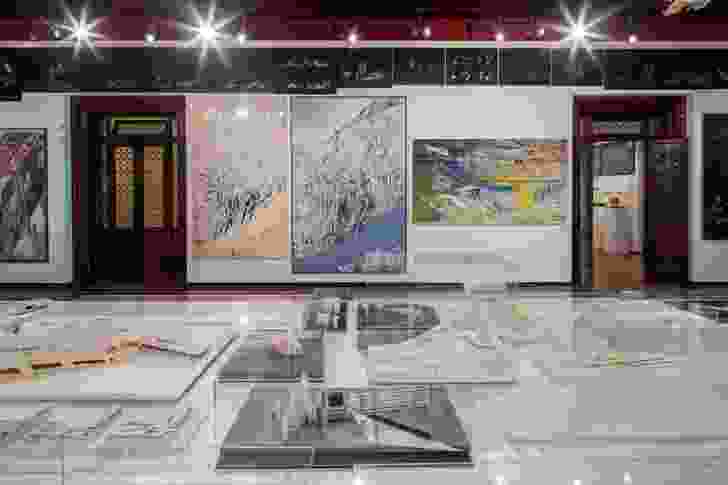 The Zaha Hadid exhibition was a backlash against the brief of the biennale like no other. Every facet and every scale of the abstract, forward-thinking digital world of contemporary design by the world's most powerful design office was represented. Fearless in aspiration, the projects were exquisite and plentiful, gracing every room of a stunning palazzo. Over thirty years of work were represented in some way, from illuminations of the early drawings to Russian constructivism to models striving for multiple futures in design. The exhibition was inquisitive and exploratory, proving that architects like this are essential. Zaha Hadid stated previously, "I know from my experience that without research and experimentation not much can be discovered … you think you're going to find out one thing, but you actually discover something else … much more than you bargain for. I think there should be no end to experimentation."
In the Antarctic pavilion, Antarctica: Re-cyclical/A Frontier in Flux was an exhibition by Studio Hani Rashid and the Institute of Architecture, University of Applied Arts Vienna. Holographic displays presented the frontier of inhabitation, a hostile landscape in an unstable, ice-generated environment.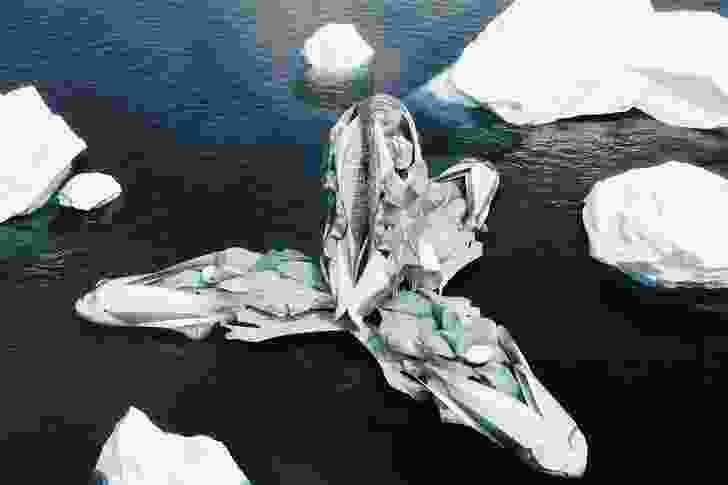 New forms of architecture, planning, thinking and making for new cities in Antarctica evolve from questions that need to be asked regarding sustainable, renewable and zero-impact designs, while allowing for vast populations and changing requirements in the near and deep future. "A saving of humanity," or Aravena's brief, requires a formless solution of sorts or a post-formal dynamic solution, successfully evidenced here, to not require saving.
A small room at Palazzo Bembo hotel includes personal contents of one of the most revered architects of the twentieth century. By Other Means includes a competition entry by a young Peter Eisenman, letters between him and Colin Rowe, excerpts on letterhead to the Australian Institute of Architects and a dismissive letter to Eisenman from Manfredo Tafuri, all signifying the very beginning of this individual's crusade to challenge the accepted norms of architecture. The foreword by Jeffrey Kipnis clearly states that architecture is found in a museum, synagogue, church or significant building, and definitely not housing, shelter or the problem of enclosure that the biennale is supporting. However, the early sketches and the basic presentation make for a primitive exhibition full of artefacts. Section models of House 10 in axonometric cannot be digitally generated. If one were to go back to Eisenman's development in the analog as part of the "making" of architecture, this is his answer to Aravena's brief. However, the contents of the exhibition here are not solutions or outcomes that were required; they are unsolvable architectural dilemmas. Dilemmas require human analysis and interpretation, which the digital does not or cannot provide. The hand of the architect and the author or maker is seen so evidently here, the very premise that this biennale is promoting and exhibiting.
Tactile and primitive processes are indeed seductive and integral to making places with context, however, should not be archived as this removes conceptual thought. An analog and digital combination is the requirement of experimental practice today. That is something that we can all take from the Venice Biennale 2016.
Source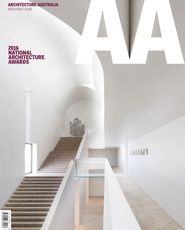 Discussion
Published online: 24 Oct 2016
Words: Patrick Keane
Images: Francesco Galli, Iwan Baan, Lenka Petrakova, Studio Hani Rashid, Luke Hayes
Issue
Architecture Australia, November 2016
Related topics