After establishing its status as an authority on the cutting edge of fashion and luxury, and now in its tenth year, fashion store Dilettante has relocated to Claremont's boutique retail strip and unveiled a concept-driven interior designed by Jen Lowe of Ohlo Studio.
Lowe's curiosity about materiality and form prompted a design language specific to Dilettante, driven by the textures of the garments stocked, which "arguably operate more as art objects than as regular garments." Acting as an extension of the product it houses, the new store seeks to create a welcoming, intriguing and softened experience, using "colour and a little bit of weird."
From the streetscape, Dilettante has a discernible identity. Its cragged facade, the result of an experimental and collaborative process using fast-curing expanding foam finished with nude-toned Tonachino render, sets the store apart from the traditional retail strip. The shop window has been boxed out to create a frameless case for the key retail display, while an illuminated cuboid sign provides a refined beacon. An entry portal acts as a weighty threshold to the composed retail space beyond, heightening the sense of arrival.
Recognizing the importance of showcasing the artistic and experimental nature of Dilettante's labels and noting Dilettante owner Diana Paolucci's interest in sculptors like Constantin Brâncuși, Lowe engaged artist Georgia Kaw to collaborate on the project, making prototypes of sculptural objects that explored materiality and tactility.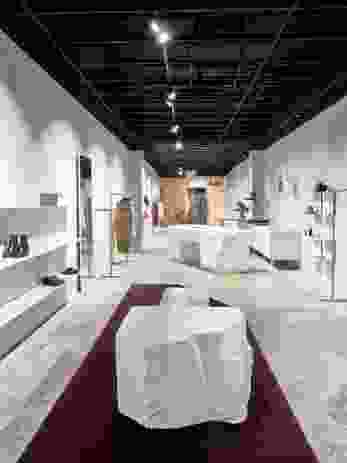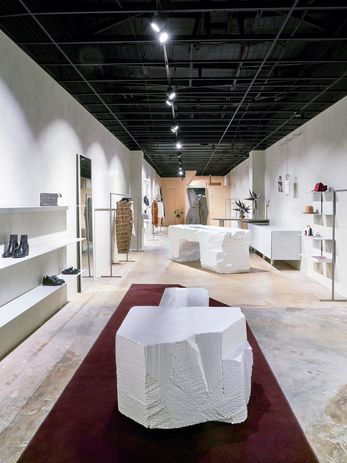 The strategic placement and visual weight of Kaw's artworks serve to define the long, narrow venue into a series of choreographed scenes. The entry is sparse, drawing focus on a white, monolithic object sculpted from compressed polystyrene, hardened with a resinous sprayed finish. The artwork creates a robust display plinth and cantilevered bench, and is juxtaposed against fine, floating shelves that display luxury bags and footwear with a gallery-like reverence.
A dramatic backdrop of blush vertical blinds offers a soft, pleated effect, with the aim of enticing customers into the store "using materials that reflect the creative energy in the fashion collections." The blinds take on an ephemeral quality, tempering natural light and casting spliced light shards across the concrete floor.
An angled counter provides a second anchor point and suggests a meandering path from the entry to the heart of the store. The counter features a tapered base that gives a floating effect and an inset display drawer that showcases a curated selection of jewellery and accessories. The object's glossy white surface highlights the textures and rocky cuts of its robust, angular form.
Behind the counter, a tapered stone bench with a stippled leather finish serves as a central work area for staff. By situating this typically back of house area on the shop floor, Lowe has allowed customers to share in the inner workings of the business and engage with the team of staff. A vintage armchair upholstered in hot-embossed velvet reaffirms this, presenting a comfortable refuge catering for extended interactions.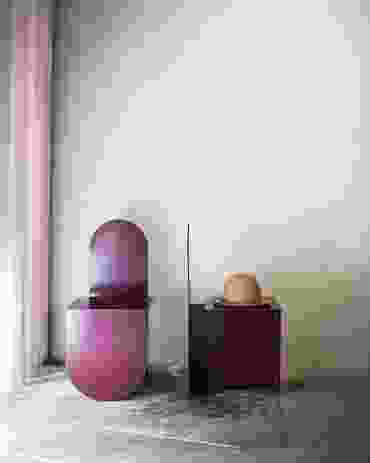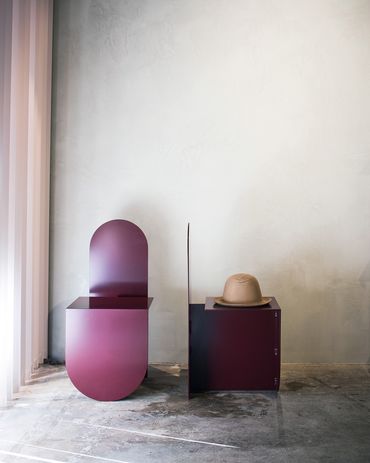 An existing mountainous sculpture by artist Clare Peake obscures the entrance to the changing rooms. The use of the lumpy, nude render, a rich claret carpet and warm strip lighting imparts these spaces with a sense of warmth and intimacy.
With an emphasis on craftsmanship, experimentation and authenticity, the interior maintains conspicuous texture and detail without overshadowing the diverse qualities of Dilettante's international fashion labels. Ohlo Studio has skilfully created unique scenes, spatial sequences and halting points that pique curiosity and enrich the customer experience. Ultimately, the store's delight derives from the artistic balance of spatial tensions – tactile finishes, fine steel fittings and rocky plinths sit in harmony, capturing the ethos and aesthetic of Dilettante.
Products and materials
Walls and ceilings

Internal walls applied with Marmorino finish in custom colour. Exterior and change room walls are a custom colour with Tonachino render over an Expanda foam application. All plaster- work materials from Venetian Decorators.
Flooring

Existing.
Lighting

IBL Apeture V track lights to main space, IBL Pixel Scoops to window display, and Ambi LED WN35 to change rooms, all from Light Project.
Furniture

All hardened styrofoam pieces by Georgia Kaw. Vintage lounge chair upholstered in Sahco Persian from Decor Design. Custom steel chairs powdercoated in Interpon 'Claret' gloss finish designed by Ohlo Studio and made by Remington Matters.
Other

Artworks by Georgia Kaw and Clare Peake.
Credits
Design practice

Ohlo Studio
Fremantle, WA, Australia
Project Team

Jen Lowe
Consultants

Carpentry Casey Ayres
Lighting Light Project
Metalwork Remington Matters
Plastering Todd Fimognari
Project manager Diana Paolucci with Ohlo Studio

Site Details

Location Perth, WA, Australia
Site type Urban

Project Details

Status Built
Completion date 2016
Design, documentation 3 months
Construction 1 months
Category Interiors
Type Retail

Related topics