It begins with a black mirrored door. There is something fortress-like about the subtly branded portal, and stepping through it takes you a mile away from the bright lights of the Crown Casino and Entertainment Complex. Instead, you are cosseted in a dimly lit corridor, the floor gently rising toward a hypnotic kaleidoscopic artwork inset at the far end. As is his wont, megastar chef Heston Blumenthal has all your senses taken care of: a custom fragrance – damp wood, smoke, leather – mists through as the distant clatter of an open kitchen draws you forth.
This commitment to theatrical dining experiences, gastronomic sleight of hand and sensory experimentation has become the hallmark of Blumenthal's restaurant empire. In this latest iteration, Dinner by Heston Blumenthal in Melbourne, Bates Smart has transformed these performative cues into a plush but restrained dining room on the banks of the Yarra.
Before welcoming Dinner by Heston Blumenthal, this same tenancy played host to a six-month visit from Blumenthal's flagship restaurant The Fat Duck. Bates Smart was commissioned for both interiors, but the Janus-like project required a carefully planned approach to allow for a quick transformation from the temporary to the permanent.
"From a practical point of view, we reverse-engineered the diagram," says Jeffrey Copolov, interior design director at Bates Smart. "The challenge was to devise a scheme that would allow us to create something beautiful and functional for The Fat Duck but still allow us to reach the desired end condition."
There is a neat geometry to the space. The central volume contains the main dining zone and the cocktail bar, while the western side houses the open kitchen, private dining room and the chef's table. The eastern side adds a more intimate dining zone, bathrooms and other services.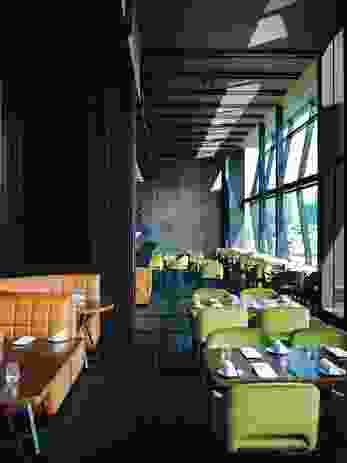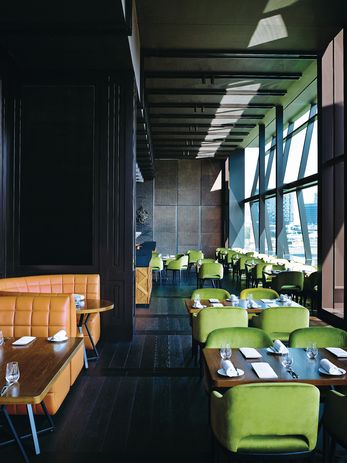 In stripping away the solid dividing walls that structured The Fat Duck fitout, the designers have emphasized the role of floor and ceiling in modulating the space. "I've always been a fan of those upmarket cocktail bars in the United States, where you sit on a regular chair rather than a stool. From grade, the bar is two steps up and the bartenders are two steps down, so you're at eye height with them when seated. It gives you a voyeuristic position overlooking the theatre of the restaurant," Copolov explains. Above, the ceiling performs a similar manoeuvre. It is compressed at the rear of the restaurant, stepping out and up to embrace the five-metre-high windows on the riverside facade.
Custom furniture was created for the dining room, a mix of square and rectangular tables arranged alongside large round tables nestled into semicircular booths. The interstitial space between the booths is interpreted in a deep aubergine glass, which appears again on the high sills of the city-facing windows. "We made and tested quite a few prototypes for the furniture. Height, depth and comfort – it was all tested in advance. The ergonomics were important – when it was in The Fat Duck mode, diners could be seated for five hours! It had to be comfortable," says Grant Filipoff, associate director at Bates Smart.
Teak-encased waiters' stations punctuate the space, with a linear counter for the sommelier along one wall, lit by illuminated ceramic jelly moulds. These custom light fittings are a nod to the original Dinner by Heston Blumenthal restaurant at London's Mandarin Oriental. Above, tubular lights in antique copper are arrayed between an elegant tracery of linework inspired by the Tudor rose. It is a clever articulation of historical British iconography.
Of course, a restaurant like this is really all about the food – making it, serving it and eating it. The locus for this activity is the glass-framed kitchen. A sizeable team of kitchen staff work with focus and precision at banks of stainless counters, with black enamelled appliances ticking away below. In the corner nearest the dining room, a showpiece rotisserie crested by glowing pineapples turns slowly. On the adjoining wall, a mechanical artwork by Robert Higgs – a steampunk assembly of slow-turning cogs and chains – is powered by the stately movement of the rotisserie.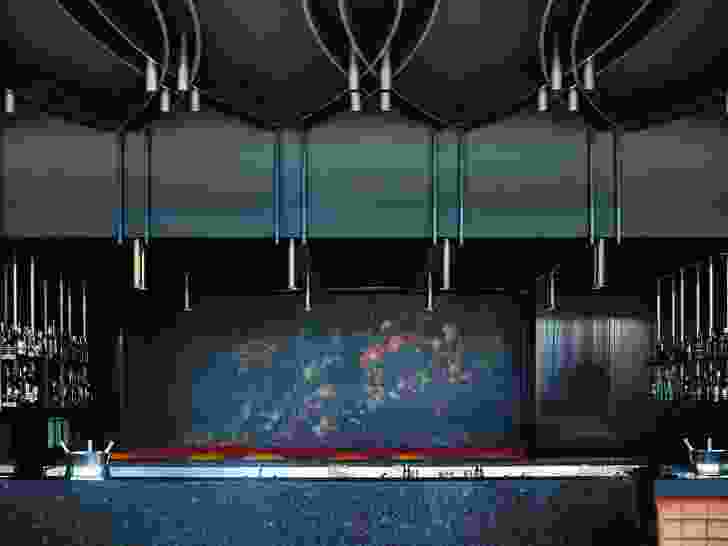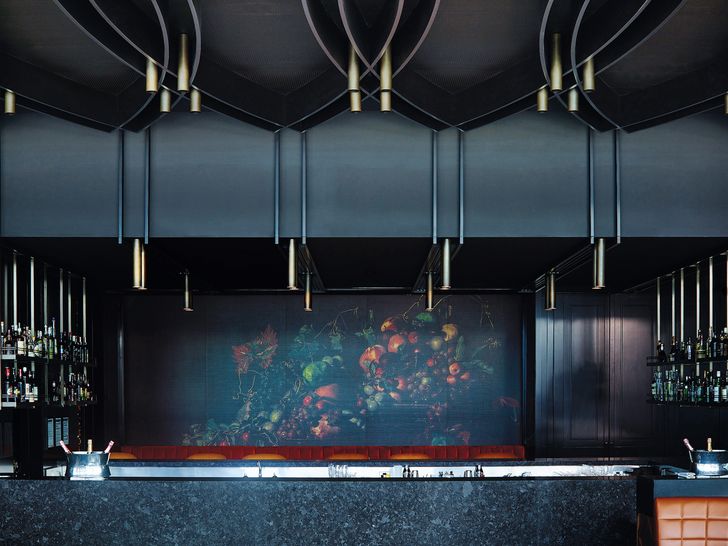 Opposite the kitchen's open pass, a private leather-clad banquette curves around the chef's table, one of the restaurant's signature dining experiences. Behind it, a lovingly detailed mural by artist Dave McKean offers a nostalgic vista of Australian culinaria – the iconic Arnott's rosella, a tin of billy tea and a strident sheep among other motifs.
Large-scale photographs also play a key role in the theatre of the main dining room. Behind the bar, a gossamer-thin copper mesh subtly obscures a tableau of fruit and foliage piled high against a dark backdrop. First published in Blumenthal's Historic Heston cookbook, the photo borrows from the chiaroscuro of Caravaggio and the Dutch masters. Its rich green, tangerine, rust and gold offer cues for the velvet and leather upholstery of the seating.
The success of the space is thanks in no small part to the thoroughness of the planning and its execution. "We try to be rigorous in our approach," Copolov says. "It's driven by a strong sense of order and rationality. It works because, once you've created your own set of rules, you have to stick to them."
Products and materials
Walls and ceilings

Gyprock perforated plasterboard ceiling, painted in Dulux 'Spanish Eyes' and 'Vivid White.' Space Velvet wall panelling from Unique Fabrics. 2-pac wall panels in Dulux 'Spanish Eyes' with Tudor rose pattern on ceiling custom designed by Bates Smart.
Windows

Decor Mirror in grey from Viridian. Vertilux motorized blinds from DAAC Holdings.
Doors

Garrett Leather on private dining room doors from South Pacific Fabrics.
Flooring

Brintons custom-designed carpet in bar and private dining room. Classic Ceramics tiles to amenities and kitchen.
Lighting

Table lamps and pendant lights custom designed by Bates Smart. Pendant decorative mesh from Dale Malcolm Agencies.
Furniture

Upholstered tub chairs in restaurant and bar, and dining tables in restaurant, private dining room and eastern annexe custom-designed by Bates Smart. Banquette upholstered in leather in 'Santa Fe' from Pelle Leathers. Furniture and joinery upholstered in fabric in 'Gold,' 'Y Grass' and 'Tangerine' from Warwick Fabrics. Joinery custom designed by Bates Smart, featuring Tudor strapping pattern to bar front.
Other

Decorative screen in bronze and black from DAAC Holdings.
Credits
Design practice

Bates Smart Melbourne
Melbourne, Vic, Australia
Project Team

Jeffrey Copolov, Grant Filipoff, Melinda Chan, Andrew Raftopoulos, Elisa Varela
Consultants

Builder Built
Kitchen design Chris Love Design, Sefton Horn Winch
Lighting Electrolight
Project manager Crown Projects Melbourne
Services engineer WSP Group
Structural engineer Irwinconsult

Site Details

Location Melbourne, Vic, Australia
Site type Urban

Project Details

Status Built
Completion date 2015
Design, documentation 4 months
Construction 9 months
Category Hospitality, Interiors
Type Restaurants

Related topics