Lisa Cooper sends me a bouquet of flowers almost every day. I confess that I receive it along with thousands of others as an Instagram image. Nevertheless, I'm grateful for it. It's a moment of stillness in a day, an opportunity to stop and appreciate something beautiful.
The arrangements she composes are beautiful, certainly. And there is a deeper, more intangible layer – something sublime and darker. She says, "I was never a tiptoe-through-the-tulips kind of girl as a child. I was much more … " Thoughtful, perhaps?
A myriad of influences and memories swirl through her work – the symbolism, rituals and aesthetics of her Catholic upbringing; the guiding portrait of Saint Thérèse of Lisieux that has hung over her bed since she was a child and hangs there today; the protracted illness and death of her beloved father at the age of thirteen; her "tradie" disposition, instilled in her by her father's work as a butcher; her grandmother's influence as a painter; her undergraduate degree in sculpture, performance and installation; and then her Doctorate of Philosophy from Sydney's College of Fine Arts, which explored the notion of metaxis (the in-between condition of human being) between the divine and the material, the ephemeral and the resilient, the temporal and the eternal, the heaven and the earth. Like flowers themselves.
She is an artist first and a florist second. Her earlier work, when she labelled herself "The Butcher's Daughter," focused on wearable art. She gilded plant forms and made delicate small sculptures that saw her profiled in the pages of Vogue Living, then in the fashion bible W magazine and exposure in America. She made a gilded crown that graced the head of Cate Blanchett for the Sydney Theatre Company's The War of the Roses while she continued to make her video work and installation pieces.
While doing her PhD she got a job at leading Sydney florist Grandiflora and worked with a master in Saskia Havekes. She was seduced by flowers in a way she didn't anticipate. She decided soon enough that flowers would be her medium and her practice. Eventually she started Doctor Cooper Studio and the flowers have taken her places she never imagined.
She also connected, viscerally perhaps, to the trade of floristry – the early mornings, the lifting and lugging, and the skill learnt through repetition and built knowledge. She was reminded, surely, of her father's trade. "There is something I respect in the trades about the mastery of the practice – the work and the repetition – [and] the dedication that provides success. I've always seen a connection between high art and trade."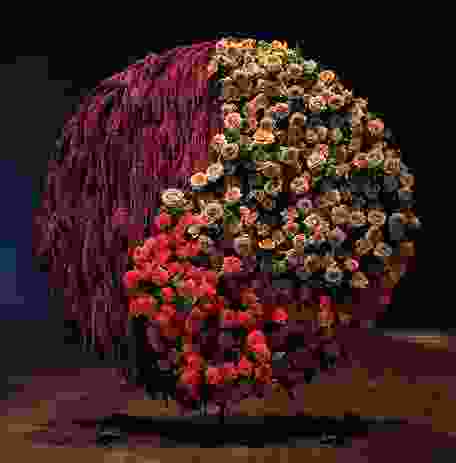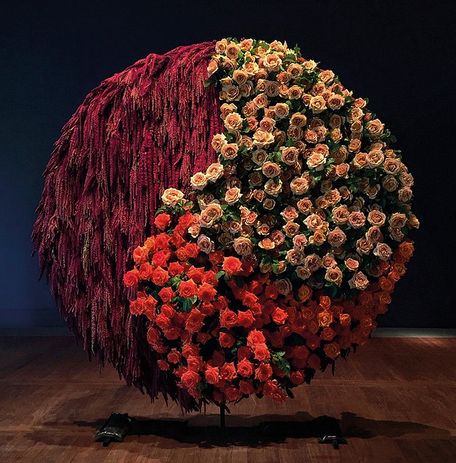 Cooper grew up in Manly, Sydney, and on the Central Coast of New South Wales. Her father was, according to Cooper, something of a philosopher as well. He remains the central and absent figure in her world and work and she finds connections between her practice and his. "He would utilize laws of composition and sculpture to break down the beast and I do the opposite using the elemental to make up the whole," she says.
"My real skill is composition. Everything I've ever done – painting, video, The Butcher's Daughter – all honed my skills of composition. I had fine art training and then with the natural and the living element, it went through the roof. It all made sense with the flowers."
The floral gifts are just one part of her practice, and Cooper says that she "still loves making them because they are very connected to the crux of what a florist is."
"With this type of work I can be completely autonomous and not need any help. And then if that goes on for too long I get itchy for the other and I want to make something that has a big impact, or shows the broadness of my vision," she says.
The "other" is the theatrical and bold installation work that has seen her become a sought-after collaborator for major brands and events.
Imagine, if you can, thousands of Strelitzia emanating from three vast suspended steel-framed orbs, arranged to look like they are exploding – the birds of paradise flowers just beginning their flight across the room. That was an installation for a Myer fashion parade at Sydney's art precinct Carriageworks in 2015 and her largest scale work to that point.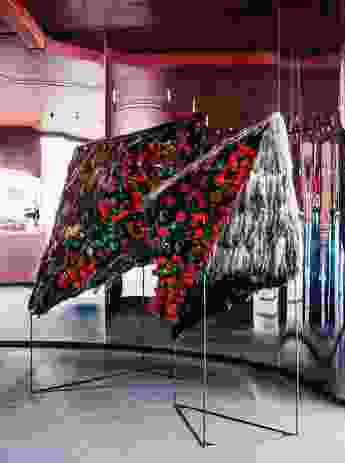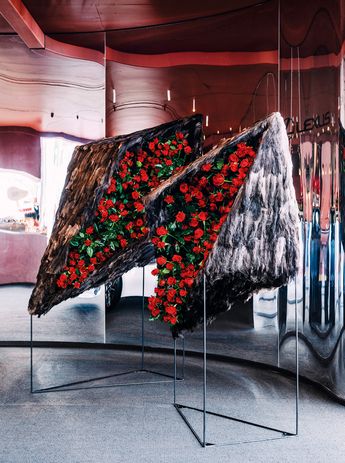 At the Lexus Design Pavilion in the Birdcage at the 2017 Melbourne Cup Carnival, Cooper fabricated large, monolithic diamond-shaped objects covered in ostrich feathers, with a hollowed-out core overflowing with blood red roses, symbol izing the great heart of Phar Lap (and a connection no doubt to the carcasses her father butchered).
Just this year she completed her largest logistical project to date, one that she can't say much about, but that involved an enormous installation of flowers and pomegranates in the Arabian desert.
Along the way she's collaborated with the Australian Ballet, brands like Tiffany & Co and Aesop, fashion designers Romance Was Born and Toni Maticevski, the National Gallery of Australia and the Museum of Contemporary Art, to name a few. In 2015 she was made a permanent artist in residence at Carriageworks, and the same year her book The Flowers was published (Murdoch Books) .
In the introduction to that book she describes her pilgrimage to Lisieux in north -western France. A portrait of Saint Thérèse of Lisieux holding a bunch of red roses and a crucifix has been hanging above Cooper's bed since she was a child and was given to her by her grandmother, who in turn was given it by her mother.
Cooper has lived with Saint Thérèse all her life. It was only as an adult that she discovered the magic meaning behind her presence. Saint Thérèse is the patron saint of flowers, and lost parents. "My PhD thesis was essentially about making a bridge between the divine and the material, and that is essentially what the flowers are for me. "
Source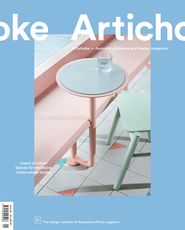 People
Published online: 30 Apr 2019
Words: David Clark
Images: Courtesy of the artist, Hugh Stewart, Lauren Bamford
Issue
Artichoke, March 2018