Much of the appeal in playing with a doll's house is the sense of possibility in redesigning each space on a whim: reaching in like a giant, switching furniture and transforming a sedate upstairs bedroom to, say, a playspace for seventeen Sylvanians (if you have kids under the age of ten, you'll understand; if not, Google it). And so it is with this Doll's House, a renovation and extension of a timber bungalow in inner Melbourne, designed by BKK Architects' Simon Knott for his young family. It's a house imbued with the flexibility required to accommodate the changing needs of a family as kids grow from preschoolers to teens and beyond, and the professional needs of their parents, in any number of configurations.
This flexibility is derived from the house's free-flowing plan. The extension is essentially two open-plan volumes stacked on top of each other, with functional zones defined by joinery and furniture rather than walls. But the two new volumes are not generic blank canvases; each has its own distinct character.
The ground floor – a kitchen and living area – has been sunk below ground level, with dry-stone retaining walls outside marking grade. The dark timber ceiling is low, with lighting recessed into the beams; dark book-filled shelves cover one wall, and another, a backdrop to the fireplace, is constructed from beautifully textured black bricks. The whole space feels "dug-in," a place for hunkering down, but with a verdant outlook to the garden, a mix of productive plants, succulents and natives in a landscape designed by Simon's partner, artist Tai Snaith. The leafy-green view is echoed in the kitchen, where a section of wall is clad with more than five hundred white tiles hand-painted in a geometric green pattern by Tai, and in a wide bench seat upholstered in green fabric.
By contrast, upstairs – the main bedroom, ensuite and an open area earmarked as a possible gallery space – is as bright and airy as you could possibly imagine. It sits among the treetops, a treehouse, made from lighter materials than the level below and with a vaulting ceiling. The view over the garden is again wonderful, but it has competition – a view of carefully detailed carpentry above. (The idea of the doll's house first emerged in the sixteenth century as a way for craftspeople to showcase their skills, and this Doll's House does much the same.)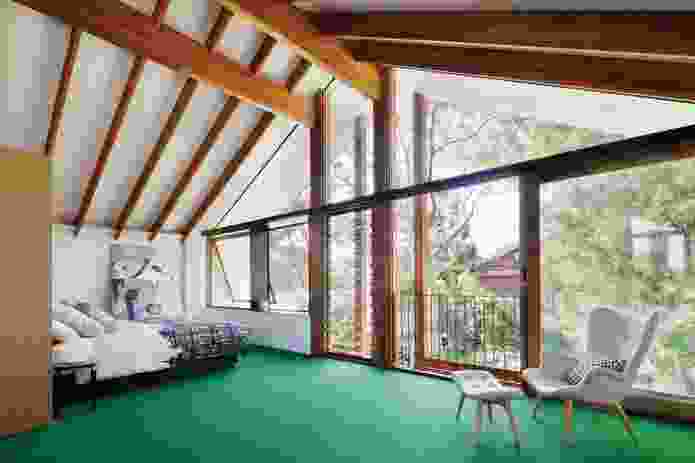 The bedrooms at the front of the original house have been refreshed, but the next two rooms have been opened up to each other. On one side is Tai's studio – very much a workspace, it can be closed off with a sliding door – and on the other, a playroom for the kids. Together they form a buffer between the ground-floor bedrooms and the shared space at the back of the house. In a few years, perhaps the playroom will become a high school kids' study, or a library, or stay as a games room but with an Xbox rather than building blocks. For now, it stands as a metaphor for the entire project – a house with art and play at its heart.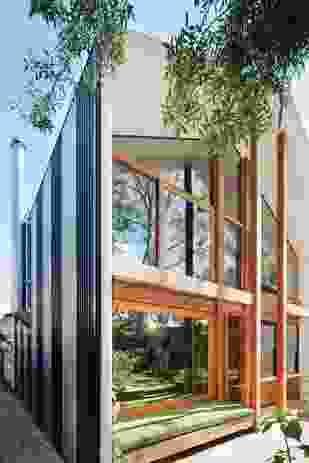 Ideas of art and play also informed the overall shape of the new extension. For all the talk of flexibility and craftsmanship, the most obvious reason for the project's name is the shape of its northern elevation – an idealized version of a kid's conception of "house." There's the symmetrical pitched roof, a single door in the middle of the ground floor, and a tall chimney to one side just waiting for puffs of smoke to be drawn in. And taking its lead from the opening credits of Play School, every window is different.
All those windows – the northern facade is pretty much all glass – have been designed to maximize cross-ventilation. It's just one of a raft of elements that have transformed a draughty old bungalow into a house that minimizes the environmental impact of modern life. The reorientation of the house to the north creates perfect solar access, with the concrete slab and internal brick wall providing thermal mass; R7 insulated fabric coupled with a highly sealed building envelope mitigates extreme outside temperatures; and low-energy LED lighting is featured throughout. There's also greywater recycling for the fruit trees and underground rainwater tanks for the vegetable garden.
These tactics for sustainability have been applied intelligently and rigorously, but they're not groundbreaking. That accolade is reserved for the zebra-striped steel cladding that wraps the sides and roof of the new structure. Researchers have used thermal imaging to show the temperature differential between the black and white parts of zebra's bodies to support their theory that the animals' stripes create tiny, cooling currents of airflow across their skin. The same theory has been applied at the Doll's House. It's a move that would make David Attenborough proud.
And yet there is one more design feature that makes this house even more sustainable. The building's inherent flexibility ensures that it will have a long life span. Even after this family has grown up and moved on, the house will adapt to suit the needs of whoever moves in next, without the need for structural change. Ah, yes – unlike most kids' playthings, a well-made doll's house will last for generations.
Products and materials
Roofing

Stramit Longspan metal roof in Colorbond 'Night Sky' and Zincalume steel; Kingspan Insulbreak and Kooltherm K18 insulation and bulk insulation.
External walls

Radial-sawn silvertop ash timber cladding; exposed timber from Laminated Timber Supplies.
Internal walls

Petersen Tegl D99 bricks from Robertson's Building Products; Kingspan Kooltherm K18 integrated plasterboard; Dulux paint.
Windows

Carison Bros timber windows.
Doors

Pittella door hardware.
Flooring

Academy Tiles hexagonal tiles in black.
Lighting

Darkon LED lights.
Kitchen

Abey cooktop and kitchen sink; Miele oven and dishwasher; Fisher and Paykel fridge; Calacatta marble from Parthenon Marble; Reece tapware; Qasair rangehood; hand-painted tiles by Tai Snaith.
Bathroom

Reece Phoenix Liscio tapware; Caroma Marc Newson basin; Hansgrohe Raindance showerhead; Academy Tiles Tex Mutina wall tiles; Artedomus Elba stone floor tiles.
Heating and cooling

Parsons Hydronic Heating heating system.
External elements

Ecotrihex paving from Adbri Masonry; planters from Hendrikx Concrete.
Credits
Architect

BKK Architects
Melbourne, Vic, Australia
Project Team

Simon Knott, Adi Atic, Madeleine Beech
Consultants

Builder Creo Libera
Building surveyor Group II Building Surveyors
Costing Construction, Planning and Economics
Electrical C & B Electrical
Engineer Perrett Simpson Stantin
Joiner The Cabinet and Furniture Shop
Landscape contractor Architectural Plants
Landscaping Tai Snaith
Lighting Electrolight, BKK Architects
Painter JT Colour Tone
Plumbing Green Light Plumbing

Site details

Location Melbourne, Vic, Australia
Site type Suburban
Site area 480 m2
Building area 205 m2
Category Residential buildings
Type Alts and adds, Houses, Residential

Project Details

Status Built
Completion date 2014
Design, documentation 12 months
Construction 10 months

Source