About a decade ago, as I was renovating my first house – a rundown 1940s clinker brick housing commission house – a small photograph dropped onto the floor. It had slipped out from where it had been resting, behind the back of a timber mantelpiece over a grimy kitchen chimney. This piece of paper – as yellow as the cigarette-stained walls – showed a small group of young people in swimsuits. It offered little in the way of information, say of where or when it was taken, or who was pictured. It was simply an abandoned portrait of a group of people quite possibly now dead, an image marked by what Roland Barthes, in Camera Lucida, famously called the "catastrophe" of time. I admit that what I really wanted the photograph to depict was the house my partner and I had just committed to living in, perhaps as seen in happier times. No such luck. Nevertheless, the photo appeared like a magical trace of the previous owner who had lived in the house all her life and who had, by the accounts of various neighbours, been found dead in the very kitchen I was now occupying.
My immediate response was to photograph the found photo with my digital camera, in situ, perhaps intuiting that this represented an instance of photographic finding that is nearing extinction. No doubt that action, like my overall response, reflected my own reverence for photography. But it was also indicative of a broader interest in found photography among artists and collectors. Of course, artists have worked with anonymous and found photographs ever since the Dadaists and Surrealists recognized photographs as "readymade" fragments, but it seems as if we are only now able to sift through the full mess of the last century's mass proliferation of images. Our current attraction to the found photograph is clearly symptomatic of a set of anxieties around photography's digital recoding, even extending to the status of our memory itself. After all, as art historian Mark Godfrey recently mused, "one day soon there will be no more discarded photographs that have been taken, rejected, fingered, scratched, lost, found, and wondered about, no more object/images cluttering our lives."1 In the meantime, we witness a rapid trade in other people's "obsolete" slide collections and family albums in junk stores and on eBay, with artists adopting a variety of narrative techniques to explore the always incomplete, partial and amnesiac nature of the photographic archive, along with the melancholic intensity of its absences and the pathos of its unhomely repetitions.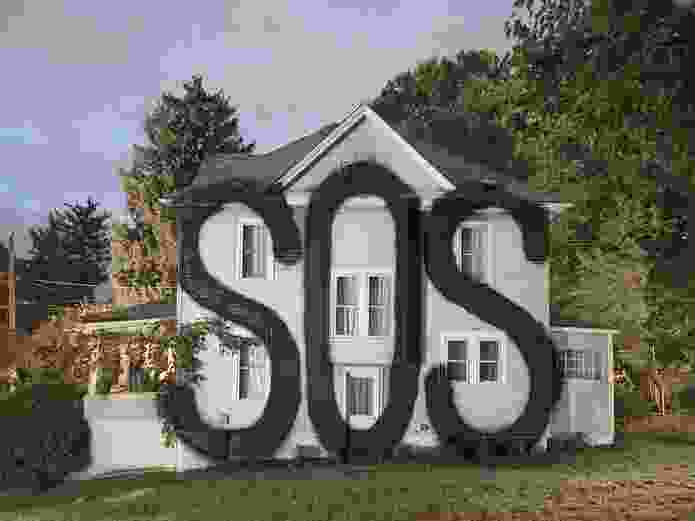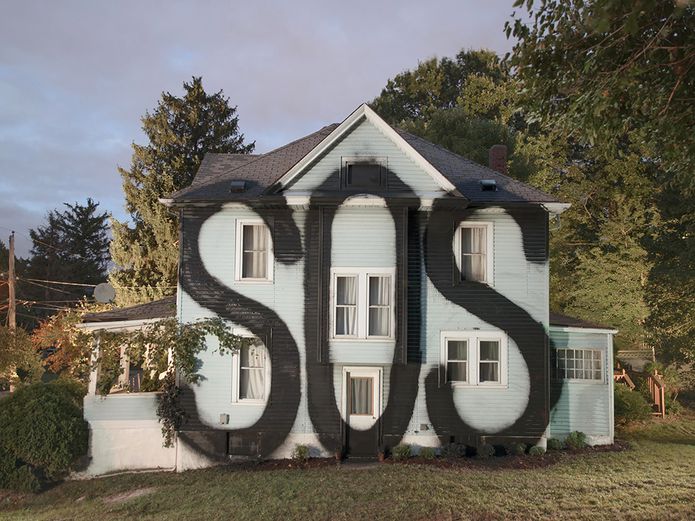 Enter Ian Strange, whose most recent work is comprised of a collection of nostalgic photos of old houses marked and painted with acrylic and ink, which function as both studies and versions of his real-world interventions. Displayed, like the found photograph I began with, on a mantelpiece. I cannot help but assume that the fact that Strange was born and raised in Perth, that most isolated of suburban cities, helps to explain his work. If Perth's shiny veneer barely conceals a spiritual emptiness, then the searing boredom of its suburbs is typically expressed in materialist hedonism and languid longings. However, it can also find a cultural response in unauthorized, underground creativity. Indeed, Strange began his career in the early 2000s as a graffiti artist under the moniker Kid Zoom, rising to international prominence for his photorealistic use of spray paint before relocating to New York in 2010. He also studied filmmaking, which is obvious from the cinematic scale and nature of his productions.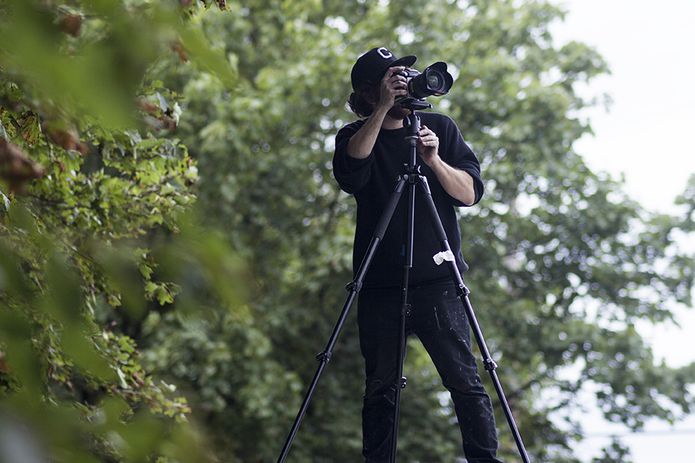 Living in America, Strange became fascinated by two things: first, ideas of home and suburbia, and second, the impact of the 2008 global financial crisis on the USA housing crisis, then in full swing. The first is personal, the second is public, but both are political. As artist and writer Sreshta Rit Premnath notes in a text accompanying the project,2 Strange's work references the brutal political realities "that dictate who owns a home and who cannot," and at the same time "the psychological experience of memory, longing and loss that we all carry with us through our lives from one home to the next." A revealing opening shot in an ABC documentary on Strange's work called Home: The Art of Ian Strange shows his library with Gaston Bachelard's The Poetics of Space positioned next to Joshua Comaroff and Ong Ker-Shing's Horror in Architecture. By now we all know that the suburban idea of home – the idealized image of a detached house with its patch of lawn – is a profoundly ambiguous one. And it is precisely this ambiguity that Ian explores in major bodies of work that have included such dramatic and ambitious gestures as recreating a full-scale replica of his childhood home only to graffiti its front wall (Home, 2011); spray-painting houses earmarked for demolition with giant blood red crosses, which, especially when photographed, mimics the process of crossing out unwanted photographic negatives; setting a house on fire to create a spectacular film (Suburban, 2011–13); cutting out sections of weatherboard houses to exhibit them in galleries, and cutting a house open, Gordon Matta Clark-style, to artificially illuminate it from within for a commission in post-earthquake Christchurch (Final Act, 2013); painting red brick Australian houses entirely black in an act of gothic erasure (Shadow, 2015–16); and even crash-landing a scorched three-bedroom house on the forecourt of the Art Gallery of New South Wales (Landed, 2014) – the last two with a nod to white Australia's alienated condition of colonial habitation. In all of these works, each of which informs the next, Strange reveals the house to be a vulnerable object – physically and psychologically unstable – contrary to conventional ideas of family and stability. And significantly, these "interventions", as he calls them (which can also be thought of as psychological attacks on the house), are first drawn up as storyboards, then enacted with the help of collaborators (often involving various community leaders) before being documented with film and photography in a lighting style borrowed from the universally poetic language of Hollywood cinema.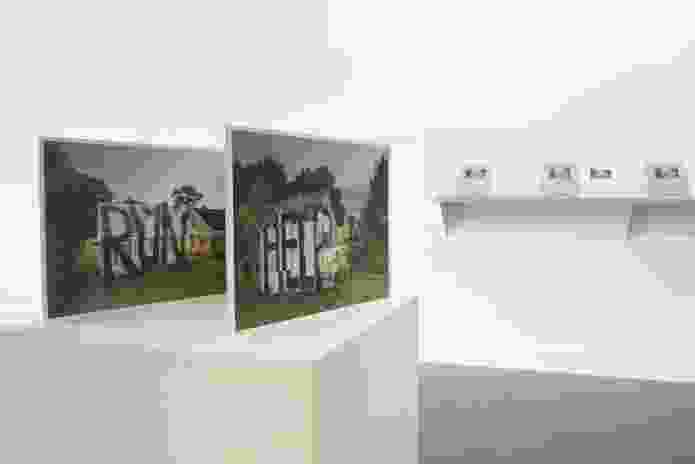 Island is Strange's most recent body of work, "anchored," as he puts it, by photographs documenting three interventions made directly onto suburban homes in Ohio's Rust Belt region between 2015 and 2017. One of these photographs was included in a recent exhibition at RMIT Project Space, which is a modified version of a larger exhibition. The homes depicted are post-GFC foreclosed homes. Doomed homes. But these are not simply voyeuristic images of poverty, the latest version of disaster tourism. Strange and his collaborators have gone to extensive effort to repair the houses and gardens before marking and filming them. The houses are like the embalmed body of a loved one at a funeral parlour. Indeed, when the houses are demolished, the building material is pushed into the concrete basement – those famous basements we see in American horror films enable a burial in which the house literally forms its own coffin.
In this new work, Strange has produced a new form of house portrait: houses that speak. For the innovation here is text: three words, writ large across the facades in black spray-paint, all from the emergency lexicon: HELP, RUN, SOS. Words that also evoke the context of race and class in America, if you know your history of American suburbia and its link to the so-called "white flight" from inner-city neighbourhoods. The words also evoke the title of the work, Island, suggesting a place of refuge but also of possible entrapment. This metaphorical is inspired by a hauntingly beautiful found photograph of a house in a flooded forest that graces the cover of the book Island, published to accompany the new work. Published by PAMPAM Press (the book is designed by Jack Pam, son of photographer Max Pam) the limited-edition book, with a stiff concertina card, is something of an architectural monument in itself. It also includes artefacts collected at "the intervention sites" that speak of the lives lived inside the houses, as well as research material and "reference images" that speak to broader forces of history – from eviction notices to Hurricane Katrina.
An exhibition of photographic works, artefacts and drawings from the ISLAND series was on display at RMIT's Project Space from 4–10 May 2018.