The Brisbane home of architect James Russell is a fascinating case study for residential architecture, not least because it emerged from the site of a nearly derelict squat. The three-storey, 1960s timber-framed building was the subject of a five-year renovation and extension designed and constructed by James Russell Architect (JRA). The building was nurtured from a state of ruin to become a "village" fostering active, curious and socially conscious family life.
When practice director James Russell acquired the Highgate Hill property, the building and site were substantially compromised. A lax rental agreement, which had existed since the 1980s, had inadvertently supported long-term, low-cost housing for musicians and artists, who adopted the property as their own. Works by prominent local street artists Lister and Sofles contributed part of a thirty-year record of occupation expressed on walls, ceilings and every other imaginable surface. During a renowned farewell party the weekend before James's settlement, these cultural artefacts, along with a significant part of the building fabric, were destroyed.
The surviving elements – hardwood timber structure and cladding and steel-framed windows (minus glazing), as well as additional steel and concrete structure that was later uncovered – provided the "good bones" to support new interventions and grafted additions. A new light well, created to improve natural light levels and facilitate conversation within, the building's three-storey interior was the first of many modifications. Like a new urban square brought to life by commissioned artwork, the void is enlivened by a large-scale mural by Sofles, who agreed to return a piece of art to his former share house.
Establishing horizontal connections to the exterior complements the introduction of light from above. The unusual site, rather like an escarpment, which falls steeply from the ridge-top street to the backyard, enables all three levels to connect with outdoor territory: street, courtyard and garden terrace. At the mid level, the enclosure of additional space beneath the street-level carport combined with a shadecloth canopy and garden wall makes a courtyard sanctuary of a once-inaccessible and neglected corner of the site. A large, paved garden terrace at ground level, used for scooters, ball games, dining and gatherings, is where family life comes together.
Guided by a loose "masterplan" rather than a precise set of drawings, alterations emerged in a fairly organic fashion through carpentry and toil, from the top floor down. Asbestos linings were removed and the exposed skeleton of timber, including studwork, joists, floorboards and the interior face of exterior chamfer boards, was laboriously sanded to reveal the natural grain and texture of the wood. The result is a wonderful material richness and a subdued light quality tempered by the shadowy depths of a black Japan finish.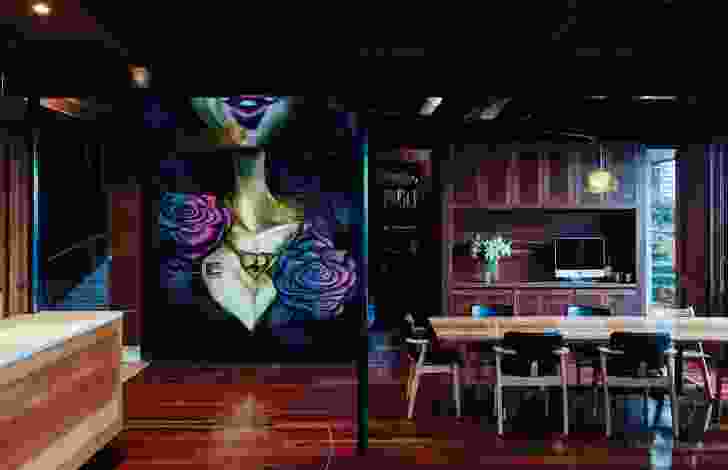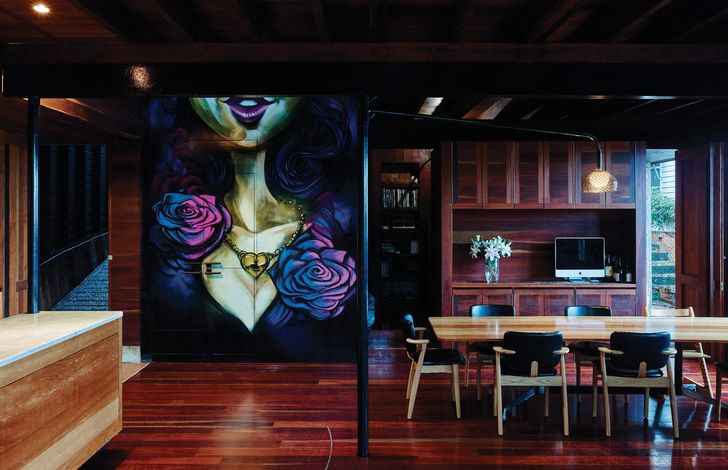 An addition grew from the back of the house in the form of a slender two-storey structure stretching along the side boundary, providing a space more akin to verandah than formal enclosure. The extension serves the dual purpose of visually screening the garden terrace from a towering apartment block next door and providing sleep-outs and playspace for the Russell brood. Tucked in neatly below the extension at ground level is a shaded lagoon, which provides cool relief during Brisbane's long, hot summers.
One of the most interesting things to emerge from this project is the refinement of a shadecloth facade system, which continues JRA's exploration of an industrial fabric (used extensively at Oxlade Drive House, 2013). In this iteration, the dark cloth is employed to protect and wrap the thermal and acoustic insulation applied to the exterior face of the building. A second layer, which drops down from the fascia line, creates a deep-set cloth cavity that protects the building from summer heat loads and visually conceals the external service gantry.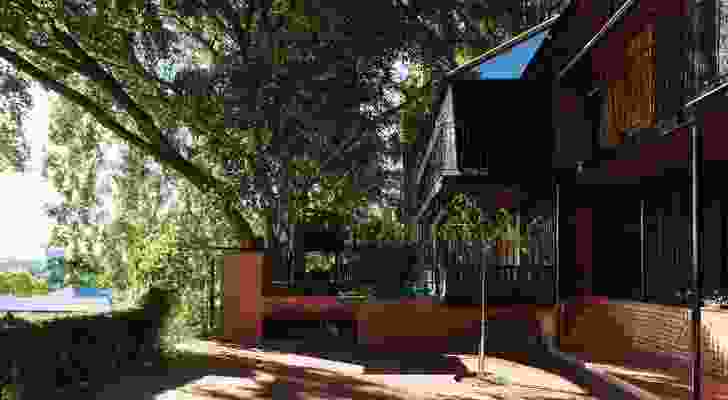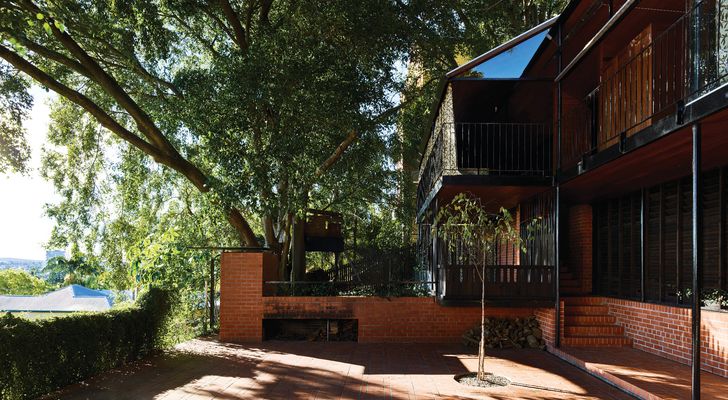 The low-tech, highly inventive system has an anticipated lifespan of more than thirty years and can be replaced for the cost of a coat of paint. It's a credit to JRA that it continues to develop this technology, so well suited to the local climate and consistent with the demands of building economically. Cost and function aside, the aesthetic consequence of the shadecloth skin presents a compelling argument for its use. The opaque surface subverts the building form, which results in a wonderful and intriguing sense of impermanence.
Like an ancient city where labyrinthian pathways reveal hidden gardens, new vistas and doorways into other worlds, this "village" unravels in the most enchanting of ways. The rambling garden pathways, which traverse the site and stitch together old and new, are emblematic of a larger idea resolute in celebrating those design elements and moments that enrich, delight and surprise. If you ever have the privilege of stepping inside this house, choose the meandering path and try to find the secret door.
Products and materials
Roofing

Lysaght Custom Orb in Zincalume; tongue-and-groove ironbark with waterproof membrane.
External walls

Netpro shadecloth; ironbark cladding, oiled or stained in Feast Watson Black Japan.
Internal walls

Single-skin hardwood in Feast Watson Black Japan and clear varnish.
Windows and doors

Allkind Joinery timber frames in Dulux 'Creme Brulee' (external) and Feast Watson Scandinavian Oil (internal); steel frames in Dulux gloss enamel 'Black'.
Flooring

Tongue-and-groove ironbark floorboards in gloss 2-pac finish; Austral Bricks Terracotta bricks.
Lighting

LED strip lights from Prime Electronics and Jaycar Electronics; Clipsal hidden batten holder; Flos Tatou F floor and pendant lamp by Patricia Urquiola from Euroluce.
Kitchen

Ilve oven and cooktop (summer kitchen); AGA Australia oven and cooktop (winter kitchen); Liebherr fridge; Fisher and Paykel dishwasher; Grohe tapware; Carrara marble and ironbark benchtops; Australian red cedar cabinetry by William McMahon Cabinetmaker.
Bathroom

Villeroy and Boch basins and toilets; Grohe tapware; Riba laundry tub; Carrara marble benchtops; ironbark cabinetry by James Russell Architect.
Heating and cooling

Rayburn Heatranger radiators from AGA Australia.
External elements

Ironbark decking, oiled; structural concrete slab; Austral Bricks Terracotta bricks.
Furniture

Jardan sofa and armchair; Artek Domus chair; Butterfly chair from Sri Lanka; custom dining table by William McMahon Cabinetmker with Eames base.
Credits
Architect

James Russell Architect
Brisbane, Qld, Australia
Project Team

James Russell, John Ellway, Ash Brown
Consultants

Builder James Russell Architect
Engineer AD Structure
Landscape architect Dan Young Landscape Architect
Presentation drawings Laura Patterson

Site Details

Location Brisbane, Qld, Australia
Site area 402 m2
Building area 407 m2

Project Details

Status Built
Completion date 2015
Design, documentation 5 months
Construction 5 months
Category Residential
Type Alts and adds, New houses

Source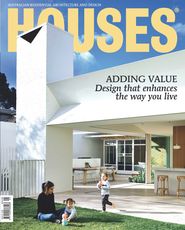 Issue
Houses, October 2016
Related topics