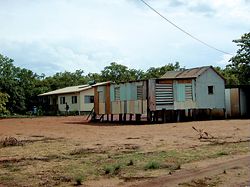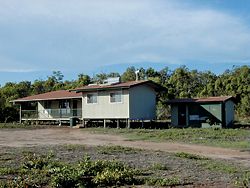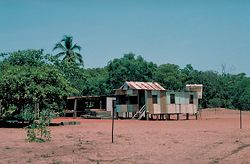 Home ownership on remote settlements is a disputed area, largely due to the blanket imposition of home ownership and associated tenure reforms in the Northern Territory by the Howard Government, without proper consultation. However, in places where families and communities do aspire to home ownership, this deserves support.
There are Indigenous households on communal land in some remote Indigenous settlements who aspire to own their homes. This is supported by limited survey data, which also reveals that the primary motivation is security and heritage for future generations, rather than financial gain.1 More recently, a separate survey of Indigenous home owners on urban freehold-title land showed that the move to home ownership led to an improvement in their socioeconomic status, much as it does in the rest of society.2 And while communal lands are mostly located in remote areas, there are also communal lands in urban centres, including town camps in regional centres such as Alice Springs. The Aboriginal Housing Company in Redfern is also actively working to make home ownership available on "The Block" through the proposed Pemulway redevelopment.
The level of home ownership on the communal lands of Native American reservations in the USA is typically 60 percent and higher. A range of leasehold and strata-title-type instruments exist, which give home owners security of land without title passing out of communal ownership. The Native American experience is that fledgling housing markets can develop with time, within the confines of the closed market of the "tribe". It's important to understand the history here. The first government home ownership program, introduced in the early 1960s, the Mutual Help Home Ownership Opportunity Program, was effectively a subsidized lease-to-purchase scheme. Further research is required to better understand the history and development of these successful programs in North America.
In Australia, Indigenous Business Australia (IBA) is taking the lead for the Australian Government. IBA manages the successful home ownership program for Indigenous people in urban and regional centres with freehold title. The IBA model proposed for communal lands includes a subsidized loan product and a grants package. Legislative barriers to leasehold in remote communities have been removed in the states of Queensland and the Northern Territory. The time is now ripe for home ownership to become a reality for those in remote settlements who aspire to it.
For these initiatives to succeed, home owners need support with household budgeting and maintenance. An enabling local governance framework is required, including a default safety net, whereby the unit can revert back to a community rental property. There is a role for NGOs to facilitate this process, to build capacity within households and community organizations and to connect them with existing legislative and subsidized loan products.
While the policy apparatus of Indigenous Affairs has only just begun to waken to the opportunities for home ownership, there has been a long history of home ownership in communities like Mapoon.
Mapoon, on the west coast of Cape York Peninsula, is a discrete Indigenous settlement of approximately 200 people. It was established by Moravian missionaries at the end of the nineteenth century for the Presbyterian Church. It was initially occupied by people from Indigenous groups from the immediate area, including the Tjungundji people whose land it occupied. Later, Aboriginal children from across Queensland who had been removed from their parents were brought to Mapoon, as well as some Torres Strait Islanders and South Sea Islanders. Mapoon people, including those not presently living in the community, possess a strong collective identity across their traditional, historical and ethnic diversity.
During the first twenty-seven years of the mission, the Reverend J. N. Hey adopted an unusual approach to community development. Newlywed couples were encouraged to settle along a strip of estuary and river foreshore known as the "outstation". Small cottages were self-built on plots of about five acres, with subsistence farming lots and plantations of coconuts. "Outstation" was spatially separate from the main "village", with its own church and graveyard. Rather than being absorbed into the mission coffers, wages earned by men working away in the fishing and pastoral industries were used to purchase corrugated iron and other building materials for their houses.
During the 1950s, the Queensland Government began to question the viability of the Mapoon settlement. For reasons that are highly contested, people were relocated to other settlements, including New Mapoon on the tip of Cape York. Some refused to leave, however, and in 1963 the Queensland Police removed a small party of people identified as the leaders of the resistance. Some houses were burnt down during the removal, and the remainder (bar one) were demolished the following year. The removal incident has become well known as a watershed political event in the Indigenous history of Queensland.
With the relaxation of government controls through the 1970s, people began to re-establish contact, constructing self-built humpies on their original mission blocks. The return to Mapoon was not supported by government funding, so families relied on their own skills and ingenuity and on the building materials they could salvage. People immediately camped on the same block where their homes were located during the mission, before building new dwellings from bush timbers and second-hand materials, often salvaged from the Comalco dump in Weipa. The humpies were elaborate in their construction and, much as before, there was no question as to who owned these houses.
Humpies dominated housing in Mapoon up till the mid-1990s, when people gradually moved into new rental houses. Some of these new houses were designed in ways to reflect people's preferred living arrangements. Since then, residents have consistently expressed an aspiration to purchase their rental homes from council, but this option has not been open to them. World Vision Australia has begun to work with people in Mapoon, to make home ownership a reality again.
Home ownership should not be seen as a blanket policy solution to problems in Indigenous housing, and certainly not as a means to relieve pressure on funding for new houses. It will not be feasible in many communities, especially traditional communities in Central Australia with high levels of mobility. But for those households that do aspire to home ownership, it is hard to understand why it should not be an option for them, when it is so readily available to other Australians and other indigenous peoples overseas. Whatever the tenure and bureaucratic obstacles, they should be overcome.
The state of Indigenous housing is extremely poor, with reports of a national backlog of $3 billion and, remarkably, of housing life cycles in the Northern Territory of less than ten years.3 Much as would be expected, Indigenous home owners in urban areas have been shown to protect their investments and to maintain and even renovate their homes.4 If this was extended to remote communities, and if housing life cycles were to improve, this would indirectly alleviate the pressure on limited funds for new housing. While gains will be modest initially, home ownership fundamentally shifts the onus of responsibility for housing to a more demand-driven model. Indigenous housing policy over the past decade has been dominated by supply-driven programs, including more appropriately designed housing and planned maintenance programs. Notwithstanding the gains that have been made and are still unfolding, there is much that is beyond people's reach. The next generation of change in Indigenous housing requires a shift in the paradigm.

Mark Moran is Manager Australia Programs at World Vision Australia and Adjunct Associate Professor at the University of Queensland, Aboriginal Environment Research Centre.


1. M. Moran, P. Memmott, S. Long, R. Stacy and J. Holt, Indigenous Home Ownership and Community Title Land: A Preliminary Household Survey, Urban Policy and Research 20 (4), 2000, pp.357–370.

2. A. Szava and M. Moran, Perceptions of Home Ownership among IBA Home Loan Clients [online], Centre for Appropriate Technology and Indigenous Business Australia, 2008 www.iba.gov.au/publications/ [accessed June 2008].

3. K. Seemann, M. Parnell, S. McFallan and S. Tucker, Housing for Livelihoods: The Lifecycle of Housing and Infrastructure through a Whole-of-System Approach in remote Aboriginal settlements, Report 29, (Alice Springs: Desert Knowledge CRC, 2008.)

4. A. Szava and M. Moran, Perceptions of Home Ownership among IBA Home Loan Clients, 2008.