For Multiplicity co-director Tim O'Sullivan, there's a certain pull when it comes to the Victorian coastal town of Port Fairy. "I really like that feeling of driving a long way and arriving somewhere that is slightly isolated. You get that feeling of community, because they have to make the community work for them because there is no quick drive to a city or major town," O'Sullivan says. Historically a fishing town and busy port, Port Fairy is dotted with magnificent nineteenth-century bluestone buildings and humble cottages originally built by the whalers and seamen of the 1800s. Today, many of those buildings still remain and the schools of fishermen and whalers have been replaced with a mix of farmers, creatives and families, attracted to the friendly and relaxed nature of Port Fairy.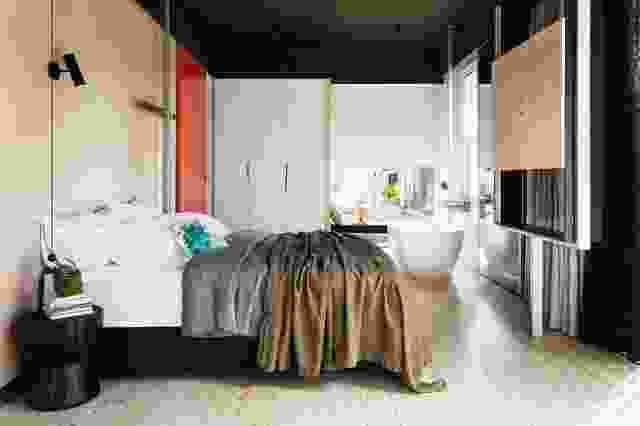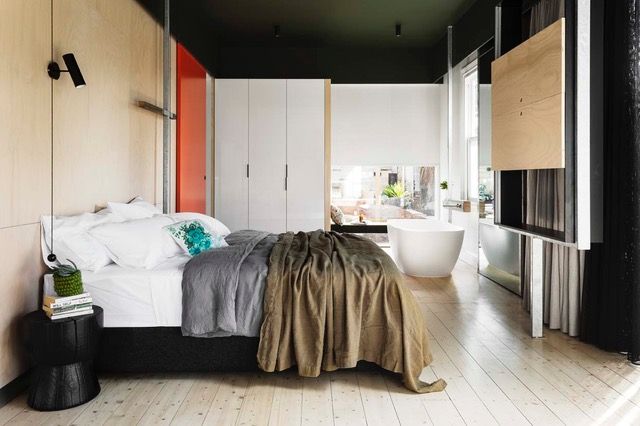 Multiplicity co-directors Tim O'Sullivan and Sioux Clark first visited Port Fairy in 2010 when they were tasked with converting an existing two-storey bluestone building into a boutique hotel for their seachanger clients John Watkinson and Colleen Guiney. The result was Drift House, a four-suite luxury digs that received a commendation for heritage architecture at the 2014 Victorian Architecture Awards as well as the Best Luxury Accommodation Award at the Qantas Australian Tourism Awards that same year. Drift House has been a huge success and for many a local and international traveller it is a "must-do" at the end of their Great Ocean Road journey. So when John and Colleen's neighbours decided it was time to sell, John and Colleen jumped at the chance to buy it and expand Drift House.
The three-bedroom Edwardian house they bought had been extended over the years with a series of lean-tos. For this second stage of the Drift House story, Multiplicity demolished the lean-tos and decreased the footprint back to that of the original building. Working with the generous height and volume of the space, Multiplicity removed many of the walls and used the southern side of the central hallway to divide the house into two suites – suite five on the northern side of the house and the longer and thinner suite six on the southern. The original entry door, which now opens to suite five, has been retained but transformed – the door's sidelights have been attached to the door to create one grand piece, with a galvanized steel ring forming the door pull on the inside. Touchpoints like these are generous and comforting and guests find themselves running their hands over surfaces and inspecting details, and, unwittingly to many, connecting with the building. Used in the original four suites, lights are operated via pull cords, a delightful detail that is both nostalgic and novel. In suite five, a pivoting television unit, framed in galvanized steel with moveable plywood shades to hide the screen away, allows guests to interact and personalize the space. So too do the suite's surfaces – carpet, used on walls and window seats, gives softness, colour and acoustic attenuation. The two bathrooms are playful and inviting, with one featuring Burberry-esque tartan tiles alongside sandstone salvaged from a local house demolition, and the other featuring opalescent hexagonal tiles in shades of green. In the tartan bathroom, the original fretwork of the hallway has been kept and floats over the shower. At Drift House, guests are treated like friends – piles of books, cushions, radios, plants and flowers are peppered around the suites for their comfort.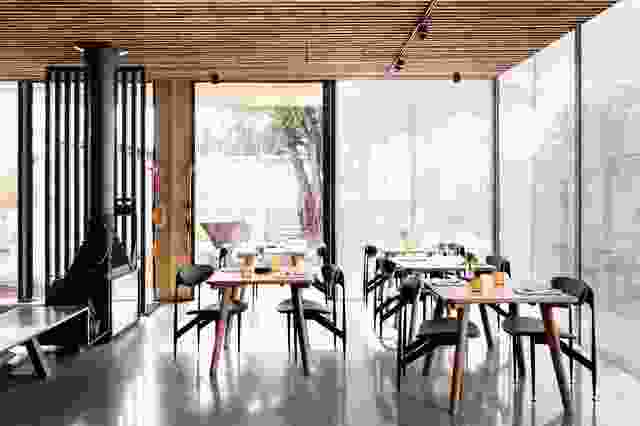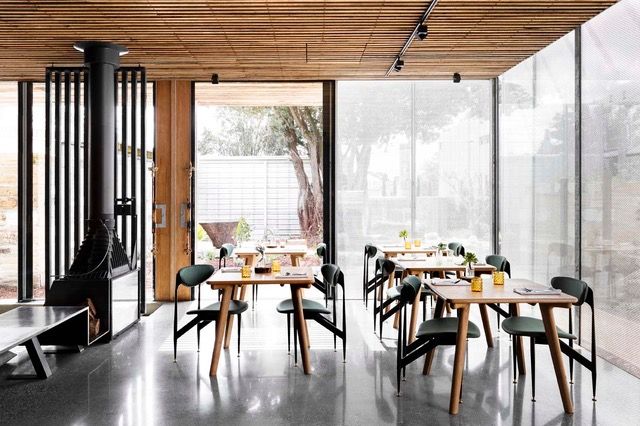 "If you can make people respond to a space, then usually they're a bit more caring about it. The intention is when people get to the space, they think they're somewhere special and I think people take care of things a bit more when they sense that," O'Sullivan says.
Materially, the two new suites tie back to the original four but each has its own character. There is a design sensibility that binds them all, one that responds to site and to place. Learnings from the first four suites meant changes to the new two – namely doing away with the kitchenettes and instead creating a central meeting point for breakfast. The Salon is located at the rear of the new lot and came about after John and Colleen found their European guests visited with an expectation for a communal breakfast and a place to drink at night. In many ways, the Salon has transformed how Drift House is experienced – instead of an in-room breakfast, guests converge in the Salon's twelve-seat dining area for a curated continental breakfast of local produce. John prepares the breakfast spread and coffees in a small kitchen tucked behind a raw timber screen. During the rest of the day, guests might return to the Salon and plonk themselves down in the conversation pit for a glass of wine by the fireplace or to read a couple of chapters of their latest book. Like the two new guest suites, materials in the Salon sway towards concrete, timber and galvanized steel.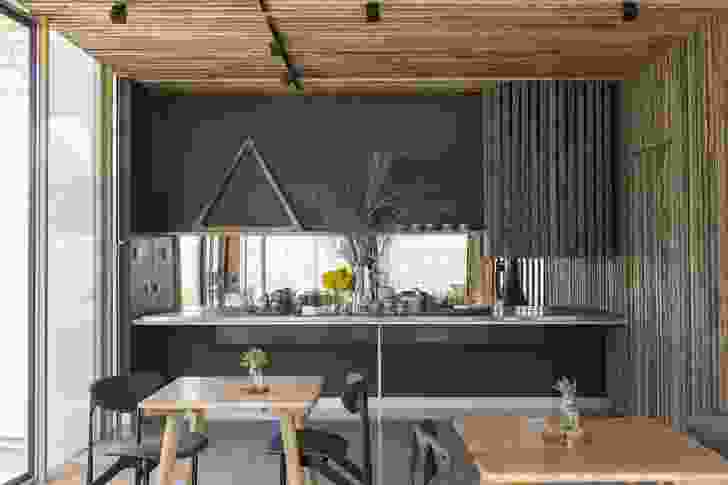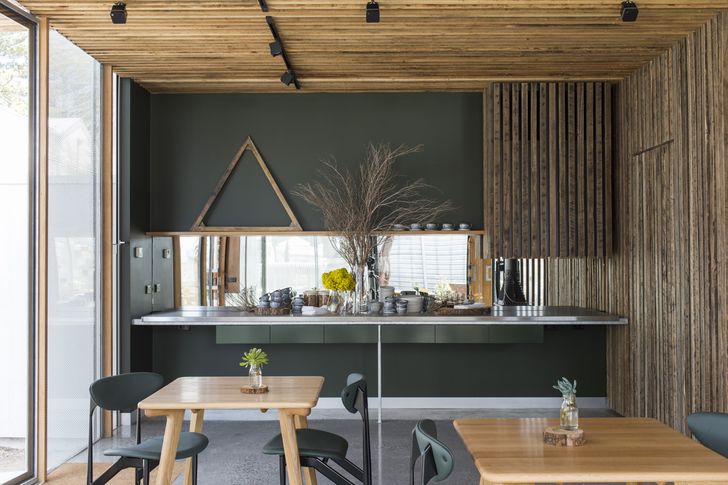 "Port Fairy isn't a blingy sort of town. We want Drift House to be perceived as luxury accommodation but luxury doesn't mean it has be really shiny and really blingy. We wanted to create luxury with more raw materials, because it speaks more of the country," O'Sullivan says.
The final part of the new suite of interventions is the reception space. Next to the house, a humble backyard shed – "you wouldn't put your car in there," as O'Sullivan says – has been turned into the reception space. "Guests often arrive slightly jaded after a big day of sightseeing or a tough run at work, so we want to make sure that the Drift House experience starts to weave its magic from the moment they arrive," says Guiney. Multiplicity gutted the shed, polished the concrete floors, exposed the trusses and created a top-hung screen to the front door, transforming it into a beautiful landing pad.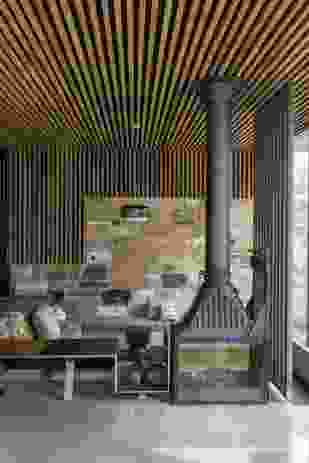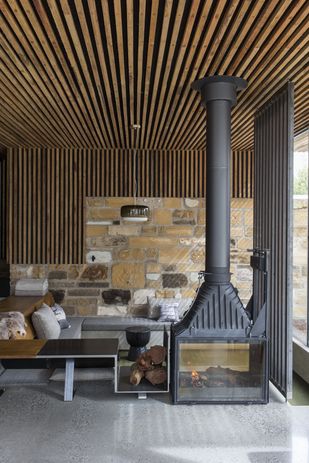 Drift House redefines what luxury accommodation means. Here, luxury means restraint – yes, there are clever architectural gestures everywhere you turn, but it's not heavy handed. Here, luxury means trust – giving guests beautiful fireplaces and premium linen and trusting they'll care for it. And here, luxury means attention to detail – from the architect, things like door pulls and sunny window seats, and from the client, things like home-cooked "breakfast cake" and perfectly curated music playlists. Luxury, it seems, is just a lovely drive away.
Products and materials
Walls and ceilings

Suite five and six walls painted in Dulux 'Wishful.' Timber hoop-­pine ply walls with matt polyurethane finish. Suite five pelmets painted in Haymes 'Deep Bronze Green' and Dulux 'Wishful.' Suite six plaster ceiling painted in Wattyl 'Waterway.' Salon ceiling and walls use rough-sawn timber battens. Walls are reclaimed sandstone from demolition of local house. Plasterboard walls painted in Haymes 'Deep Bronze Green.' Reception main wall is plywood. Reception mural by Colleen Guiney.
Windows and doors

Existing windows in suites. In Salon, double glazing set within custom-designed galvanized steel angles. Suite five entry door is painted in Wattyl 'Sand Drift' and bathroom door painted in Bristol 'Nullabor Sunset.' Suite six bathroom door carpeted in Tretford 'Olive Tang 699.' Custom-designed door pulls.
Flooring

Suite five and six floorboards are existing baltic pine, limewashed and tiles are Eco Outdoor 'Beauford Sandstone.' Salon and reception flooring is concrete slab, lightly polished.
Lighting

Suite five features Moet pendant from Mica Lighting, Barro wall light from Mondoluce and Mib 6 wall light from Nordlux. Suite six features Agnes Chandelier pendant, Agnes Sconce pendant and Agnes Sconce wall light from Lucretia Lighting, and Squad wall light from Mondoluce. Salon features Mib wall light from Nordlux and Squad track mount light from Mondoluce.
Furniture

Suite five features Egg Cup table from Mark Tuckey, Iko Iko chair with tan cabin leather from Jardan and custom-made bench seats. Suite six features Kelly chair from Jardan, Belt bedside table from Mark Tuckey and custom-made benchseat. Salon features Featherston Scape chairs from Grazia and Co and Temperature Design dining tables. Reception features Kohde reception desk, Diva stool in black from Grazia and Co and custom-made bench seat.
Bathroom

Suite five features Memoria basin from Vitra; taps and shower rose from Rogerseller; Chi bath from Apaiser; and Dwood tiles from Academy Tiles. Suite six features Scarabeo Miky 50 basin, Pinch spout, Soho wall shower rose and Vitra toilet pan from Rogerseller; Silenio bathrub from Reece; and Dwood tiles from Academy Tiles.
Other

Artworks by Colleen Guiney. Linen curtains from Calico House. Radiante firebox by Cheminees Philippe. All custom-made items designed by Multiplicity.
Credits
Architect

Sioux Clark, Tim O'Sullivan, Cimone Mcintosh, Olivia Potter, Multiplicity
Architect

Multiplicity
Brunswick, Vic, Australia
Consultants

Builder McLeod Homes
Cabinetmaker Snaauws Kitchens
ESD Energy Lab
Engineer Holmes McLeod Consulting Engineering
Stonemasonry Barry Knowles

Site Details

Location Port Fairy, Vic, Australia
Site type Rural

Project Details

Status Built
Design, documentation 4 months
Construction 12 months
Category Hospitality
Type Hotels / accommodation

Client

Client name Drift House
Website http://drifthouse.com.au

Source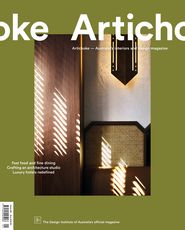 Project
Published online: 15 Jul 2019
Words: Cassie Hansen
Images: Martina Gemmola
Issue
Artichoke, March 2019