The global flow of finance is often portrayed as an insensitive, homogenizing force. This isn't necessarily so. Thailand's second largest telecommunications company, Total Access Communication (DTAC), is majority-owned by Norwegian firm Telenor, and Australian practice Hassell (Thailand) designed its head office. The output is a hybrid, and while there are Scandinavian references in the Hassell design language, the design team and the DTAC staff are predominantly Thai and the resultant space is specifically modern Bangkok: a gated corporate world in the sky removed from the city's hot and messy public realm. The generous facilities at DTAC make up for the lack and inaccessibility of such facilities publicly.
The adopted spatial configuration makes the most of the astonishing panoramic 360-degree views of Bangkok's skyline. DTAC's reception occupies the whole floor plate of level 32 (the company occupies levels 22 to 41). From the level 32 lobby you venture northwards into a triple-height foyer, carved out of structural floor plates, with a grand staircase and amphitheatre climbing three levels to the right. Behind the formal staircase, a second stair is paired with a slide in reference to concepts of play. What can be read from this level, dominated by shades of grey and warm timber finishes, is modern cool and relaxed feel. The dark colours mitigate the strong tropical glare that comes with the near floor-to-ceiling glazing. While circumnavigating the inner corridor around the lift core, you can see silhouetted office workers congregating in informal groups in the various seating spaces. Each space is differentiated by design configurations of fixed elements and selected locally designed furniture pieces. Artificial lighting complements the natural light, subtly enhancing the architectural lines and forms deep in the plan. The west end houses a library, which is defined by a curved wall of bookshelves. A favourite coffee vendor from a previous office (one of six amalgamated here) was invited along, rent-free, to anchor the open cafeteria area at the east end of the floor.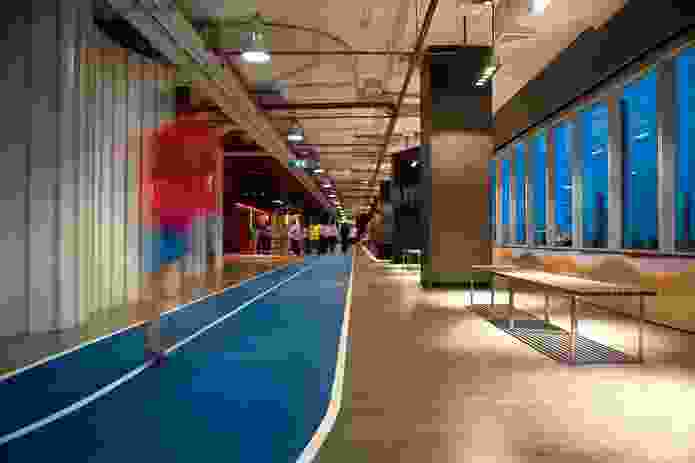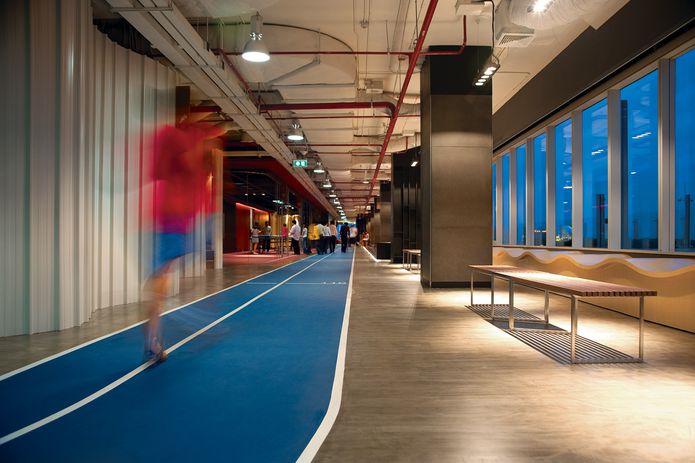 Reinforcing DTAC's staff-centred philosophy, level 38 includes a leisure centre with a running track that loops around the lift core. The level also houses a futsal field, table tennis and snooker tables, karaoke booths and a venue for performance (such as by the office band). Level 33 houses quieter activities, including a business centre with various meeting rooms and seminar spaces. This level also contains a meditation centre, with weekly sessions with monks from a famous temple, and a prayer room for Muslim staff. Outside balconies allow space for a southern deck for yoga sessions and a northern deck for outdoor receptions.
Critically adopting foreign influences, this is a project that ambitiously pushes the frontier in Thailand in terms of "sustainable" workplace design – socially and environmentally – from the choice of materials to building technologies adopted. The design team's choices made good business sense, yielding the lowest cost per area for a Grade A fitout project in the country. Moreover, the chosen location sits on an underground station, which contributes to 30 percent less car use, while 80 percent of the construction materials were sourced locally, further enhancing the project's "green" credentials.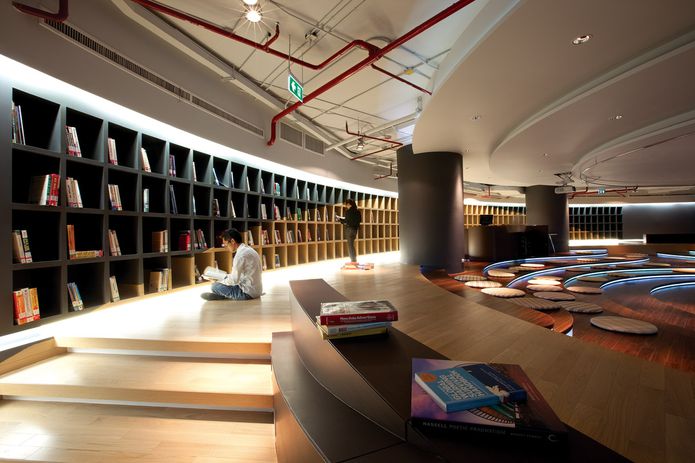 The egalitarian Norwegian influence is manifested in the office space. There are no separate offices for managers or partitioned cubicles; openness and transparency override any notions of Thai hierarchy. Defined by curvilinear screens, meeting rooms, pantries and storage are clustered around the service core, while the rest of the floor plate uses an open plan with low or transparent partitions, allowing even access to views and natural light. The freestanding furniture has been custom-designed to suit the specific practices of each department, making the call centre on level 34 compact and utilitarian, while the brand communications unit appeared more arbitrary.
With the grunge-lite feel of the decor (particularly of level 38) and all the activity clubs in full swing, I imagine the place would have a Thai university campus feel, as my young guide attested. Such practices may feel alien to global corporate offices where professionalism and seriousness are favoured, and work and play are strictly segregated. However, the design is empathic to Bangkok's work culture, where the notion of fun (sanuk) and play often pervades the work environment.
Products and materials
Flooring

Precious Wood. Amwood. Sam Tunwa. Sport Engineering and Recreation Asia sports flooring. Carpet International. Interface. Shaw. Teo Hong Silom. Greenygrass.
Walls and doors

Siam Woodland. Pacific Wood. Viva Industries. BlueScope Steel. Woven Image. Jeb by Builder's Mart.
Furniture

Practika. Duriflex. Kenkoon. EGG Enterprise. Pimpen. Modernform Group. Yothaka International. Stone & Steel. Able Interior Workshop. Hove DK. IDLM. Universal Parawood. Deesawat Industries. Oggi. Hawaii Five-O. Vichai Trading
Lighting

Lamptitude. Architectural Products. Lighting & Equipment. Light Style. @Home.
Credits
Design practice

Hassell.
Australia
Project Team

Catherine van der Heide, Chaivichit Kidchob, Chanantaphol Poochotinan, Khomkham Khamgrajang, Lalana Phumdorkmai, Nakaras Sirikanjanachai, Siriporn Songsomboon, Somprattana Numto, Suttipun Lertsatianchai, Tanakamol Kuptimitr, Tanya Suvannapong, Tossaworn Muttamara, Kesinee Wattanaveerachai
Consultants

Builder Cre-Ful Construction (Phase 1 & 3), Yoo Hui Construction (Phase 1 & 3), Srithal Classic Home (Phase 2), Pornsak 87 (Phase 3)
Contractor Groupmech Corporation
Graphic design Designconscious
Landscape contractor Pornsak 87
Mechanical and electrical engineers Aurecon
Project manager InterPAC
Structural engineer Aurecon

Site details

Location Bangkok , Thailand
Category Interiors
Type Workplace

Project Details

Status Built
Design, documentation 6 months
Construction 7 months

Source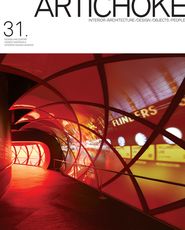 Issue
Artichoke, June 2010
Related topics