Melbourne-based collective 227788c works "across and between" architecture, art, events and technology. Founded in 2015 by graduate architects James Bowman Fletcher and Alexander Gibson and architect Jack May, the collective has created a number of inflatable installations that both entertain and challenge assumptions about architecture. The group has exhibited pieces at a number of music festivals – as well as hosting their own Blow-Up Festival in collaboration with the pneumatic structures unit at RMIT University in 2016. Most recently, they exhibited at the Folk Architects-designed Watchmaker satellite exhibition space for the National Gallery of Victoria's (NGV) Melbourne Design Week. ArchitectureAU spoke to 227768c about their work and what it attempts to say about architecture.
You're architecturally trained and you've inflated massive plastic envelopes at music festivals – this is slightly unusual. How did you get here? How does architecture fit into this work?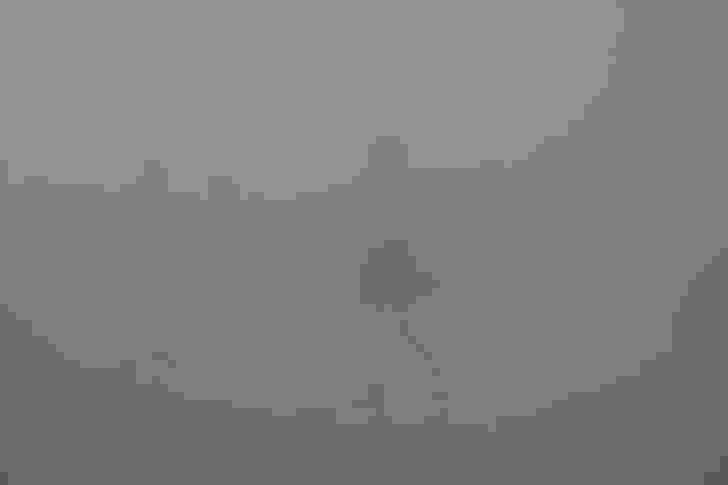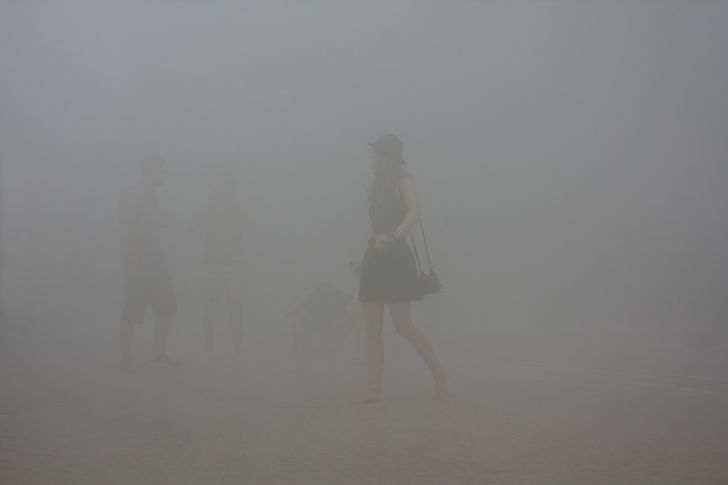 In terms of how we got here, we were commissioned to produce a spatial installation for a festival. Our project Music Apparatus 1 consisted of an envelope which separated an artificially created haze from the open-air festival environment. In allowing festival patrons to block or homogenize their visual field, the apparatus would draw one's attention to the music, not the visual milieu of the festival.
In this case the inflated membrane merely became an envelope to contain haze and for us the project is the haze and the music, not the envelope.
Although the lineage of architecturally designed structures at music festivals is well established, it doesn't form part of our collective consciousness. For some reason, the discipline of architecture doesn't seem very interested in recognizing it.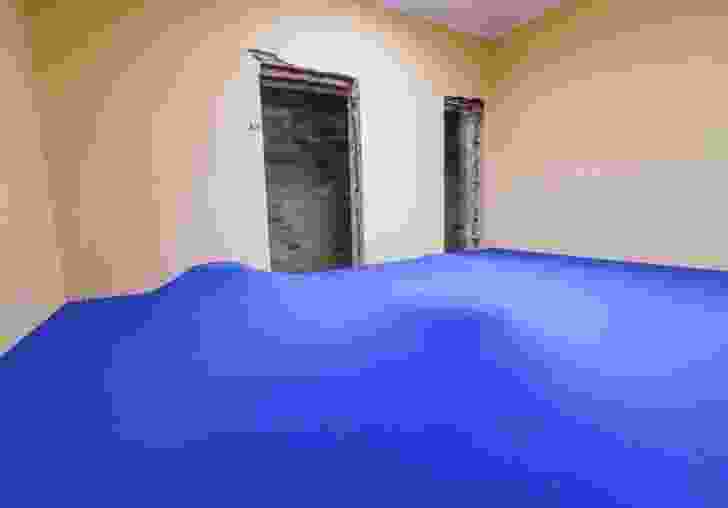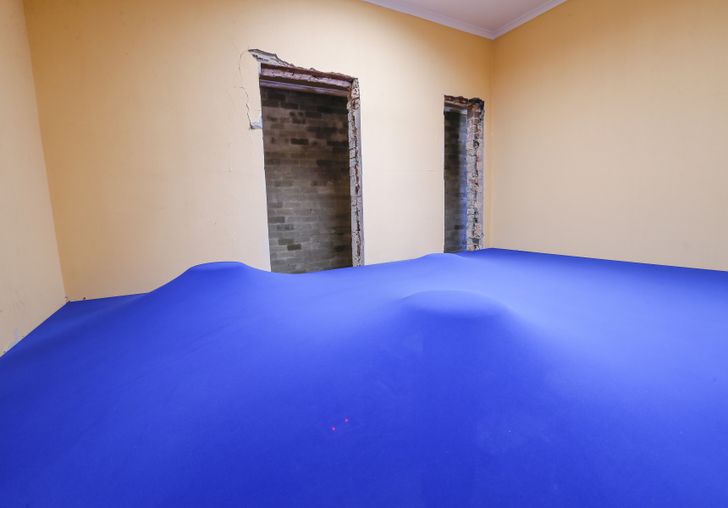 On this note, we just completed a work as part of the NGV's Melbourne Design Week, whereby we transplanted the essential components of our project Apparatus 4c into an exhibition context, in an attempt to highlight the potential feedback this kind of work can have and its influence on other areas of architecture.
We believe our work has many consequences upon the architectural discipline, whether tectonic lessons or explorations into how ideas can be materialized outside of more conventional architectural modes where they may not yet survive. We are already undertaking domestic scale projects that have inherited knowledge from our temporary structure projects.
Is there something you'd like architects to learn or take away from your work?
The thing we want architects to take away is within each project and also dispersed across all of them.
We are interested in work that facilitates behaviour that was not previously facilitated, whilst also provoking reflection relating to the absence and presence of those behaviours.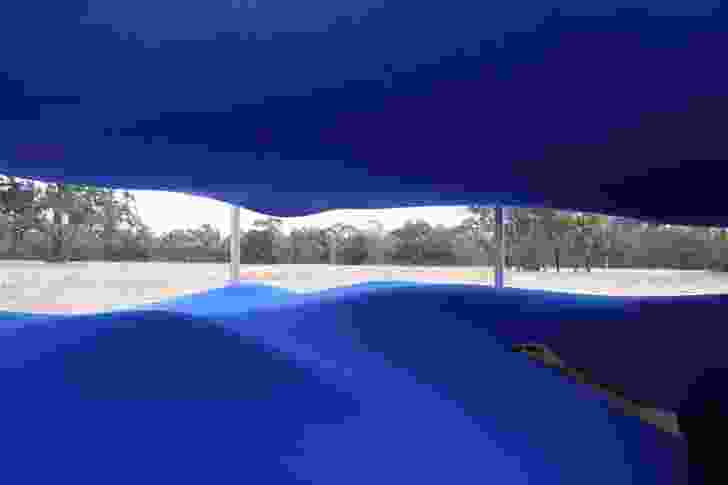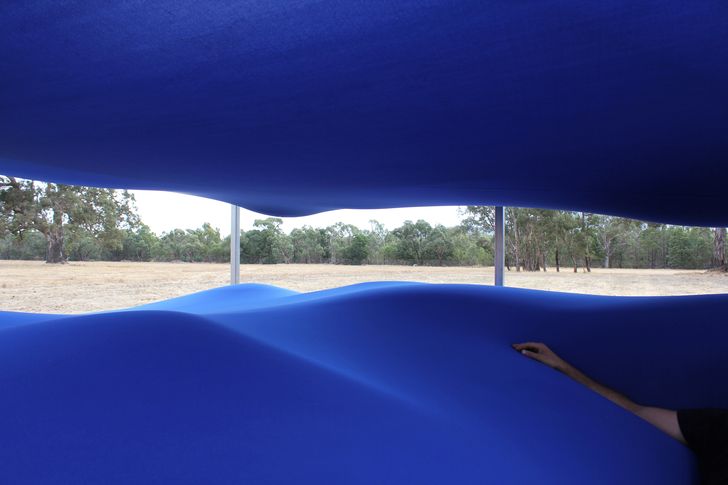 Our recently completed Apparatus 4b project attempted to create a machine that is not efficient or convenient but has value. The value of machines, within architecture and outside of architecture, is always attributed to their capacity for compliance in performing tasks desired and determined by the master.
Our machine uses an algorithm to alter the form of an inhabitable surface through the raising and lowering of linear actuator columns supporting the surface. This algorithm is not responsive, it merely choses time intervals haphazardly from number sets that enable the actuators to manipulate the surface, making it difficult to determine what will move next and for how long. The algorithm creates a situation whereby the form of the surface is not a slave to the user or master's comfort. Users are required to continuously reevaluate and adapt their posture and location in relation to the structure and others as the actuators subtly shift their bodies, causing unforeseen and unintended physical relationships between users.
What is it about the music festival that suits your work?
We understand the music festival context as a temporary or draft-like city and therefore it is well suited to our desire to test slightly more dubious concepts that a more permanent city may not yet be politically, economically, socially or architecturally ready for.
The sight of your Performative Canopy, a luminous dirigible floating over a backyard in Brunswick, is striking. What is it about a suburban setting that interests you?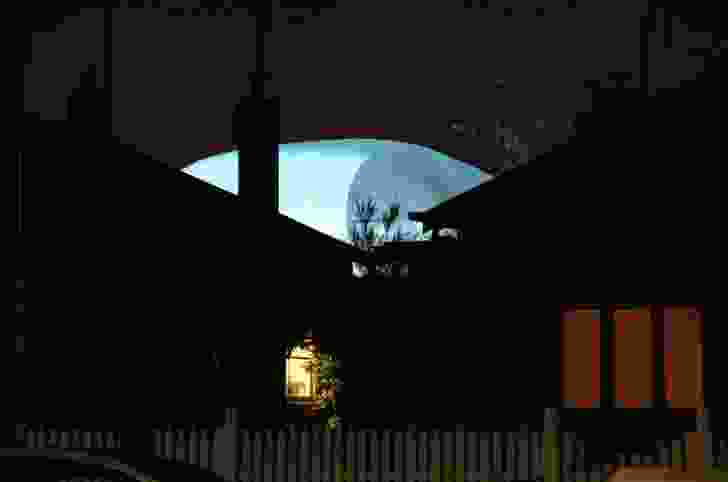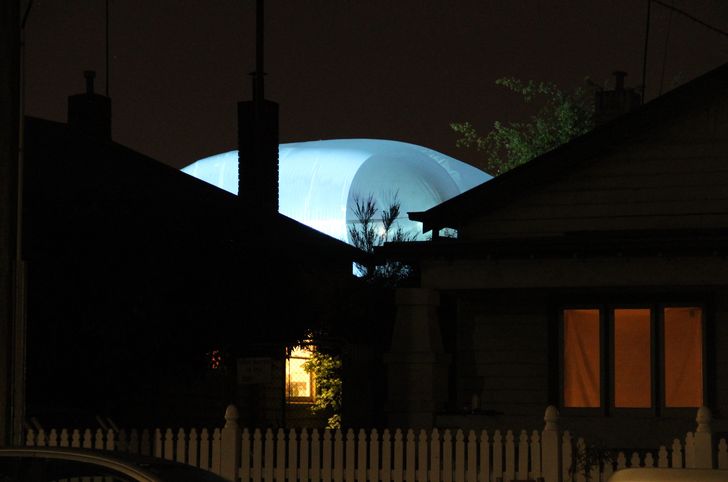 Well, for us it is less of an interest in the suburban and more of an interest in the questionable site of domesticity.
"Domestic-ness" was once considered to be tied to the physical entity of the house. Reyner Banham's Un-house, among other works, shattered that notion as domesticity expanded to almost anywhere. The Californian bungalow where our event [in Brunswick] took place is a house that enables living, but we also think it can enable a number of other things with very minor formal and even non-spatial components which can influence the activity and behaviour within the environment. This led us to become interested in the medium of event and how it work[s] in tandem with a series of designed interventions to repurpose a domestic setting of a Californian bungalow into an event environment.
This project was the result of research undertaken as part of a subject we ran in RMIT's architecture program in 2016.
Related topics