The urban design manoeuvres of the 45 kilometre Eastlink Freeway sit adjacent, perpendicular and transversal to the smooth stretch of visually arresting new roadway that cuts through Melbourne's eastern suburbs. Eastlink is provocatively urban in the way it creates architectural opportunities from the transport function of the ubiquitous bitumen road surface.
In this composition the roadway is just one element in a suite of carefully conceived and composed urban furniture – bollards, barriers, walls, screens, bridges, tunnels, crossings and art. These set pieces sit within a spatially diverse landscape that includes new parks, wetlands and tracks for walking and bicycling.
In commending this project, the jury set aside broader concerns about oil-dependent private transport to reflect on how much better the project is because an architect was part of the project team. The contribution architecture makes to the outcome is significant and a reminder that even the most prosaic aspects of the built environment can delight.
Credits
Design architect

Roger Wood, Wood/Marsh Architecture
Design architect

Randal Marsh, Wood/Marsh Architecture
Project Team

Gary Windiate, Charles Inglis, Rachel Hannan, David Dennis, Thom McKenzie, Helen Cheng
Architect

Wood/Marsh Architecture
Melbourne, Vic, Australia
Consultants

Acoustic consultant Bassett Acoustics
Builder and construction manager Theiss John Holland
Electrical and mechanical consultant United Group Rail
Landscape consultant Tract Consultants
Structural consultants Hyder Consulting, Aurecon

Site Details

Location Melbourne, Vic, Australia
Site type Suburban
Category Landscape / urban

Project Details

Status Built
Website http://www.eastlink.com.au/page.aspx?cid=4

Source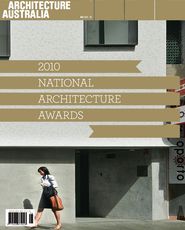 Issue
Architecture Australia, November 2010
Related topics