The commendable process of sharing facilities, infrastructure and knowledge is the driver behind the design of this new research engine. The Ecosciences Precinct physically brings together four state science agencies and six divisions of the CSIRO, which have all been operating in geographical isolation from each other.
The building concept is simple, powerful and extremely well executed. A central pedestrian "street" provides a common library, meeting rooms and plenty of opportunities for staff interaction, both social and business. This "street" connects and addresses three north-oriented office wings, which are all, in turn, engaged by three screened garden courtyards.
The building purposefully unites the complex, high-performance requirements of laboratory space with social, people-oriented environments filtered by a light garden ambience. From parti to detail, space planning to atmosphere, this is a carefully and sensitively conceived design. It assertively embraces the next generation of healthy, efficient and enjoyable office environments. The interconnection of the working components is expressed externally as truthful to purpose and highly sculpted. Facades are screened appropriately for respective orientations.
This project exudes a confident approach to workplace best practice and, therefore, respect for its inhabitants.
– Jury citation
Accommodating over one thousand scientific staff, relocated from ten existing sites across Brisbane, in addition to combining four state government agencies with six CSIRO divisions into a single built form, was always going to be an exciting challenge. The response to this challenge was to establish an organizational strategy thematically grouping the inter-agency workgroups into functional scientific clusters based on chemistry, biology and microbiology laboratory types. The opportunity to collocate agencies within laboratory and office areas optimized the collaboration of ideas and the sharing of space and instrumentation.
– Hassell
For a full list of awarded projects see 2011 National Architecture Awards – the winners and for more awards discussion see Rachel Hurst and Rory Hyde's responses to the awards and the jury overview by Karl Fender.
Credits
Architect

Hassell.
Australia
Project Team

Mark Roehrs, Mark Craig, John Irvine, Lucy O'Driscoll, Matthew Larme, Neil Koest, Peter Hastings, Joe Soares, Daniel Loo, Nguyen Luu, Luke Kingsbury, Ines Trotter, Franco Altea, Mandar Kelkar, Hiep Tran, Beth Wilson, John Harrison, Bryce Hinton
Consultants

Acoustics AECOM
Building surveyor Project Services
Construction manager Watpac
Consultant Department of Public Works Queensland
Cost consultant Davis Langdon
Electrical and communications consultant Sinclair Knight Merz Brisbane, AECOM
Electrical engineer Bassett Consulting Engineers
Hydraulic consultant Sinclair Knight Merz Brisbane
Interior design Hassell.
Landscape Wilson Architects
Mechanical consultant S2F, Aurecon
Programming consultant Tracey Brunstrom and Hammond
Project manager Watpac
Structural and civil consultant Arup

Site Details

Location Dutton Park, Brisbane, Qld, Australia
Site type Urban
Category Public / commercial

Project Details

Status Built
Design, documentation 12 months
Construction 24 months
Website http://www.science.qld.gov.au/dsdweb/v4/apps/web/content.cfm?id=13302

Source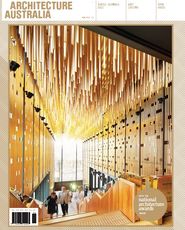 Issue
Architecture Australia, November 2011
Related topics