Brisbane-based firm Wilson Landscape Architects is behind two projects that exemplify the way landscaping can contribute to the quality of interior work environments, as well as to the health, wellbeing and behaviour of those who work there.
One of these projects is the University of Queensland's Ipswich Campus Resource Centre, which was completed in 2003. On entering the building, attention and movement are immediately directed to a two-storey atrium (in the pro vice-chancellor's words, "a green haven") that separates and defines various functional areas. Through its material softness and natural form the atrium provides sensory and perceptual relief to the adjacent, more ordered and formal interior and exterior spaces. Like a stream meandering through a forest, a rill of recycled water snakes its way longitudinally through a mounded topography that is planted with a combination of emergent trees, such as Agathis robusta and Pandanus pedunculatus, screen plants including Dracaena fragrans, and ground plants such as Spathiphyllum spp. and Epepremum aureum. Under the plant and membrane canopies, a carpeted path running parallel to the water rill facilitates pedestrian movement. Nodal clearings that are furnished with tables and chairs are positioned sequentially along the path and accommodate various activities, ranging from quiet contemplation or individual work to small group interaction.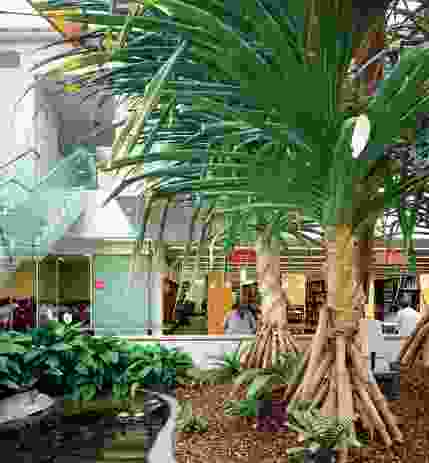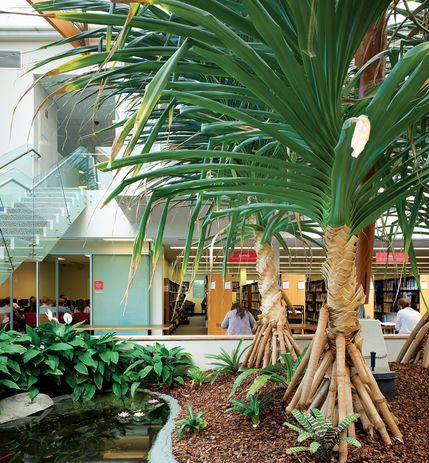 Now nine years after completion, the interior landscape of the Resource Centre is testimony to research and astute decisions regarding plant performance in airconditioned environments. Not only do the plants continue to thrive without any special maintenance, but they also work in conjunction with the soil to purify the air by removing various contaminants as it passes through the planted area before entering the main building. Reports by staff and students overwhelmingly describe the atrium space as "a special place" that evokes a sense of calmness and wellbeing. Staff also commented on a lack of graffiti, which in their experience of other libraries is highly unusual.
In the late 1800s and early 1900s the natural environment was recognized as a major factor in healing for those incarcerated in asylums and sanatoria. A positive change in behaviour was also noted in prison inmates who had access to gardens. Interestingly, the site of the Ipswich campus was formerly home to the Sandy Gallop Asylum. The site of another project by Wilson Landscape Architects, the Ecosciences Precinct in Brisbane, was previously the site of the Boggo Road Women's Prison. According to the research undertaken by the firm's director, Beth Wilson, both institutions operated in accordance with the principles of "moral treatment," which recognize a direct relationship between rehabilitation and harmonious environments.
Like the Resource Centre, the Ecosciences Precinct exemplifies the contribution of landscaping to the quality of interior work environments. The precinct, completed in 2010, physically collocates four Queensland state science agencies and six divisions of the CSIRO, with the goal of optimizing collaboration, knowledge transfer and innovation. In this case, the brief for the landscape architects was to complement and balance the technologically complex, highly institutionalized office and laboratory spaces with natural spaces to provide alternative meeting areas and opportunities for social interaction, relaxation and quiet reflection. Added to this, the CSIRO required that only pure plant species that are native to the local region be used. Examples of existing site species include Eucalyptus seeana and Xanthorrhea johnsonni.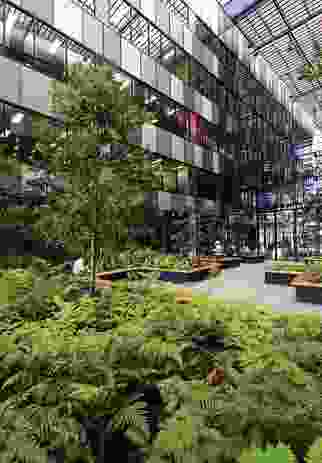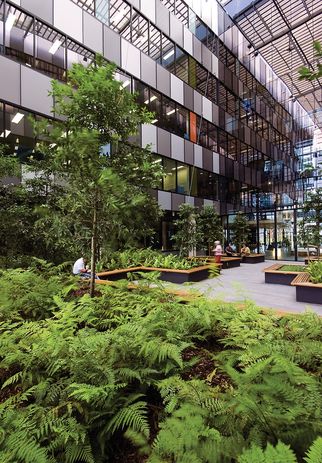 Drawing on a combination of historic, ecological and domestic precedents, the interior landscape comprises four separate courtyards, starting with the open forest courts at the entry and foyer, through to the tropical forest off the main staff kitchen and eating area. One of these courts is also designed as a CSIRO educational resource for children. In contrast to the Resource Centre, these courtyards are located outside the building, semi-enclosed by multi-storey office wings and facade screening. Floor-to-ceiling glass louvres and multiple access points to and from the courts dissolve the architectural boundary, creating the means for physical and visual escape and allowing for momentary relief from the pressures of work. Imposing panopticon voids have been domesticated and made familiar through highly sensitive and well-executed integration of planting, timber decking and furniture that has been arranged to invite and accommodate different types of experiences and encounters – some planned and other serendipitous, some public and others private.
While planting has been used in office environments since the 1960s, it has essentially been used for screening or as a form of visual relief. In the projects reviewed here, a concerted effort has been made to explore and exploit the ecological, spatial and aesthetic potential of planting. Both projects facilitate active, as well as passive engagement with natural environments, enhancing the occupants' abilities to deal with stress by fostering a sense of control and access to privacy and social support. Increasing research suggests that this then contributes to improved health and morale, and possibly even to performance and productivity. The projects, while demonstrating best practice to date, also invite more applied use of existing research and consideration of interior landscapes as sites for ongoing research. To reinforce Beth Wilson's plea: formal recognition of the impact of interior landscapes on health through inclusion in performance rating systems is urgently called for.
Credits
Design practice

Wilson Architects
Spring Hill, Brisbane, Qld, Australia
Project Team

Beth wilson, John Harrison, Bryce Hinton
Consultants

Architect Hassell.
Civil engineer Arup
Hydraulic engineer Sinclair Knight Merz Brisbane

Site Details

Location Brisbane, Qld, Australia

Project Details

Status Built
Category Public / commercial
Type Universities / colleges

Source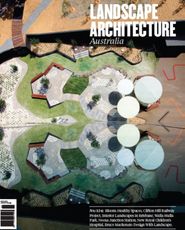 Issue
Landscape Architecture Australia, May 2012
Related topics