Editor's choice: Day one of 2016 Maison&Objet Paris January edition
For its January 2016 edition of the Maison&Objet international design fair in Paris, organizers have reorganized the halls into three new hubs: Luxury, Design and Interior Decoration; Maison; and Objet. Artichoke editor Cassie Hansen has combed the halls in search of the most exciting new products from the fair's thousands of exhibitors. Here are her top ten products from day one: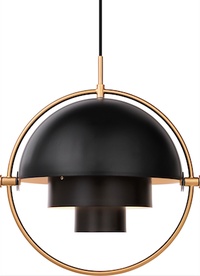 Multi-Lite Pendant Lamp from Gubi

Multi-Lite is a pendant lamp that was first drawn in 1972 by Danish architect and designer Louis Weisdorf, with Gubi finally bringing it to life in 2016. Embracing the golden era of Danish design, the Multi-Lite features two cylindrical shapes that create the inner heart of the lamp, and a metal ring that surrounds these shapes and anchors two quarter-spherical shades. By rotating each individual shade, the lamp can be transformed into different looks and the light can be directed in different directions. Bonus points to Gubi for having the lamp available in not one, but seven different colours. 
Visit Gubi's website for more information. Cult is an Australian stockist of Gubi.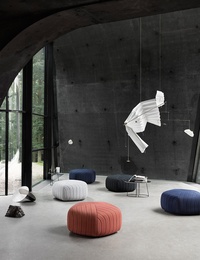 Five pouf from Muuto
Oslo-based design firm Anderssen & Voll has teamed up with Danish design house Muuto for a collection of poufs. Named Five, the poufs explore the possibility and tension of the pentagon shape. Kvadrat fabric wraps around the pouf in panels at contrasting angles, with the quilted ribs of the fabric enhancing the shape of its gentle, rounded sides and resembling "lines of a neatly ploughed field." The poufs are available in blue, grey, black and pink. 
Visit the Muuto website for more information. Living Edge is the Australian stockist of Muuto.com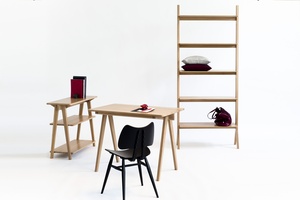 Pero collection from Ercol
British designer Matthew Hilton, who has previously collaborated with Ercol on the Treviso desk, has created the new Pero collection of home office furniture. The collection includes a desk, a low shelving unit and a tall shelving unit all made from oak. The Pero desk has a pull-out drawer at the front lined with a warm soft textured matt linoleum in a conifer colour. At the back of the desk is a matt black metal fold-out space that allows pesky wires to pass through the piece for a more streamlined look.
Visit Ercol's website for more information. Temperature Design is the Australian stockist of Ercol.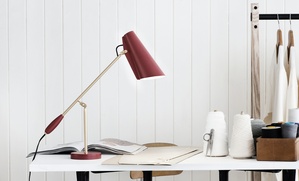 Birdy lamp by Northern Lighting
This understated mid-century design was originally launched in 1952, but this year Northern Lighting launches a new version of Birdy to commemorate the centenary of its Norwegian designer Birger Dahl's birth in 1916. Made with the same shape and proportions as the original version, the shade, base and counterweight are coated in Pantone's Marsala hue, a blend of earthy, terracotta tones and subtle, wine-coloured tints. The striking new colour, combined with matt brass components, makes Birdy sit pretty on any desk.
Visit Northern Lighting's website for more information. Light Co is the Australian stockist for Northern Lighting.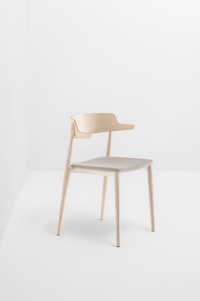 Nemea chair for Pedrali
Designed by Michele Cazzaniga, Simone Mandelli and Antonio Pagliarulo, Nemea has been released at Maison&Objet in a new upholstered version. The chair's shape is almost athletic, with its sinuous solid ash legs grafted to the die-cast aluminium frame. The embracing and comfortable backrest crowns the seat, which is available in a soft fabric or leather finish upholstery. This is one warm and welcoming piece of furniture.
Visit the Pedrali website for more information. James Richardson is the Australian stockiest for Pedrali.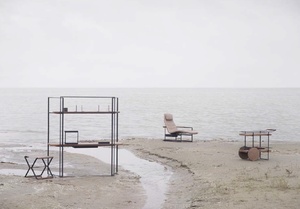 James Collection by Stellar Works
Stellar Works' impressive stand at Maison&Objet was designed by the brand's creative directors, the Shanghai-based Neri & Hu. The stand presented more than twenty new items from Stellar Works, one of which is the James collection. The James collection is an exploration of modern masculinity and the range, which includes a chaise, desk, stool and bar cart, is at once bold and defined, but also light and elegant. All four pieces have been designed to turn negative space into an aesthetic feature, making use of floating planes and wireframes to to give the pieces sleekness and simplicity. James is subtly inspired by the world of performance cars. The automotive references are also echoed in the materials: warm and tactile black metal, walnut wood and sable-tone matte leather.
Visit the Stellar Works website for more information. Living Edge is the Australian stockist of Stellar Works.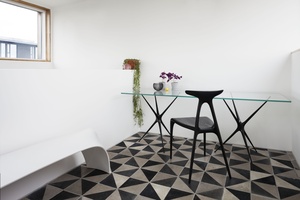 Updated collections from Made in Ratio by Brodie Neill
Returning to Paris after an "incredible response" from his showing at the September 2015 edition of Maison&Objet, Aussie-done-good Brodie Neill and his brand Made in Ratio have presented updates to several of his furniture collections. His futuristic, pronged Supernova was presented as both a high desk and a low coffee table, the stacked Alpha chairs were displayed in multiple colourways and materials, and Neill also introduced the Pleat bench, a graceful arch of thermoformed Corian, for the first time to the French market.
Visit the Made In Ratio website for more information.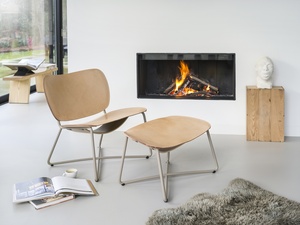 Miller lounge chair and ottoman from Functionals
The Miller lounge chair is made of sumptuous leather that will only get more beautiful as it ages. Having had a good lounge in it, I can vouch for the fact that this chair is exceptionally comfortable with a curved backrest that supports and envelops the user. Designer Serener, also known as Christoph Seyferth, designed the chair and matching footrest from German leather that was stitched and polished by a saddlemaker. The five-millimetre-thick leather gives the chair a robust, graceful aesthetic. Seyferth says the inspiration for the Miller chair came from French designer Pierre Paulin and his leather butterfly chair.
Visit the Functionals website for more information.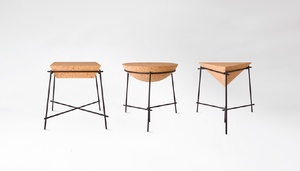 Basil side tables from Petite Friture 
Thirty-year-old French architect-turned-designer Arthur Leitner wanted to work with cork to create his next collection. The result is Basil, a set of side tables that feature steel rods as the table's base with a solid cork shape resting on the steel rods. This effect gives the Basil tables a lovely balance of lightness and density. The cork tabletops come in three shapes – sphere, pyramid and parallelepiped. These shapes contribute to the simple aesthetics of a piece stripped down to its essentials.
Visit the Petite Friture website for more information.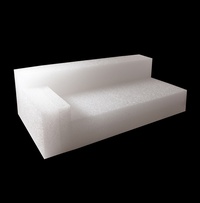 Miyavie furniture by Maison Koichiro Kimura
And now let's end on something completely different: Miyavie furniture by Japanese designer Koichiro Kimura. Part sculpture, part furniture, Miyavie is made from thin filaments of polyethylene resin that have been intricately weaved and melted together with enough air space to give the material a spring-like cushioning. In fact Koichiro insisted I sit on the piece to see what I thought. And he's right - it's more supportive and comforting than you think from first looking at it. The polyethylene resin used in Miyavie is 100% recyclable, and is also easy to wash, making it hygienic and long-lasting. The Miyavie collection includes a round sofa, square sofa, armchair, armless chair and two-seat sofa. It's a curious collection, and one that turned heads at the show.
Visit the Miyavie website for more information.