Editor's choice: Day three of 2016 Maison&Objet Paris January edition
For its January 2016 edition of the Maison&Objet international design fair in Paris, organizers have reorganized the halls into three new hubs: Luxury, Design and Interior Decoration; Maison; and Objet. Artichoke editor Cassie Hansen has combed the halls in search of the most exciting new products from the fair's thousands of exhibitors. Here are her top ten products from day three: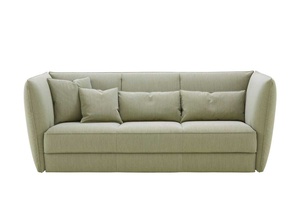 Softly Sofa by Nick Rennie for Ligne Roset
The new Softly Sofa by Melbourne designer Nick Rennie for Ligne Roset was inspired by the idea of placing a number of cushions together vertically to create a sofa backrest. Available in a range of Kvadrat fabrics, the Softly sofa is super comfortable to lounge in and the high seat level means you can easily get up and out of the sofa when it's time to stop lounging around. The higher back and sides also have a little flex to them, but also retain their stiffness, allowing great support for the user. This is Nick's seventh project with Ligne Roset, and I've got a feeling it's going to be a popular one.
Visit the Ligne Roset website for more information. Domo is the Australian stockist of Ligne Roset.
Omega outdoor fabric from Expormim

Omega outdoor is a 3D fabric specifically developed by the Danish company Gabriel for Expormim. This highly functional mesh will dress most of the outdoor collections, such as Expormim's Twins and Senso armchairs or the Plump sofa. 3D mesh is a polyester fabric widely used in the world of sports because of its resistance and also because it allows for optimal heat and moisture regulation. Omega's colour palette is inspired by the Bauhaus and Mondrian, with a scheme based on black and primary colours.
Visit the Expormim website for more information. KEZU is the Australian supplier of Expormim.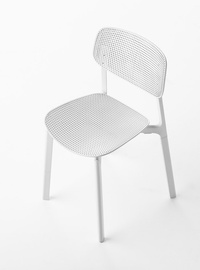 Colander chair for Kristalia
Patrick Norguet has designed a new chair called the Colander. Why Colander? Well, the chair features small holes for water run-off, like a colander, and Kristalia is an Italian brand and what kitchen utensil do they use daily in Italy? The colander. This is a versatile chair, able to be stacked and used outdoors. It currently comes in white, black, beige, coral red and basalt grey.
 Visit the Kristalia website for more information.
Club Sandowich buffet from Polit 
Like a club sandwich, the Club Sandowich buffet is two slices of wood between which one puts all the things they love between. Coloured bungee cords stretch from the top to the bottom, meaning you can screen some of your items from eyes, or show them off via the various shelves and nooks in the buffet. Club Sandowich is available in a beechwood or light gray finish and the bungee cords are available in seven colours.
Visit the Polit website for more information.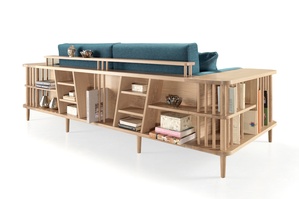 Scaffold sofa from Wewood
Scaffold is a sofa that offers more than a simple seating space. With a surrounding wooden frame, Scaffold offers a place to sit, lay down, work, play, or store items. Designed by André Teoman Studio, Scaffold isn't just a sofa, but also a side table, a day bed, a bookshelf or a divider. The shelving units run alongside the armrests and the sofa's backrest. The frame is made from 100% solid wood structure, and the strong and minimalist lines are accentuated by the natural wood finish.
Visit the WeWood website for more information.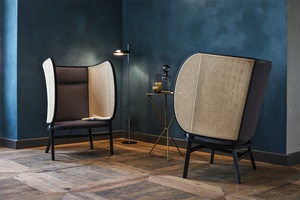 Hideout by Wiener GTV
The Hideout lounge chairs by Swedish designers Front combine comfort and great craftsmanship. Hideout has a black-lacquered steam-bent solid beech square structure and is enriched by a large, comfortable seat, with the the seat and the central part of the backrest both upholstered. The backrest is like a wide embrace, ascending upwards with woven cane parts and defines the rounded profile of the armrests, which protrude over the seat. This is not just a chair, this is an enveloping and intimate space. 
Visit the Wiener GTV website for more information.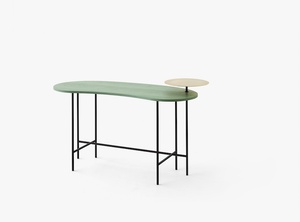 Palette Desk for &Tradition
"In a world where everyone is rushing around mega multitasking, to sit at an ordinary desk feels so static," says Spanish designer Jaime Hayon, who designed the new Palette desk for &Tradition. "I felt compelled to design a desk with a feeling of motion, inspired by the kinetic sculptures of Alexander Calder. Balancing various shapes and materials at various heights supported by a metal frame. In theory it's like a mobile but in reality it's a desk." Each Palette Desk partners two shapes together: an elongated bean shape with a simple round shape. The two merge a marvellous mix of regal materials available in three different combinations. For the table tops, choose from polished Nero Marquina marble or honed Bianco Carrara marble, satin polished brass or stained ash veneer in black, red or grey-green.
Visit the &Tradition website for more information. Great Dane is the Australian stockist for &Tradition.
Godot sofa from Menu

Not only is it an example of stunningly elegant modern design, with its simple and clean lines – but the Godot is also one of the most comfortable sofas around. Designed by Iskos-Berlin, the sofa mixed sharp lines and curved edges to create a slightly geometric, but inviting sofa piece, which is available as a one-seat, two-seat and a three-seat sofa.
Visit the Menu website for more information.
Originals Room Divider from Ercol

First designed by Italian designer Lucian Ercolani in 1956, the Originals Room Divider has been reissued in a contemporary interpretation in elm and beech. The piece can be used for shelving or display or as a room divider, and it features a drawer unit at the bottom for storage. Furniture is made by craftsmen in Ercol's Buckinghamshire factory in England.
Visit Ercol's website for more information. Temperature Design is the Australian stockist of Ercol.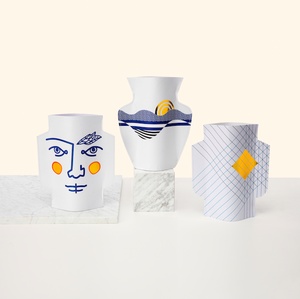 Paper vases from Octaevo
For our third and final product round-up from this 2016 January edition of Maison&Objet in Paris, let's again end on something a little bit different, and a little bit joyous. The Florero paper vase collection, by Mediterranean company Octaevo, is made from special waterproof paper and is a tribute to the ancient and sophisticated art of ceramics. The idea is you get an old plastic water bottle, cut off its top and insert this plastic "vase" into the paper vase so it's hidden inside. Pop some flowers or plants in, place it on your desk and add a little bit of joy to your life.
Visit the Octaevo website for more information.
Save
Save