Editor's choice: Day two of 2016 Maison&Objet Paris January edition
For its January 2016 edition of the Maison&Objet international design fair in Paris, organizers have reorganized the halls into three new hubs: Luxury, Design and Interior Decoration; Maison; and Objet. Artichoke editor Cassie Hansen has combed the halls in search of the most exciting new products from the fair's thousands of exhibitors. Here are her top ten products from day two: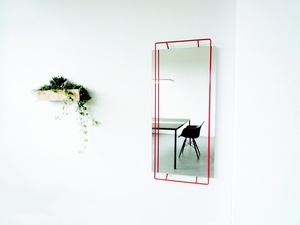 Untitled Mirror by Untitled Story
Designed by London/Paris/Berlin-based Marc Schulthess, the Untitled Mirror is a mirror frame with geometric and graphic expression. Featuring a powdercoated steel frame that is offset from the mirror itself, Untitled prompts an interplay between shape, frame and reflection. Depending on the viewing angle, the shape of the frame changes, hovering above the mirrored surface, creating an abstract reflection of its form. Schulthess says, "I wanted to deconstruct and give life to a static object so it more truly represents the changing world it reflects. The frame and the mirror play with each other; the object is never the same when you look at it, there is always a familiar yet new object to be discovered." The mirrors frames come in three geometric shapes (hexagon, circle and rectangle) and in five colours (white, black, red, yellow and green).
Visit the Untitled Story website for more information.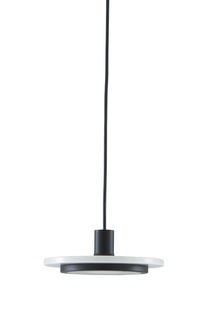 Calcite lamps from Ligne Roset
Not even thirty years of age, French designer Romain Voulet is somewhat of an overachiever. Last year he won the Cinna Lighting Design award with his Toio suspended lamp and he has worked for Panasonic and Kenwood. His new Calcite lamp, featuring Cararra marble, has similarities to the Toio lamp, and was inspired by a trip Voulet took to Barcelona, where he visited the Mies van der Rohe pavilion. "Seeing this use of noble materials such as marble, onyx and granite was the starting point. The combination of technology with a noble rock creates an attractive tension between the eternal nature of the stone and the obsolescence of technology."
Visit the Ligne Roset website for more information. Domo is the Australian stockist of Ligne Roset.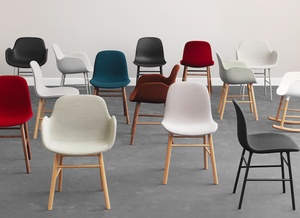 Form upholstered chair from Normann Copenhagen
 Since Normann Copenhagen first introduced the Form chair by Simon Legald, it has been one of the company's most popular designs. This year it has released new upholstered versions of the chair and barstools so now it can be used in even more environments. The new upholstered chair emphasizes the original design, and is a beautiful illustration of how Form's strong design language and well-considered silhouette gets a different, sensuous dimension with the new upholstery. Luxurious woollen textiles and exclusive leather soften the expression and add warmth. Legald says, "This is another way of seeing the chair. The new upholstered chair gives a better understanding of the Form family as a whole, and shows how the design can move in different directions. Apart from the upholstery itself, we have changed the colour of the moulded connectors, so that they match the legs in lacquered steel, oak or walnut, rather than matching the shell, as they do in the plastic chairs. The effect is still aseamless and natural integration between the shell and the legs, but the overall impression is completely different."
Visit the Normann Copenhagen website for more information. Space Furniture is the Australian stockist of Normann Copenhagen.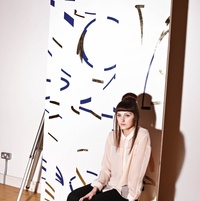 Offset wallpaper by Custhom
Inspired by the 1950s American abstract painters, this graphic offset design of curves holds no definitive pattern. The wallpaper is made from a durable non-woven FSC-certified paper and the Offset collection is hand finished with gold foil in London. Each roll is unique and can be hung from top or bottom without waste, creating an individual final composition. British design studio Custhom is headed by Nathan Philpott and Jemma Ooi, who now do a lot of work with retail spaces, restaurants and domestic projects, often in collaboration with respected architects and interior designers.
Visit the Custhom website for more information.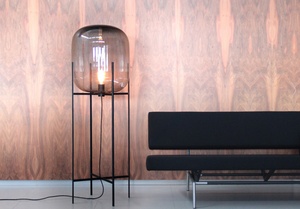 Oda lamp from Pulpo
Designed by Sebastian Herkner, who has worked for Stella McCartney and Moroso, the Oda lamp for Pulpo is produced entirely by hand, individually made and hand-blown. Oda features a simple and elegant metal structure that balances a mouthblown tinted glass globe. The giant bulbous lamp shade gives the piece a presence, and it seems to float on its steel-stemmed structure. Herkner says his aim was to "create a balloon filled with light." The design is inspired by the amazing pictures of water towers shot by German photographers Bernd and Hilla Becher. Oda is available in three glass colours: opal, grey and amber.
Visit the Pulpo website for more information.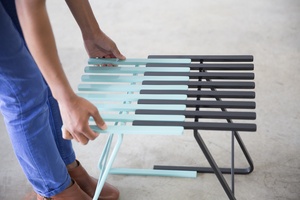 Tabouret stool from La Subtile
This is one clever stool and I can see it working really well in Australia. Designer Benjamin Lemarie says that "birds of a feather flock together" is the principle behind the Tabouret stool. With its light, regular lines, the Tabouret is characterized by an airy profile, delicate forms and the strength of its metallic composition. Its neat trick is you can slot single stools together to form a graphical medley of stools or a long bench. With different colours in the collection, you really could have a lot of fun piecing these together into a colourful geometric assembly, depending on the mood or occasion.
Visit the La Subtile website for more information.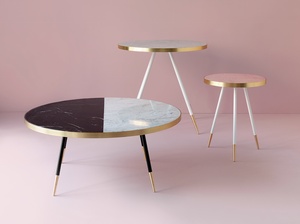 Band Collection from Bethan Gray 
London-based designer Bethan Gray wanted to pair the natural beauty of coloured marble together with warm brushed brass to create her Band range of tables. For this range, solid marble is encased in a warm and elegant metallic rim to bring a distinctive, contemporary aesthetic to thetimeless material. The Band range is available with single colour marble tops or two tone options from the palette, which include the beautiful and sophisticated Rosa marble and a timeless Verde marble. Handcrafted techniques are then used to combine selected marbles in a striking and graphic pattern. Bases are powdercoated in colours from the palette and combined with precision machined brass feet, hand brushed and finished by craftsmen.
Visit the Bethan Gray website for more information.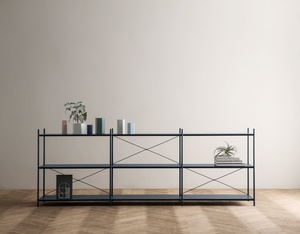 Punctual shelving system from Ferm Living
The Punctual shelving system has sturdy shelves that are perforated with small round holes, softening the look and giving the piece an airy and light look. The perforated shelves add a vibrancy to the piece and invite the touch. The system is easy to assemble and is modular so you can easily create and expand the system to suit your needs, from using it in the living room for displaying your books and plants, or for the home office or kitchen. The powdercoated metal elements come in different heights and in a beautiful range of soft colour hues.
Visit the Ferm Living website for more information.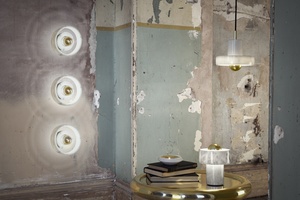 Stone Lights from Tom Dixon
Marble has been big this year and Tom Dixon thinks so too. The design studio has used the tough yet tactile material to create a new lighting range called Stone. With a pendant and a wall sconce in the collection, these lights feature layers of marble, glass and brass to create a dainty yet elegant piece. The light bulb itself has a dipped gold edge, which adds a finishing touch to the piece. The Stone collection also includes candle holders, serving boards and tea light holders.
Visit the Tom Dixon website for more information. Dedece is the Australian stockist of Tom Dixon.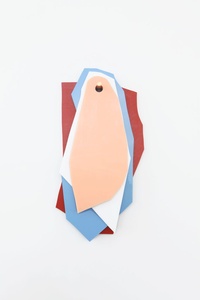 Chopping boards by Muller van Severen 
In keeping with yesterday's theme of ending things on something a little bit weird and wonderful – I present these fantastic chopping boards by design team Muller van Severen for Valerie Objects. These are just the prototypes, and the real deal should be for sale by May, but these chopping boards had me at hello. Made from polyethylene and sold as a set of four in a range of colours, the chopping boards have an organic, irregular shape that is eye catching and playful. Hang them up on your kitchen wall when they're not in use and you've got a colourful wall sculpture. 
Visit the Valerie Objects website for more information.