As a child, I dreamed of a room with wall to wall bookshelves. The kind seen in movies with with cavernous rooms, tall ceilings and Oxford scholars in tweed jackets and elbow patches. I would imagine myself curled up on a bay window seat, surrounded by the pages of history and world of literature.
My grown-up reality is a tiny shoebox apartment with claustrophobically low ceilings and an ugly air conditioning unit blocking my improvised bay window. But I'm determined not to let the spatial constraints and a rental agreement limit my ambition. I have found that there are systems of stackable shelves that are modular, expandable and moveable. The beauty of these systems is you can reconfigure them in infinite ways, making the most of any space, big or small. And because they're modular they can grow as your collection grows.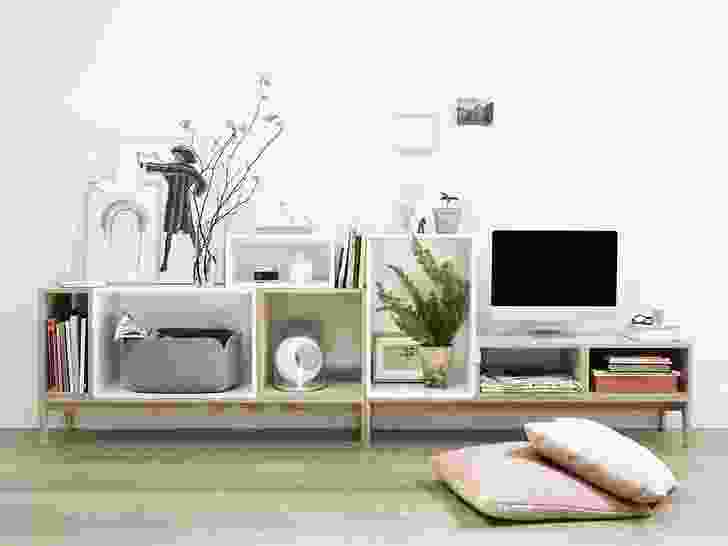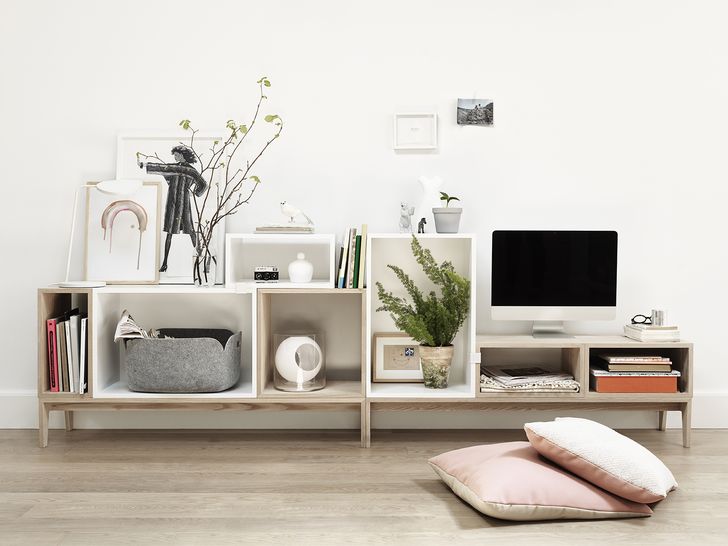 Stacked Shelf System from Muuto
Designed by Julien de Smedt, 2004 Golden Lion winner at Venice Architecture Biennale, these shelves are essentially a collection of boxes in three sizes, cleverly proportioned to work in concert with each other. Made from MDF, the boxes can be clipped together or fixed to the wall in any shape or form. Even the gaps between the boxes become part of the design. It's also configurable with its own podium.
Available from Living Edge.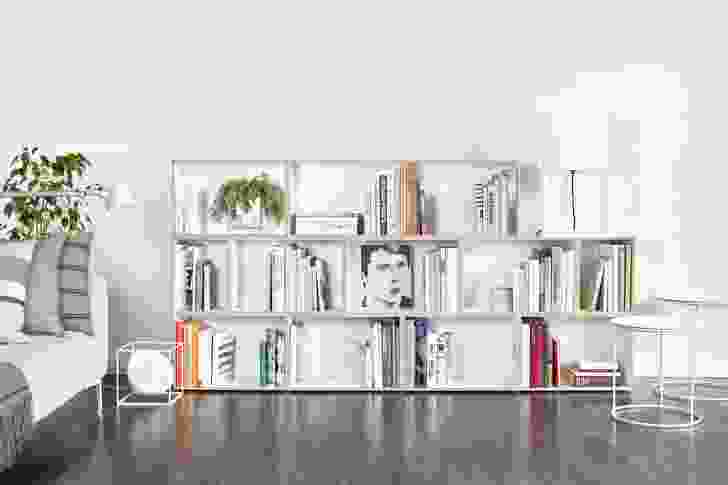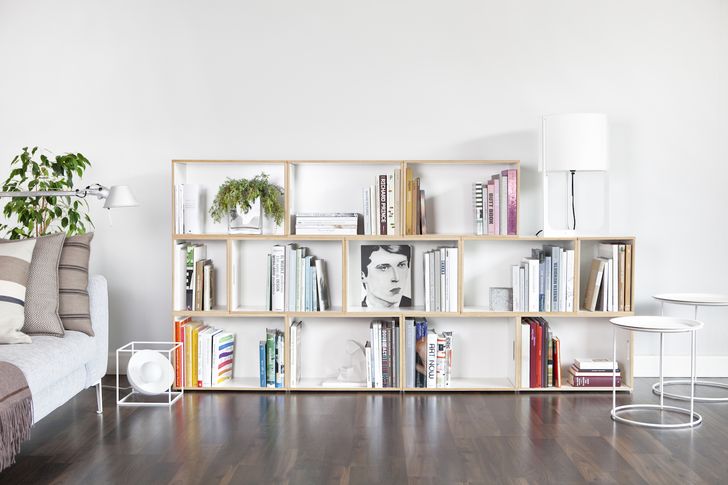 BrickBox by Kazam
Inspired by the humble brick, this shelving system consists of a series of flat packed ply boxes laid together in the common horizontal stretcher pattern. Design by Spanish duo Antxon Salvador and Roger Zanni, the boxes are fixed with small dowel feet which slot neatly into grooves carved into the top of each box. This eliminates the need for external fixings. Best of all, the boxes feature routed handles, making carrying the boxes (and moving house) a cinch.
Available from Clu Living.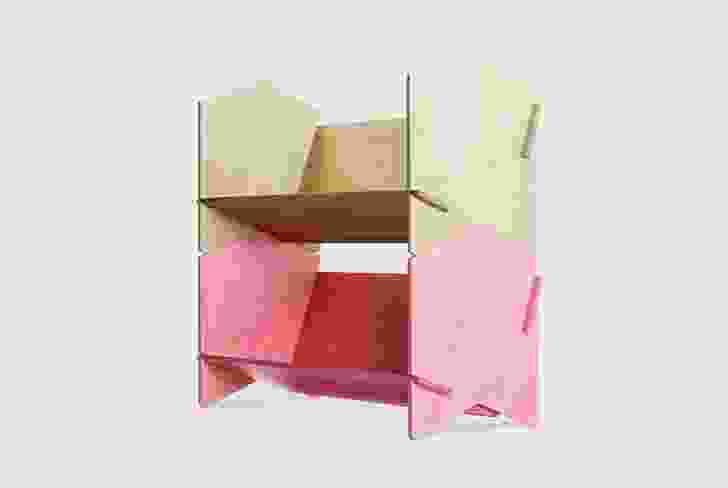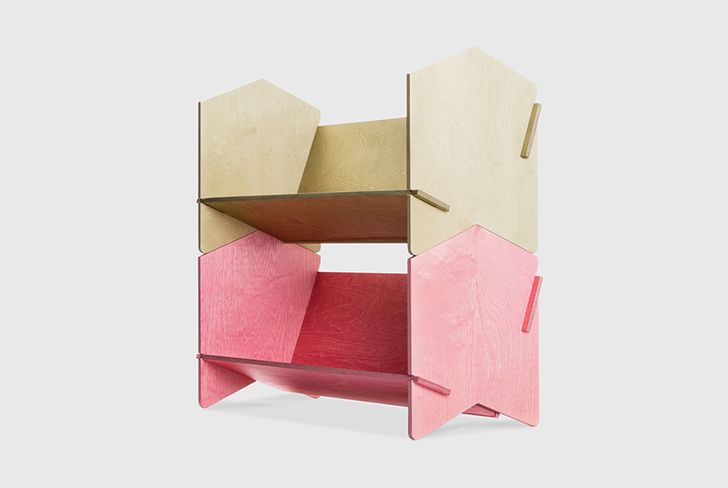 Chevron Shelf from Nomi
Chevron is a system of storage units that take its name from its distinctive zig-zag shape. Each shelve is made from four pieces of precision-milled Birch ply that slot together in with a halved joint and requires no screws or fixings. The slanted shelving plain makes them ideal for storing not just books and magazine but also bottles of wine. The shelves are designed by young Sydney-based industrial designed Henry Wilson and manufactured locally in Australia.
Available from Nomi.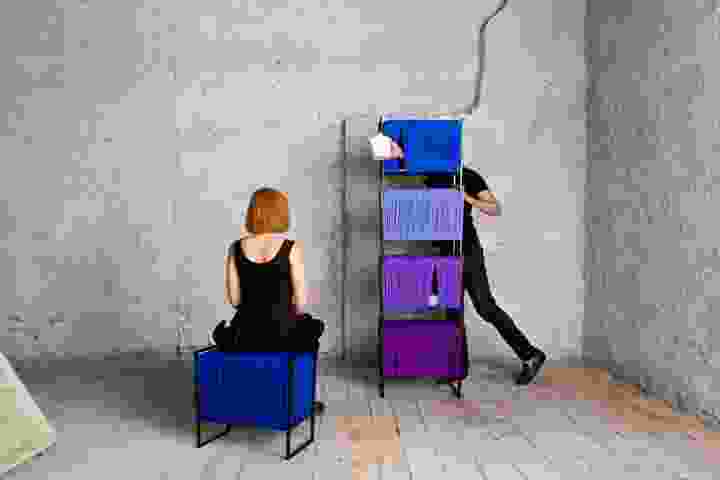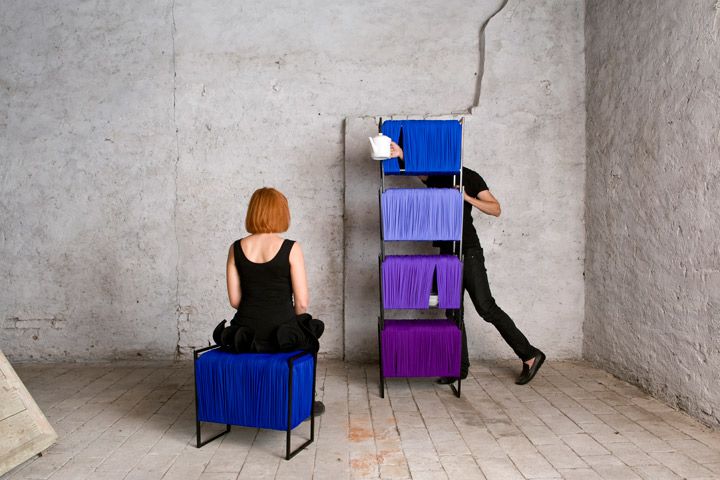 Fragment 01 and Fragment 02 by Lanzavecchia + Wai
It's not often you see fabric used in shelving units and these curious creatures designed by Francesca Lanzavecchia really makes you stop and look twice. Fragment 01 is a system of nesting shelves while its younger brother Fragment 02 is stackable and even masquerades as a stool. Both are made with a filigree steel structure covered in pleated lycra. The rich, textural finish hides a multitude of storage options and can be accessed on both sides of the shelves.
Available from Lanzavecchia + Wai.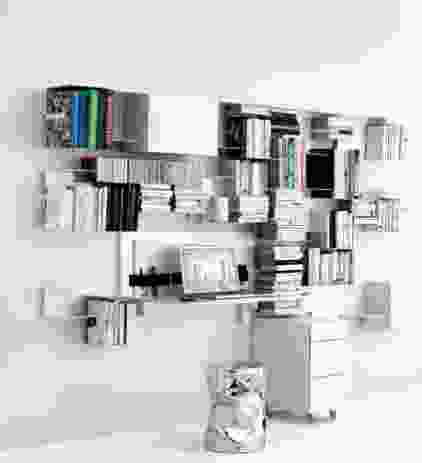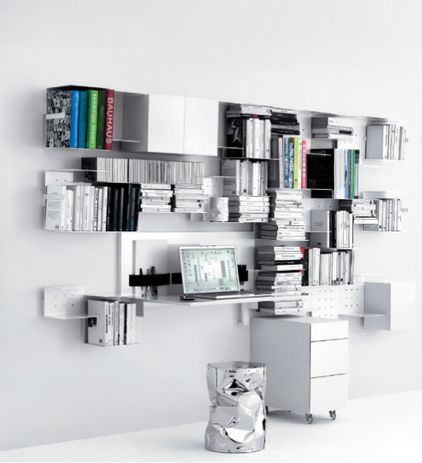 All Over from Opinion Ciatti
Designed Bruno Rainaldi, this system of painted aluminium brackets can be fixed "all over" the wall, as its name suggests. Or not, as they're also self-standing. The modular pieces can be lined neatly alongside each other for those of us with slight OCD tendencies, or in a random chaos that only makes sense to one person. The system is a complete vertical workspace with bookshelves, CD shelves and cabinets. The centre piece is the writing desk where the back panel features a series of elastic grips for organising desktop accessories.
Available from Space Furniture.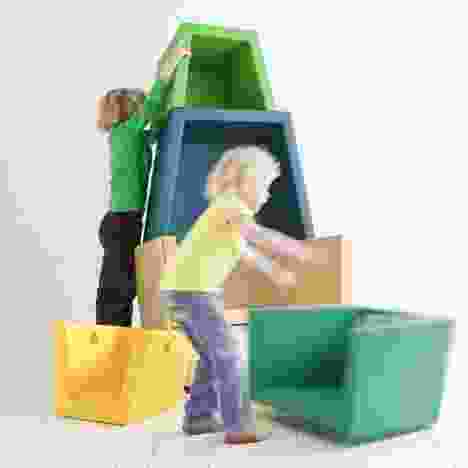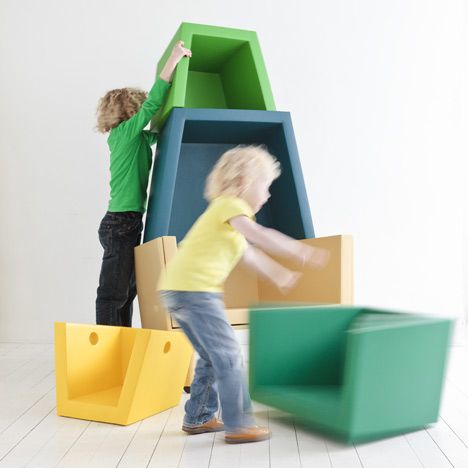 Stacking Throne by Laurens van Wieringen
Finally, whilst this is strictly not a shelf, I couldn't resist including the heart-warming story of the Stacking Throne. Designed by Laurens van Wieringen, the Stacking Throne was a one-off private commission for one-year-old girl named Bodile. The series of nesting chairs are design to grow with her through the stages of her childhood from baby to teenager. The largest is an armchair made from timber and steel, with a foam insert. The other four chairs decrease in size are removable and stackable.
Related topics