The perennially popular Open House Melbourne returns for its 12th year with 73 new sites across the central city and suburban Melbourne.
In 2019, Open House Melbourne will focus on accessibility and inclusivity through its keynote exhibition Urban Tacility, an installation by OoPLA Architects and Cushman and Wakefield designed to encourage people to think about how people with disabilities and vision impairment navigate the city.
More than 200 tours and events are offer across the vast weekend program from 27 to 27 July. Here are ArchitectureAU's selection of the most noteworthy new additions. Bookings for tours open on 12 July with a second release on 19 July.
Exhibitions and tours
This tour takes in the original parliamentary gardens designed by William Guilfoyle as well as the new Australian native landscape designed by TCL atop the Parliament Members' Annexe Building by Peter Elliott Architecture and Urban Design, which was awarded the Victorian Architecture Medal at the 2019 Victorian Architecture Awards. The new building and sunken courtyard are a counterpoint to the existing heritage listed garden. The tour will give visitors a chance to walk over the roof the annexe and parliamentary staff will discuss the history and heritage of both landscapes.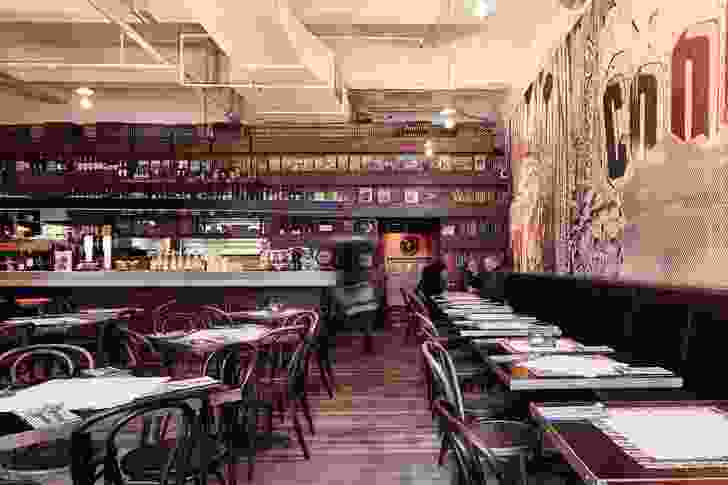 Architect Phillip Schemnitz will lead a walking tour of three much-loved Melbourne hospitality venues: Cookie, The Toff in Town, and Magic Mountain. All three venues have been borne from a 13-year architect-client collaboration and have become icons of the Melbourne bar scene. Cookie was inducted in the Eat Drink Design Awards Hall of Fame in 2018. "Cookie was ahead of its time […] but was also part of a Melbourne tradition of the hidden or covert venue," Phillip Schemnitz reflected in his speech. The tour will also visit an apartment in Flinders Lane.
An initiative of the Australian Institute of Architects Emerging Architects and Graduates Network (EmAGN) and Open House Melbourne, these hard hat tours allow visitors to walk through architect-designed homes while they are still under construction. Architect Hugh Feggans will take visitors through Hawthorn house, currently at framing stage, with the builder, while Swain and Fraser will lead a tour through House Peach, an extension to a cottage in Coburg.
This exhibition celebrates Australian modernist architecture through a series of archival images and newly comissioned photographs. Australia's modernist architects and designers created projects of all scales from infrastructure projects to public health and education institutions and centre of culture, consumption and leisure. The buildings featured are a sampling of 100 significant sites included a new book on Australian modernism edited by Hannah Lewi and Philip Goad. The exhibition is part of the University of Melbourne program celebrating 150 years of built environment education.
Future Living Systems is a research project conducted in collaboration between Lendlease, The Future Building Initiative at Monash University and the University of Sydney. The installation at Buluk Park in Victoria Harbour consists of two 1:1 prototypes that demonstrate the potential of componentized construction. The first is an 80 square metre living space made from prefabricated timber elements. The modular layout is adaptable and can be reconfigured to meet the resident's changing needs. The second prototype explores structural elements, manufactured offsite, that could facilitate multi-storey construction.
Public buildings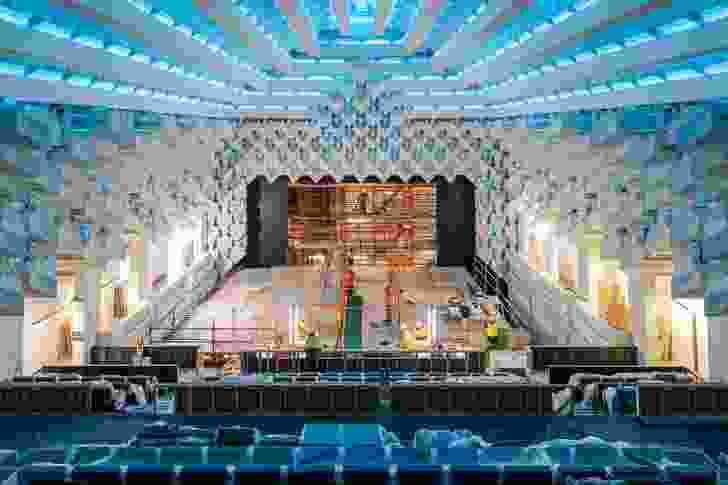 Fresh from its Six Degrees Architects designed facelift, the historic Capitol Theatre, considered one of Melbourne's greatest interiors, is once again open to the public since its closure in 2014. Originally designed by Walter Burley Griffin and Marion Mahony Griffin, The Capitol was once described as "the best cinema that was ever built or is ever likely to be built" by Robin Boyd. It features an ornate, geometric ceiling, designed to evoke a crystalline cave, which concealed more than 4,000 coloured lamps. Six Degrees Architects will lead guided tours on the hour and self-guided tours are also available.
The University of Melbourne Southbank Campus
The Faculty of Fine Arts and Music at the University of Melbourne has invested $200 million in the redevelopment of the Southbank campus with a host of projects that will contribute to Melbourne's arts precinct. Chief among them is the Ian Potter Southbank Centre, a new building for the Melbourne Conservatorium of Music designed by John Wardle Architects. For Open House Melbourne, visitors can enjoy orchestral, chamber and jazz performances throughout the building, as well as demonstrations of the oculus window opening on the hour.
The campus also includes Buxton Contemporary by Fender Katsalidis, which will be open for a self-guided tour of the building and the Bauhaus Now! exhibition. Next Door, The Stables and Martyn Myer Arena by Kerstin Thompson Architects will be hosting an exhibition of recent student works. The newly completed student hub and library by Lyons will also be open with self-guided and architect-led tours.
Monash University Clayton Campus
Monash University is in the midst of a 20-year redevelopment of its Clayton campus. Some recently completed works include the Ian Potter Centre for Performing Arts by Peter Elliott Architecture and Urban Design, a refurbishment of the original Alexander Theatre designed by Eggleston MacDonald and Secomb in 1967. Near by is the John Wardle Architects designed Learning and Teaching Building. Also on the campus are Biomedical Learning and Teaching Building by Denton Corker Marshall and Law Moot Court by Jackson Clements Burrows. All the buildings will be running architect-led tours throughout the Open House Melbourne weekend. In addition, Aspect Studios will be leading tours of the outdoor learning environments of the Southern Precinct and Biomedical Landscapes which stitch together the aforementioned new projects with the heritage-listed Menzies Building.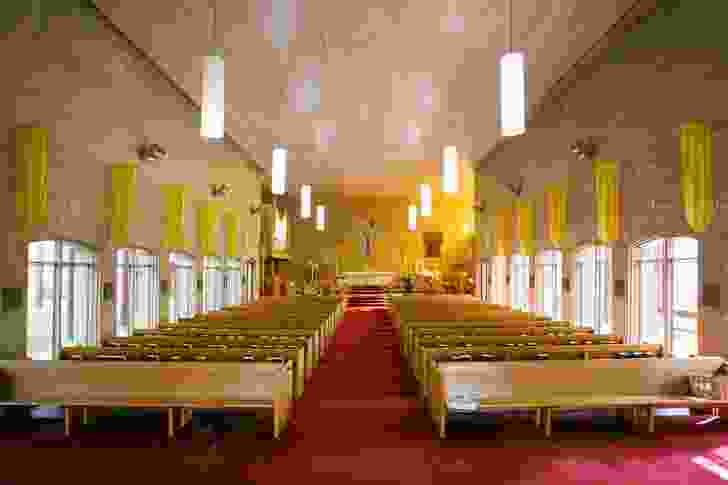 New to the program in 2019, this church is one of only two churches designed by Robin Boyd and Frederick Romberg. Built in 1964, the church is a striking example of the post-war era of modernist designs for churches, which balances traditional worship with modern forms. Low glass archways frame the pews and also provide the interior with natural light. It also features an unique internal courtyard. Original architectural plans, drawings and a model will be on display during Open House Melbourne weekend.
Residential buildings
For our editors' picks this year, we asked Gemma Savio, associate editor of Houses magazine, for her recommendations from the pool of 16 residential buildings and private residences that will be open to the public over the Open House weekend. Here are her picks for a tour of "apartments that offer exemplars of responsible, enduring and intelligent design and serve as inspiration for high quality density," she said.
Originally designed by Best Overend of Taylor Soilleux and Overend in 1936, this U-shaped block of 36 "bachelor flats" introduced a new way of living in Australia. They were designed to provide "maximum amenity in minimum space for minimum rent." Nearly eight decades later, Architecture Architecture has reinvented one of the miniscule 24-square-metre studio apartments for a contemporary context. Tours of the flat will be led by Architecture Architecture director Michael Roper.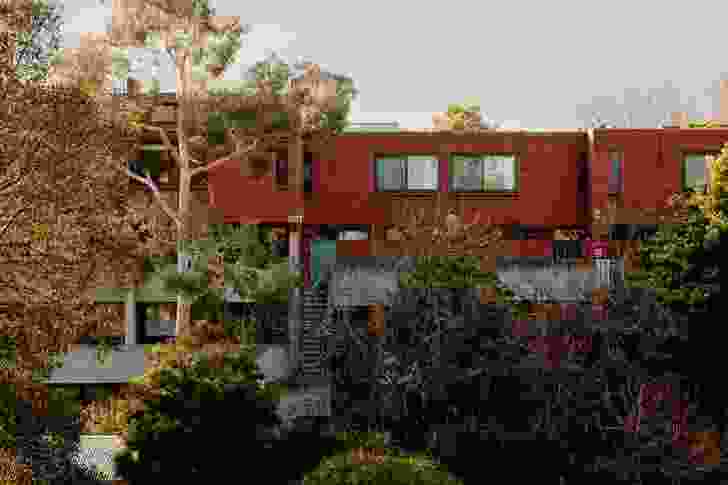 Designed by Peter McIntyre in 1976, City Gardens consists 92 apartments and 48 townhouses across four low-level buildings. The complex was built during a wave of housing commission projects in 1960s. The residences are designed with split levels, staircases and mix of apartment sizes to avoid repetition and maximize green space and the complex also includes community library, a productive garden and bee hives. Guided tours will be conducted by residents with a small talk around the plans.
Refurbished by Tsai Design, this 35 square metre, one bedroom apartment exemplifies how live big in small space. Central to the design is a floor-to-ceiling, multifunctional cabinetry and wall system, made by a cabinetmaker who specializes in hotels. It conceals storage for every room, and also includes a fold down dining table.
Architecture and design studios
There are a range of architecture and design studio throwing open their doors to the public. Take a sneak peek behind the scenes at these practice: Archier, Cox Architecture, Denton Corker Marshall, Designinc, Flack Studio, Group GSA and Artillery, Hecker Guthrie and Pitch Architecture and Developments.