Confetti armchairs from Design By Them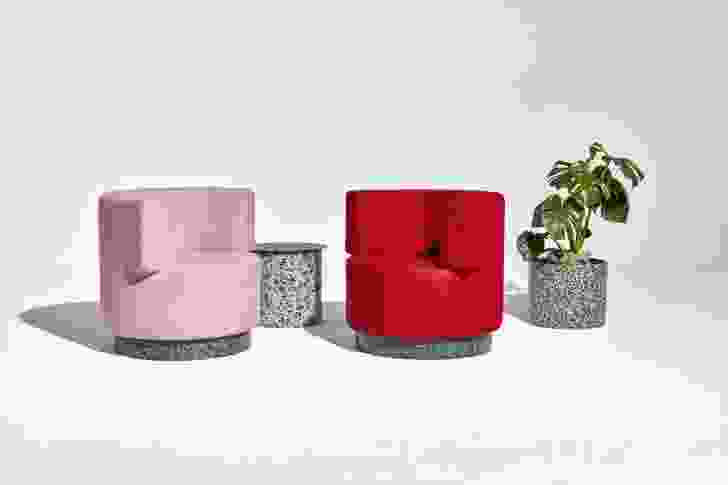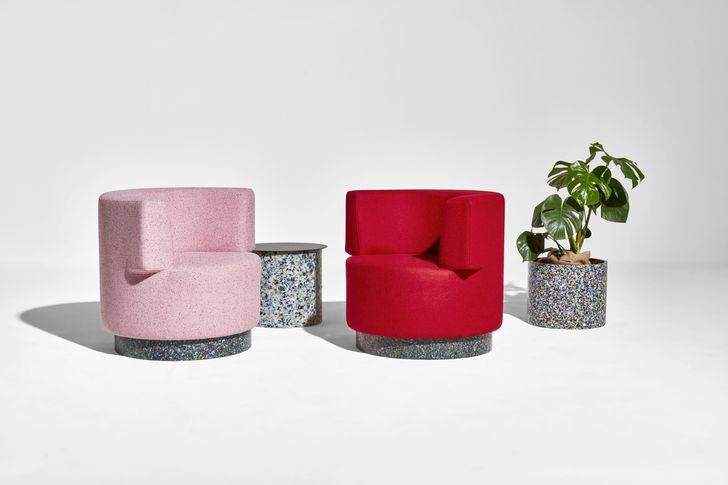 The second instalment of the Confetti Range by GibsonKarlo introduces new upholstered armchairs, lounges and booths. The pieces capture the vibrant multi-coloured nature of 100% recycled plastic and translate it into bold and visually distinctive forms. "We wanted to create a range of lounges that were visually bold, inviting and playful. We always felt that the speckled recycled plastic was a fun material and wanted to celebrate this," says Design By Them co-directors Sarah Gibson and Nick Karlovasitis.
For more information, visit the Design By Them website.
Double Side Table from Fomu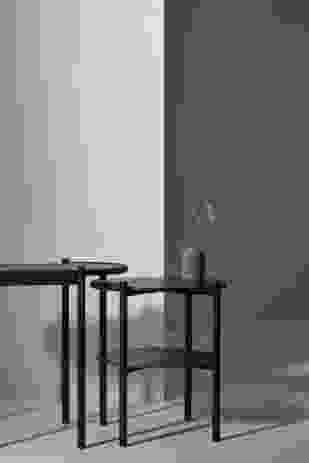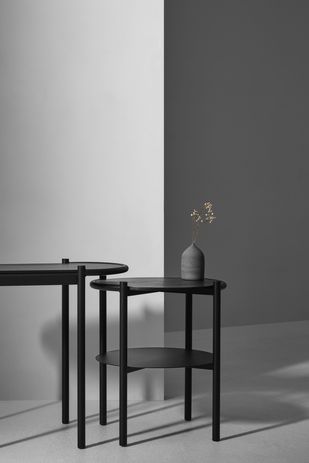 Designed in Melbourne by Andrew Beveridge and Gabrielle Beswick, the Fomu Double Side tables are notable for their minimal aesthetic. They are available with or without American oak timber. The designers, Andrew and Gabrielle are a couple originally from Tasmania. Andrew has a background in furniture design and Gabrielle has a fashion textiles and product development background.
For more information, visit the Fomu website.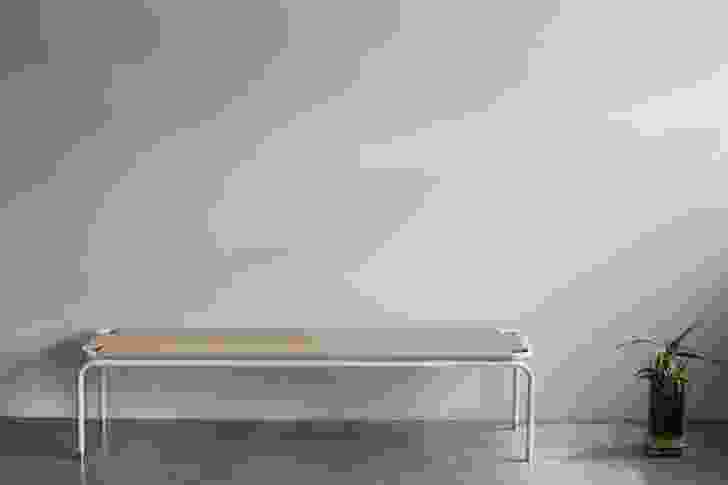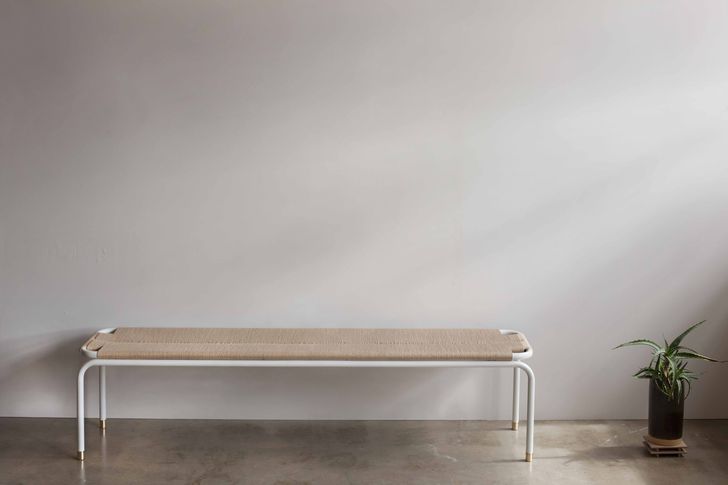 Rushcutters bench by James Howe
The Rushcutters Bench draws on designer James Howe's experience of living in a flat in Woolloomooloo, Sydney. The powdercoated steel frame was inspired by the bent-pipe ceiling trusses in the Finger Wharf building in Sydney.
When weaving the Danish cord seat, James wanted to avoid the rigid structure common to mid-century Danish designs. Instead, he tried to design a weave that would evoke the rush thatching used by early settlers in Rushcutters Bay, around the corner from Woolloomooloo.
The Rushcutters Bench was named a finalist in the Australian Furniture Design Awards 2017.
For more information, visit James Howe's website.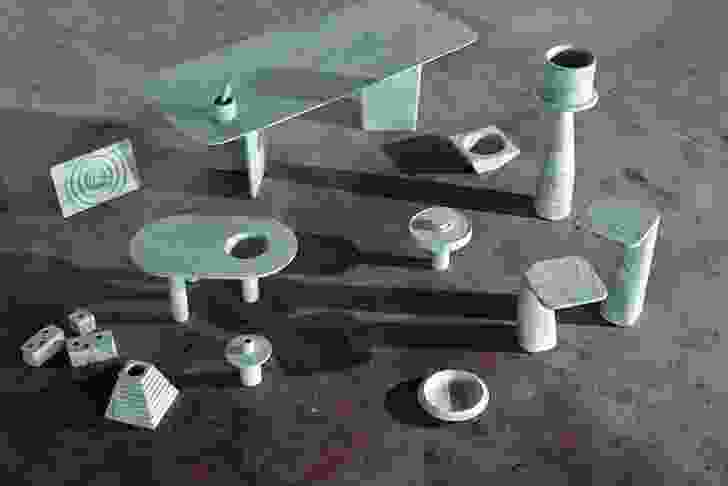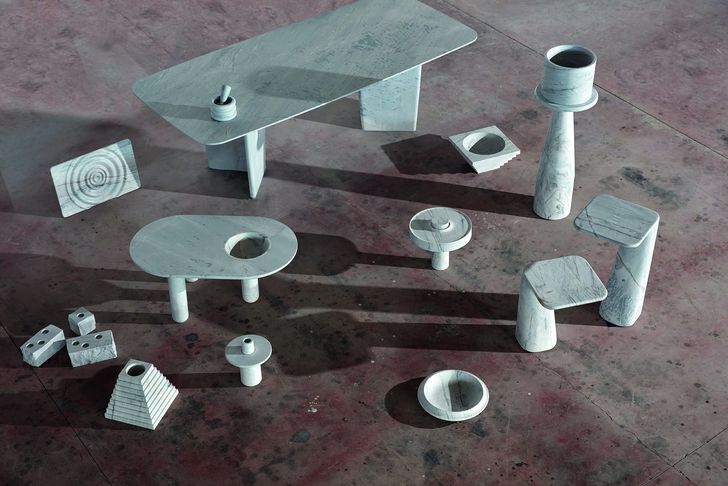 New Volumes collection by Artedomus
Artedomus has launched a new brand, New Volumes, with a collection that explores and "pushes the boundaries" of one natural material: Elba stone.
Among the objects in Collection 01 are a brutalism-inspired desk lamp, a cantilevered side table, a cylindrical planter and a grand dining table formed from three precise slabs of Elba.
"Like marble, Elba is a special material," explains New Volumes' creative director Thomas Coward. "Any dealings with it should be considered wisely, as its journey deserves nothing less."
In addition to Coward, seven prominent Australian designers created pieces for the first collection: Ross Gardam, Dale Hardiman, Marsha Golemac, Nick Rennie, Sarah King, Tom Skeehan and Emma Elizabeth.
For more information, visit the New Volumes website.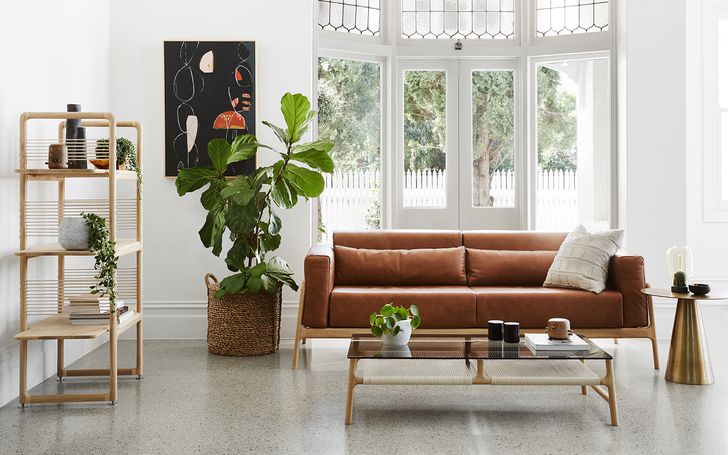 Muse Room Divider from Curious Grace
The Muse Room Divider by Gazzda is made from European oak with a hardwax oil finish and features hand-tied white cotton rope. Use yours to divide a living space or as a simple, elegant display unit. Gazzda was founded by two life-long pals – one Bosnian, one Dutch – who created the brand based on the principals of resourcefulness and critical thinking. The collection also includes a sofa, foot stool and lounge chair.
For more information, visit the Curious Grace website.
Eto table from King Living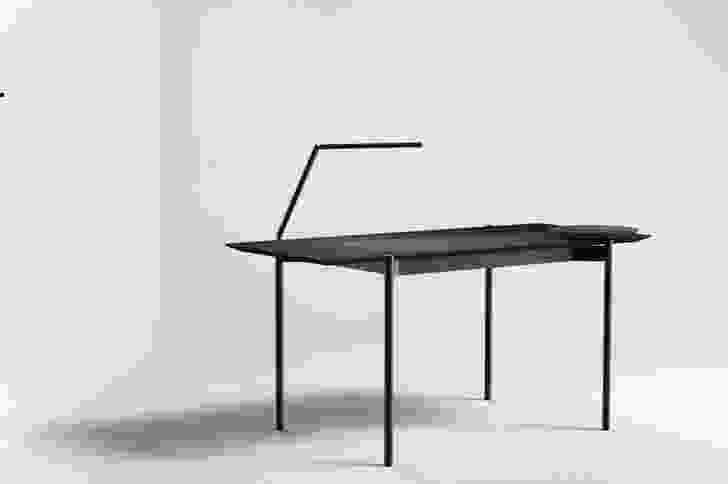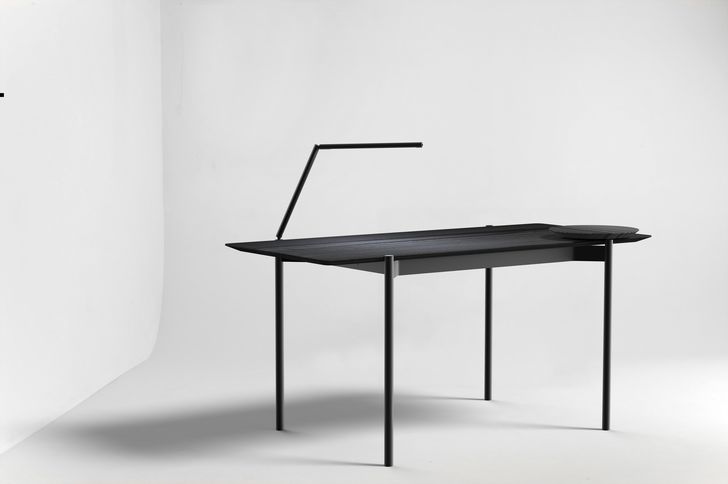 King Living's latest collaboration with Australian designer Tom Fereday has resulted in the Eto desk, a table that fuses power, wireless charging and lighting into one piece. It is constructed around an aluminium frame and finished with natural timber. The Eto is the first desk in the world to offer interchangeable lighting and charging accessories, the ETO melds integrated power and wireless charging in one sophisticated, minimalist design.
"We talked a lot about developing products that aren't just sophisticated and well made, but also actually trying to push the boundaries of furniture," Tom Fereday says.
For more information, visit the King Living website.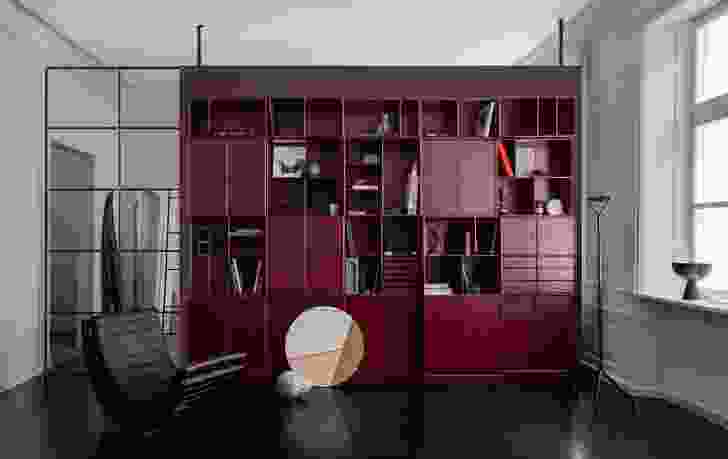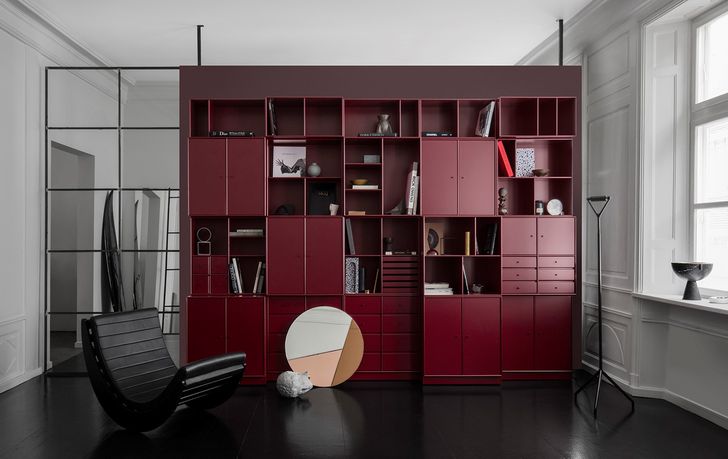 Montana shelving from Cult
The Cult stand at Denfair presented a new shelving system by Danish design brand Montana. Designed by Peter J. Lassen, the Montana system is available in any one of Montana's 42 lacquer colours and three veneers, and can be further personalized to include shelves, solid and glass doors, drawers, trays and lighting. You can choose your system to rest on a base, legs, castors, plinth with casters or mounted on the wall.
For more information, visit the Cult website.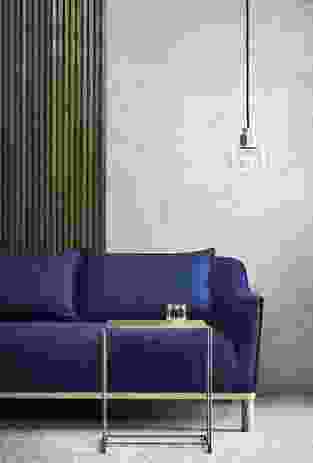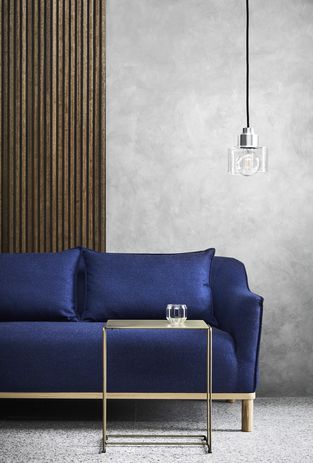 Helm modular sofa by Ross Didier
Exclusive to James Richardson, the rD by Ross Didier Helm sofa is an understated modular sofa collection, simplified and pared-back to five essential pieces. It offers to perfectly fit for purpose as the ultimate in flexible seating with a smart aesthetic and designed with long lasting quality.
"The Helm is not over designed, but quietly confident," said Didier. "It's really intended to be as little designed as possible. While familiar in form, the tight, five-piece collection has unique and distinguishable details such as the sculpted arms, pleat feature on the back face, subtle curves in the form and pinched upholstery seams nicely contrasting with the solid timber." he said. "I wanted to develop a modular sofa range that proved unobtrusive and useful, with an intelligence matched with styling that lasts for many years."
For more information, visit the James Richardson website.
Products by Rhys Cooper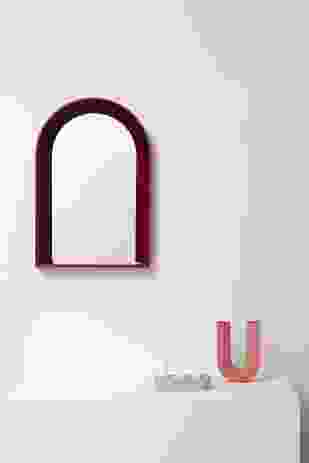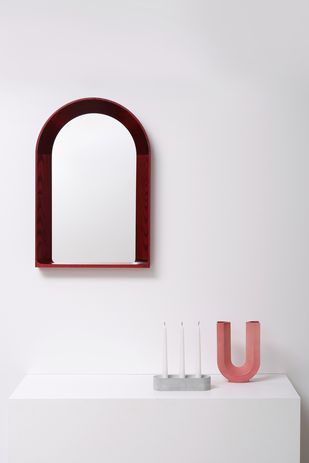 Rhys Cooper is an Australian furniture, lighting and object designer who established his studio in 2016. On show at Denfair 2018 was his latest collection of products, which aim to create conversation and to start a new dialogue.
Among them was U, a vase made from stoneware in a range of glaze finishes. The form of the vase enables unique flower arrangements adding a sculptural element to any environment. And the new Arch mirror plays with light and shadow, with a graphic shape.
For more information, visit Rhys Cooper's website.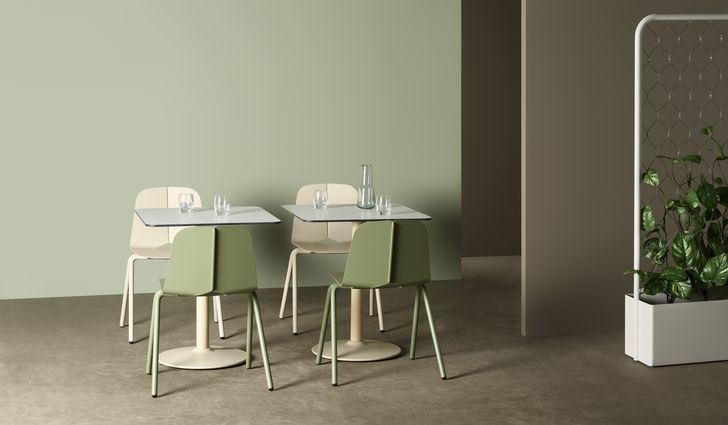 Seam collection by Tait
Designed by Adam Cornish, the Seam collection was conceived with a design process not dissimilar to the way in which a piece of fabric is tailored into a form-fitting garment, a refined "seam" along the spine of the chair making reference to seam details in garments. The Seam collection is Adam Cornish's first collection for Tait. The collection forms a family of seating and tables designed for a variety of applications. The Seam collection is designed for outdoor use, though is equally at home indoors.
For more information, visit the Tait website.