Sequence by Coco Flip
The Coco Flip team are on a roll! Having released its new Honey lighting collection earlier in 2019, Coco Flip had a surprise in store at Denfair – the release of its new Sequence series of tables and bench seats. Sequence is playful and versatile, featuring a simple, spun steel leg with a gentle curve that is offered in a number of heights. The range is available in custom shapes, sizes and heights, too.
For more information, visit the Coco Flip website.
Scape by Adam Goodrum and Tait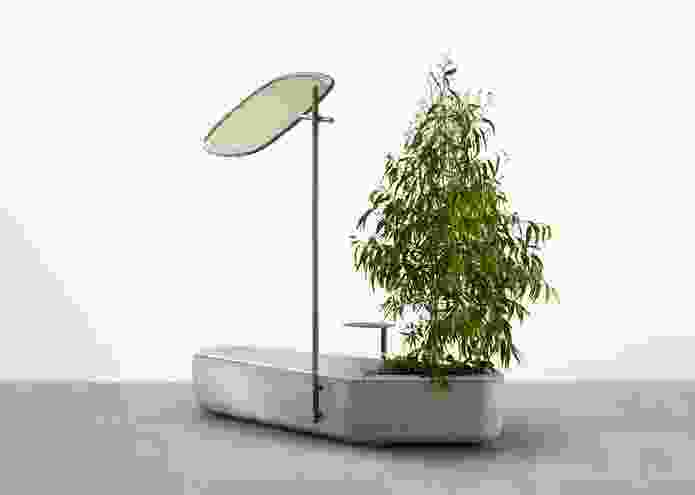 Tait has turned its discerning eye to the future and how rapid urbanization will impact the way we live. Designed by Adam Goodrum, Tait's new Scape series of street furniture responds to this challenge with a fluid collection designed to foster our relationship with the natural environment, encourage both social interaction and respite, provide a place for inspired working and enhance the wellbeing of our communities and workplaces. A family of playful and flexible outdoor elements inspired by smooth, rounded rock formations, Scape is a flexible collection supports moments of the everyday; socializing, relaxing, working, collaborating, meeting, lounging, eating, waiting and commuting.
For more information, visit the Tait website.
Wittmann Vuelta armchair and Grain Cut side table from Domo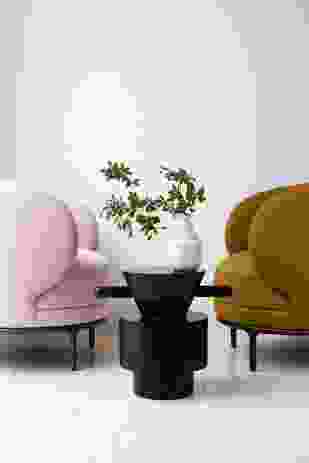 Wittmann Vuelta armchair, designed with Jaime Hayón is part of the Wittmann Hayón Workshop collection. Hayón once again incorporates his signature curves into the design of this chair, with a wrap-around backrest that envelops the user. The Wittmann Grain Cut Side Table, also designed by Jaime Hayón, has a curved sculptural shape, which has been turned from a solid block of wood.
For more information, visit the Domo website.
Amadi Collection from Halcyon Lake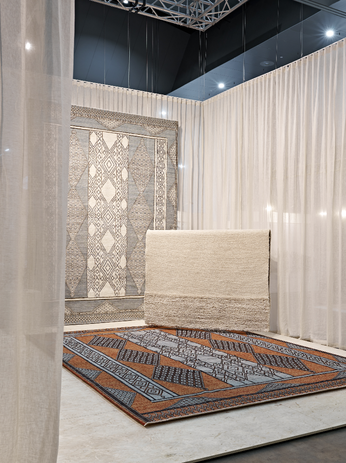 The Amadi Collection of hand-knotted rugs is inspired by an exploration of traditional African culture and was handwoven in the highlands of Afghanistan by a pioneering social enterprise. Designed to improve with time, the range is characterized by vast and varied geometric designs and complex visual compositions and comprises more than 20 designs.
For more information, visit the Halcyon Lake website.
Bell Table from The Wood Room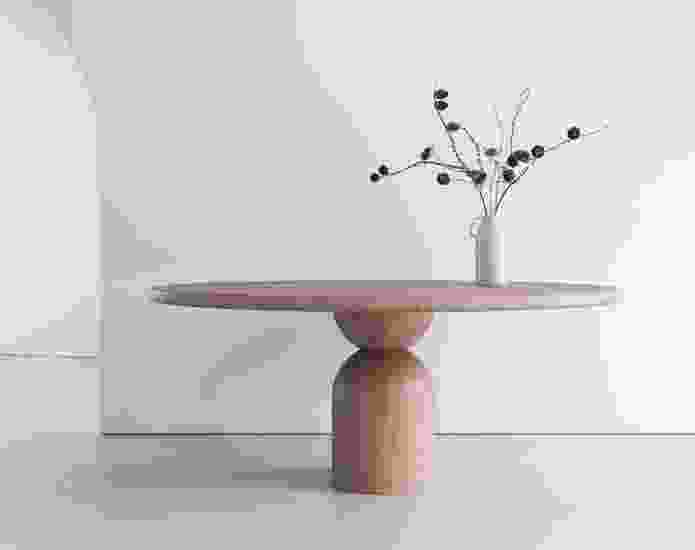 Sydney-based interior design firm Richards Stanisich has designed this table, inspired by the pleasure of bringing people together for a meal. The Bell Table draws people in to face each other, encouraged by the sculptural form of the table, which interprets the circle in its table top, base and plinth footing. Handcrafted by The Wood Room in solid American oak, The Bell Table has a tactile and timeless simplicity.
For more information, visit The Wood Room website.
Sedis by Anaca Studio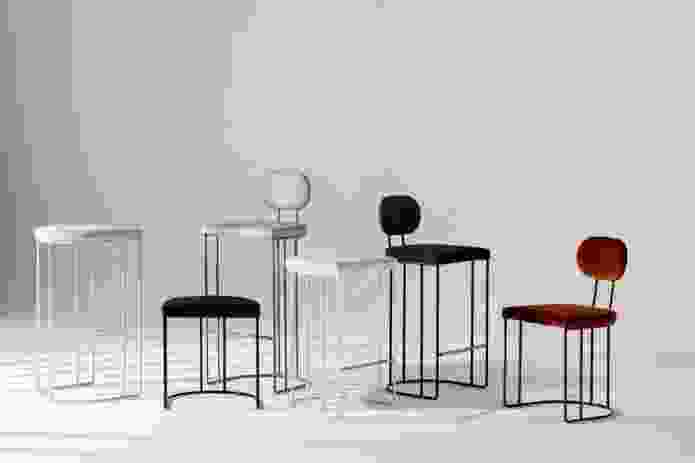 Inspired by Art Deco period architecture, the new Sedis seating range from Melbourne-based Anaca Studio balances sculptural curves with strong, minimalist lines. The new range offers six different sizes, including a low stool, chair and high bar stool, and has modest proportions that will suit a variety of environments.
For more information, visit the Anaca Studio website.
Chameleon by NAU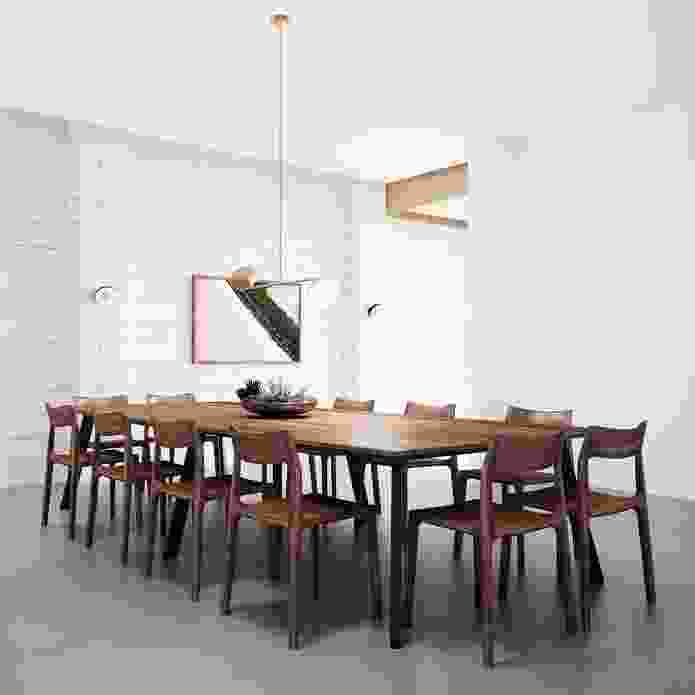 Named after its ability to cleverly adapt to its environment, the Chameleon commercial table, designed by Adam Goodrum, is designed to be agile and flexible, supported by extensive engineering and offering a variety of finishes, heights and uses. The table also features a special joint system that took two years to refine. The overall aesthetic reflects the seamlessness of its mechanics and is a table designed to adapt to dynamic environments.
For more information, visit the Cult website.
Oak Redefined by AHEC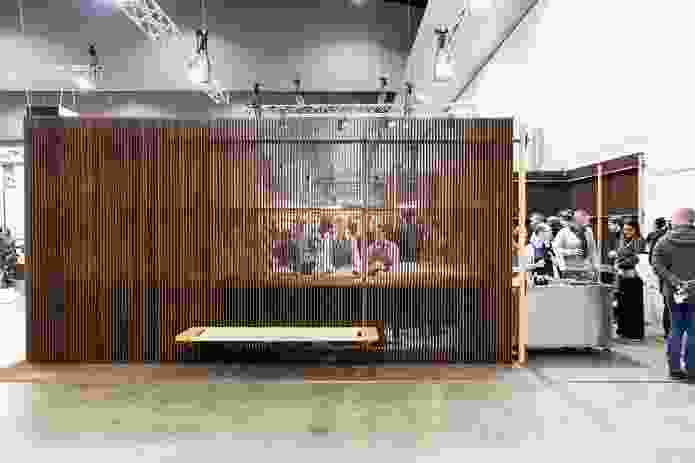 At Denfair 2019, the American Hardwood Export Council, Adam Markowitz and Marcus Piper unveiled an impressive installation exploring the physical and emotional properties of American red oak from multiple perspectives. Designer and architect Adam Markowitz and top graphic artist Marcus Piper used the timber to create a space in which to relax, recharge and reconnect with a thoughtfully designed environment. Named Oak REDefined, the installation incorporates a number of different mini-spaces, from a hotdesk to a dedicated relaxation zone to a playable puzzle designed by Marcus Piper in the form of a tangram table.
For more information, visit the American Hardwood Export Council website.
Eto table from King Living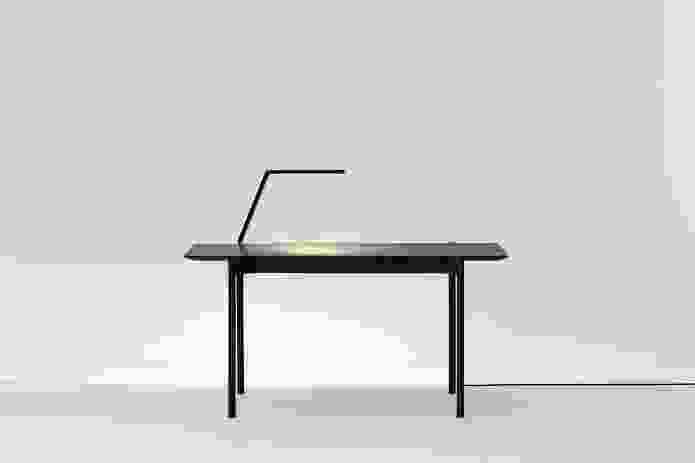 Designed by Tom Fereday, Eto is the first desk in the world to offer interchangeable lighting and charging accessories. The desk integrates power, wireless charging and lighting seamlessly into one sophisticated minimal design allowing people to truly customize the table to suit their needs. An adjustable light and wireless charging table can sim​ply be plugged into any leg junction and customised to suit anyone's needs.
For more information, visit the King Living website.
Artichoke lounge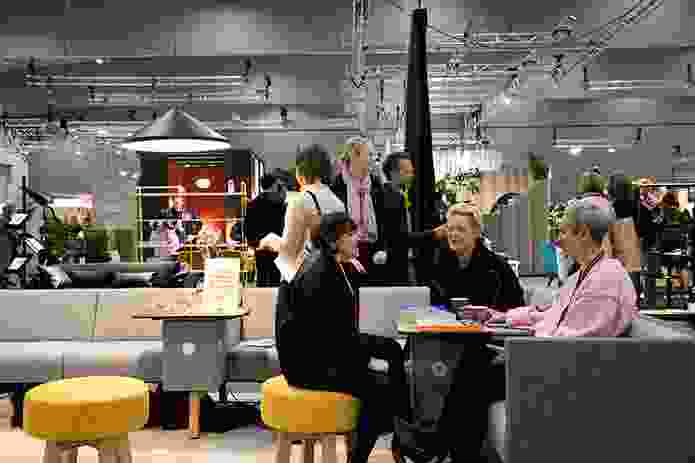 It would be amiss of me, as the editor of Artichoke magazine, to not mention our own lounge space at Denfair. Supported by Polyflor, with task lighting by Koda and productivity solutions from How Group and TCW, the Artichoke lounge became a sought-after space to stop and relax, hold meetings, charge devices or enjoy a range of Architecture Media titles, including Artichoke, Houses, Architecture Australia and Landscape Architecture Australia.
For more information, visit the Architecture Media website.