Editor's picks: Open House Perth
An eclectic mix of iconic public buildings, private homes and other exceptional examples of architecture will be open to the public in the Western Australian capital for the sixth edition of Open House Perth from 11 to 12 November.
More than 40 new buildings have been added to a program that covers the breadth of the city and includes projects ranging from the award-winning City of Perth Library, to ArchitectureAU's most popular house for 2016, the Exploding Shed House.
The Open House platform was founded in 1992 by a group of British architects and has since been exported around the world. The 2017 Open House Perth follows similar events held in Melbourne, Brisbane, the Sunshine Coast and Ballarat.
Open House Perth creative director Carly Barrett writes that Western Australia has some of the most exciting architects and designers around. "It's also home to some of the most passionate design enthusiasts who are helping to transform our expectations of good/sustainable design by commissioning great design," she writes.
"Open House Perth gives people unique access to great examples of these projects along with key locations from our past, in order to help understand why they are good – its like doing a crash course in architecture and design."
With Perth getting larger and blocks getting smaller, the 2017 program will include several houses that show "its not about how much space you have but how you use it." Houses that use reclaimed materials, readily available materials and passive design principles have also been included, along with projects that make good design available to everyone. 
Public Buildings
City of Perth Library, State Buildings (CBD) 
Kerry Hill Architects has led a bold and ambitious redevelopment of Cathedral Square, at the historic heart of Perth since 2009. The project including the restoration of the State Buildings and the construction of a new library. The City of Perth Library is the first major civic building built by the City of Perth for over 40 years, with a distinctive diagonal truncation that allows winter sun to enter the plaza area. Its 3,500 square metres of floor area features a triple-storey reading room, defined collection spaces, AV/multi-function meeting rooms, a green wall, a double-height winter garden for the children's area and a generous terrace with stunning views.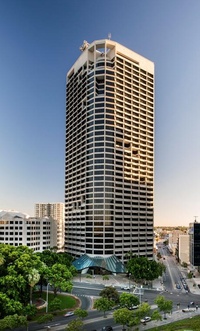 QV1 (CBD)
Designed by Harry Seidler and completed in 1991, the QV1 office tower has received multiple national architecture awards and was named by Seidler as his best building. The 40-storey modernist office tower incorporates large amounts of public space and is shaped to maximize panoramic views toward the Swan River.
Old CBH Building (West)
The Old CBH building is another building that received national awards on its completion in 1968. This west Perth multi-storey office building was one of Perth's first solar-passive-designed commercial buildings. Designed by prominent Perth practice Summerhayes and Associates, it was constructed for Co-operative Bulk Handling (CBH), which occupied the building until 2003. The building was heritage listed in 2015.  "This building was built at a time when Australian architects began to use technical and creative innovation to design buildings that challenged ideas of traditional architecture," Heritage Minister Albert Jacob said at the time. "The CBH building was one of the first to use concrete brise-soleil to influence internal building temperature. The north-facing sunshades tilt downwards to inhibit summer sun through the double-glazed and heat-absorbent windows, while the south-facing shades tilt upwards to encourage natural light into the building."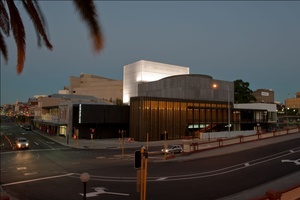 State Theatre Centre (CBD)
The State Theatre Centre, designed by Kerry Hill Architects and opened in 2011, provides a functional and inspiring space for a diverse range of contemporary performing arts. With a restrained materials palette of timber, concrete, dark brick and glass, the building features a 575-seat proscenium arch theatre and a smaller, flexible "black box" studio theatre stacked on top of one another. This move allows space for an open-air courtyard, and brings a sense of permeability to the centre.
Alex Hotel (CBD)
Designed by Spaceagency Architects with interiors by Arent and Pyke, the centrally located Alex Hotel challenges the conventions of ordinary city hotels. Eschewing the repetition that so often characterizes hotel design, it provides a sense of intimate domesticity and feels like a large home. The building received a National Commendation for Commercial Architecture at the 2016 National Architecture Awards.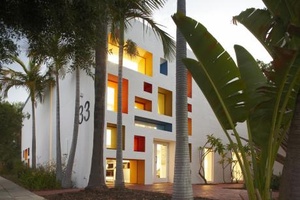 Australian Institute of Architects (West)
This building was originally built as a showroom for furniture designer David Foulkes-Taylor. Designed by European-trained, post-war architect Julius Elischer, it is distinctive for its deeply recessed windows influenced by Le Corbusier's Ronchamp chapel. The striking white masonry building was completed in 1965 and purchased by the Australian Institute of Architects in 2005. It now houses both the Institute's Western Australian chapter and the Architects Board of WA.
Claisebrook Design Community (East)
CODA Studio's Claisebrook Design Community is a contemporary co-working space that transformed an old warehouse in East Perth. The architects played on the design language of the sawtooth-roof warehouse, and used plywood and pops of colour to provide a vibrant, community-minded work space.
Houses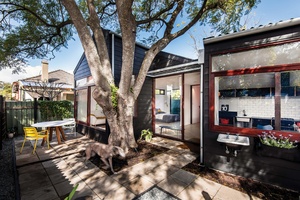 Exploding Shed House (East)
The Exploding Shed House by David Weir Architects was ArchitectureAU's most popular house of 2016. The one-bedroom, one-bathroom home is an experiment in urban infill that embraces its small footprint to celebrate the simplicity of home life. It also impresses with its bold materiality and strength of form.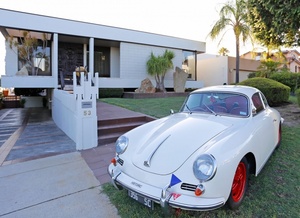 The Madaschi (North)
Ahead of its time when it was completed in 1970, this house was designed by one of Perth's most celebrated architects, the Bulgarian-born Iwan Iwanoff, who was known for his idiosyncratic use of concrete blocks in residential projects.
North Perth Bungalow (North)
 This 1937 Art Deco bungalow has been extensively renovated and extended by Arc Seven 1 to allow it to accommodate a growing family and the owners' busy design practice.  The objective was for a modern, energy efficient, light-filled addition which could grow with the occupants' future needs whilst not detracting from the character and charm of the original single storey house.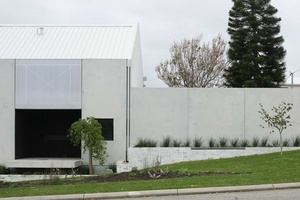 House A (West)
House A, designed by Whispering Smith, is the first of three carbon neutral dwellings in Scarborough made from high recycled content concrete panels and whitewashed recycled brick.
Chatham Road Residence (East)
This 200-square-metre house by Sid Thoo was designed in close collaboration with the builder, who was also the client. Intended to showcase quality eco-effective design and construction, the design is based on a series of timber-framed living, sleeping and wet area modules that can be flexibly deployed to suit different lot sizes, constraints and orientations.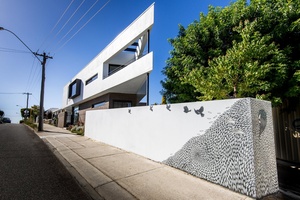 Triangle House (North)
This geometrically bold house by Simone Robeson represents the architect's and clients' belief in function over convention. It demonstrates to the public how much effective space can be created from small lots and the importance of architecture to achieve this creation. The geometric forms of the house are bold and unprecedented in its immediate surrounds. However, they add to the mix of cathedrals, block apartments, and character homes that prevail.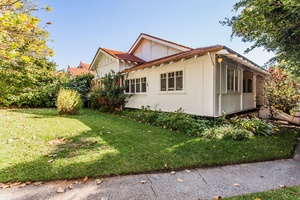 Curtin Family Home (West)
John Curtin, who as prime minister led Australia through the most threatening phase of World War II, and his wife Elsie built this house in 1923. Four generations of their extended family lived here before it was purchased by the Australian and Western Australian governments in 1998.
Architecture Studios
A number of architecture practices' studios will be open across the weekend, including: Cox Howlett and Bailey Woodland, Geyer Studio, Gresley Abas, Hassell, With Architecture Studio, Hillam Architects, and MJA Studio.
For more information, head here.