What are the pedagogical advantages of the intensive studio? Sandra Kaji-O'Grady reflects on the issue via two recent events, Superstudio and Urban Islands.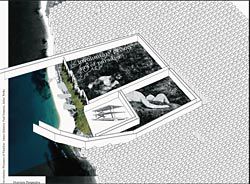 No architectural practice tackles just two consecutive projects a year, each of around thirteen weeks' duration, with long breaks between. Nor does any practice assume a cumulative and gradual process from conceptualization to a crescendo hovering impotently at the edge of resolution. Yet this is what the requirements of equitable assessment in a semesterized timetable establishes as a normative design process in the universities. The consistency and singularity of the university design project does not mirror the irregularity of practice, but this is not a problem of reality versus inferior artificiality. With students working increasing hours in practices, knowledge of the "real world" is less an issue than is intensity of engagement.
In pursuit of greater intensity many of the schools offer condensed studio programmes. These permit the engagement of individuals unable to commit to a whole semester – at UTS we have recently enjoyed short studios led by Anthony Burke of the University of California, Berkeley, and Peter Davidson of Lab. There are also intensive design programmes on offer outside the universities, such as the annual Total Immersion residential summer school led by Sydney stalwarts Leplastrier, Stutchbury and Johnston. All of these begin, as Tom Rivard notes, with dissatisfaction about the episodic nature of university programmes and the torpor that ensues.
With Olivia Hyde and Joanne Jakovich, Rivard put together an impressive ten-day programme focused on Cockatoo Island in Sydney Harbour that they called Urban Islands. It was run through the University of Sydney as an elective for forty. Their approach to the condensed format was, Rivard explains, "to put more into it (ingredients, processes, events) instead of less". They were also interested in the creation of the whole programme as a series of events possessing life and energy beyond the students and their work. There was a lively symposium, public lectures by international guests Jin Hidaka and Satoru Yamashiro from Tokyo, Lisa Iwamoto and Craig Scott from San Francisco and Jaime Rouillon from Costa Rica, numerous parties and visits to the island, and all of it documented for a forthcoming book.
Consequently, its impact went far beyond the students, who seemed overwhelmed by the picturesque site and not to have fully engaged with the rich political and social content of the programme. That said, they benefited enormously, but at some cost to the organizers. Rivard reluctantly notes that the preparation, organization and marketing of the event were so extensive and timeconsuming that it was a fairly unsustainable model. Even so, the team are bravely planning a more ambitious and residential programme for Cockatoo Island next year.
The finale of the Urban Islands project on 12 August coincided with another intensive design event, the student-initiated Superstudio 06. In its third year in New South Wales, it was hosted by UTS and expanded with the support of SONA to a national competition. The student committee settled for a generic site of which each state could find a local example – the urban beach and the adjacent car park that doubles as a promenade, skate park, illegal drag track, changing room, camp site and recently, in New South Wales, a battleground for ethnic difference. Carried out over a single weekend, the design esquisse and competition provided students with the opportunity to contribute to critical issues of the built environment, to work beyond their discipline and in cross-university teams. Students were asked to speculate and make proposals that addressed the connections between people, beach, cars and building infrastructure.
As with Urban Islands, Superstudio relies on a great deal of goodwill. In NSW alone, more than fifty architects and landscape architects volunteered to tutor and their input was supplemented by challenging talks by Dominic Wy Kanak, Greens member on the Waverley City Council; Peter Poulet from the Government Architect's Office; Dale Jones-Evans and artist Lisa Anderson. Student Andrew Toland observed that "many people felt a considerable sense of achievement at having undertaken an intensive analysis and design process in which the work they would ordinarily do over the course of a whole semester was distilled into a two-day period". In each of the states juries from the profession selected teams of finalists to go on to the national competition. Justine Clark of Architecture Australia; UTS Adjunct Professor of Architecture and director of Terroir, Gerard Reinmuth; and former RAIA National President Bob Nation then selected a team from Western Australia as the winners. Julius Welke, Paul Empson and James Quinton are heading to Venice for the Architecture Biennale.
There are comparable examples across Australia and abroad. Intensive studio programmes goad students to experience something of the theatrical intensity of an architectural practice the week before a competition proposal is due. They also engage with the wider community and profession as flashpoints for optimistic discussions about the learning and practising of architecture that venture beyond the familiar ground of graduate competencies and external constraints.
DR SANDRA KAJI-O'GRADY IS ASSOCIATE PROFESSOR AND HEAD OF ARCHITECTURE AT THE UNIVERSITY OF TECHNOLOGY, SYDNEY.