Winners of the inaugural AJ Woman Architect of the Year award, Cindy Walters and Michál Cohen deliver public architecture with a focus on educational buildings. From research, through briefing and design, to post-occupancy evaluation, Walters and Cohen take education seriously with a passionate understanding of their responsibility to deliver the best possible physical environments for learning.
Tania Davidge: I am really interested in the educational buildings that Walters and Cohen designs. They have this lovely crisp, clean feel to them. The schools seem very light and bright, and open to the landscape – they have quite a beautiful relationship to the outside. The buildings look robust but welcoming and there is a real clarity to the work, spatially, and in the clear and judicious application of material and colour. What is your attitude to designing for education?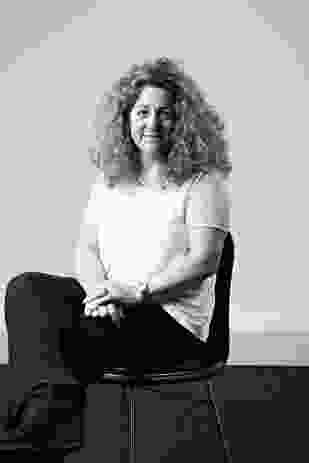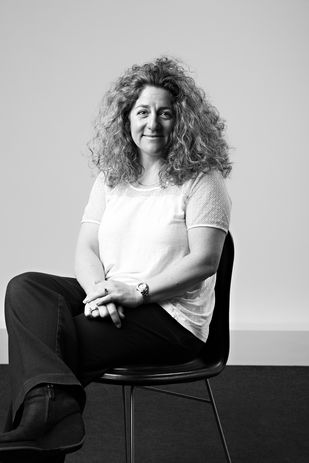 Michál Cohen: First of all, I think we feel an incredibly enormous responsibility as education architects. We don't only design education buildings but we do a lot of education buildings. And the responsibility is, and this is the way I think of it, that future generations are being educated in our buildings. So these buildings have to be the very best they can be to make sure that the very best teaching and learning can happen in spaces.
Environmentally they've got to have good air movement and be naturally well lit. These are things that encourage good learning but also encourage good teaching; they go hand in hand. The silliest little things – a stuffy classroom – means that people don't learn properly … or struggle a bit and it can be … a trigger that means that they're probably not going to take anything in that day. We owe it to them to make sure they've got the best physical environment in terms of light, ventilation, heat and things like that.
We owe it to them that these buildings stand the test of time and remain robust because they're public buildings and they're going to be there for a long time. It's often public money that you're spending or, if it's an independent school, it's a lot of hard earned money. Schools take a pounding. A thousand plus pupils moving through these spaces constantly through the day, a school has got to be robust, and they've got to be able to be easily maintained.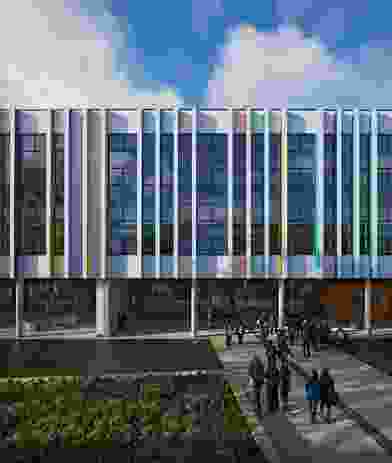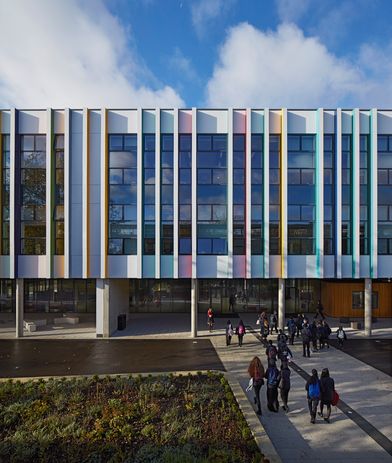 And then you get the softer things. You mentioned the word welcoming. We make sure that our schools are welcoming, open, and transparent, because it's very unlikely that anyone would want to go into a space where they can't see what's going on behind that gate. So the idea is of an open door, where you can just open the door off the pavement or very close to the pavement, and then the security happens beyond that. The idea is that the minute you step over the threshold of the school it should feel welcoming.
You ask about clarity and it's interesting to me that you picked this up, because I think we do think very carefully about what's going in the school. We want to make sure that our schools are easy to navigate and there's a sense to the way the adjacencies work. It's thinking about how the learning process happens and then allowing that to happen within the school environment and doing it in such a way that it's easy to navigate once you get into school.
School buildings are big and for a little child, a 2000-square-metre building, if it's full of … faceless and nameless … corridors is really intimidating.
You touched on the use of the outdoors when you asked the question. I was brought up and educated South Africa and for me the outdoors is as much of a learning area as indoors. I don't really care how cold it is, children go outside and love being outside. It's a wonderful resource, that link between indoors and outdoors. The ability to learn outdoors and socialize outdoors, it's just a no-brainer really.
TD: Absolutely.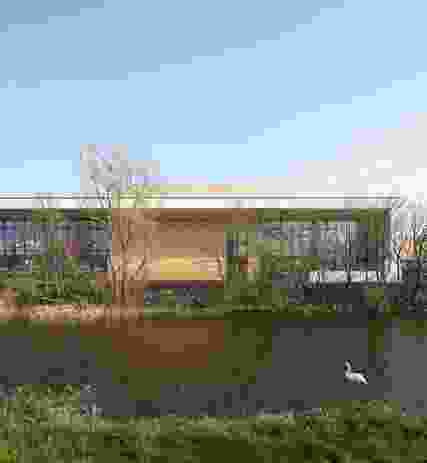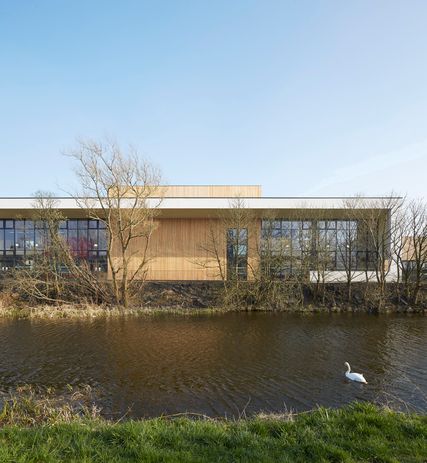 MC: And lastly, in terms of colour, I've spoken about materiality and robustness, but what I haven't really spoken about is colour because, I really do believe that colour comes from what's going on in the school. I know that very often you may get something that looks fairly bland, but as soon as you fill it with people, students and their work, it comes alive. So we use colour quite carefully and it's never little bits of colour it's always a big bit of a colour, if we're going to use it all. We prefer to get colour from the actual materials, because I think it adds warmth to school buildings.
I've focused a lot about the inside of the building in answering this, but the outside, for me, is as important. This is a civic building and it needs to feel like a civic building. For many people it's the first civic building they'll ever experience, so we're raising ambitions from the beginning, you know, from four year olds onwards really.
TD: And by putting a child in a beautifully designed building or thoughtfully designed spaces, you'd hope that they would start thinking about the spaces that they inhabit?
MC: I think it's almost intuitive actually. Many people go into a space and don't know why they like that space but they like it. If you start to analyze it you find it's because it's beautifully proportioned, it's naturally ventilated, all of these things that you almost take for granted. I think students pick it up incredibly quickly. But I'm not naïve to think that the building is going to make all the difference to the education, you know, I've seen some amazing learning and teaching happening in very, very, very poor environments.
TD: What do you think the primary role of architecture is in relation to education?
MC: I think what underpins our work is a real desire to understand what's going on inside this building. It's more than just knowing that there is a teacher teaching so many people, for me, it's understanding how learning happens. It's fascinating, the research that we've done in terms of the way learning happens. Everyone's individual in the way they learn and everyone's individual in the way they teach. What we need to do is to take those different ways of learning and teaching, and provide the physical environment, translate it into an environment that meets everyone's requirements.
TD: Absolutely. What do you see the key directions for education are and what are the key opportunities in the near future that educational spaces might draw on?
MC: I.T. [Information Technology] and what's happening with I.T. is going to change education spaces quite a lot. We started speaking 15 years ago about three dimensional learning in the round, where you can learn about the about the forest, by going into a space where you can actually immerse yourself virtually in it. I think the world has got smaller through I.T and I think that's what's going to change the type of spaces that we see in school.
I think we've got to respond to business needs. The good old days of just being able to regurgitate facts and figures is gone. This is about transforming education and learning and making sure that we have real creative thinkers. The question is, how do you do that? Maybe we have to bring in, what we call, personalized learning where pupils are self-directed. What kind of space is going to address that?
And then there is teamwork. Speak to any business organizations and they'll say they are finding the people that are coming directly out of school, are not fit to be in a business environment because they don't have some of these softer skills. I think we're really good at the English, Maths but how do you become a good communicator? How do you become a good team worker? How do you begin to think creatively? I'm not sure that at the moment our school environments are set up to allow that to be encouraged, but I am seeing it changing and my role is to facilitate these discussions, to open the eyes, and in fact, very often the discussion is more important than the final results.
I'm talking myself out of a job!
TD: I know from watching my own children that it's absolutely fascinating to watch children learn. There's something beautiful about it, especially when they're enthusiastic and completely engaged, it's quite wonderful.
MC: Very rewarding. I'm so lucky to be operating in a sector which gives me so much pleasure, seeing the changes that we can make.
I remember one of the first schools we designed, a little school called Redbrook Hayes, which is effectively a school without any corridors. It was a little primary school, of about 250 children, in a very, very, very depressed part of the Midlands where employment was at an all-time low. They'd lost employment through the mining issues so there were a couple of generations that had never been employed, and you can imagine the depressed nature of the community. We got involved and did a lot of consultation. We consulted with every pupil in the school, not on a one to one basis but certainly in smaller groups. We got the teachers involved in what we were doing. The local authorities, the local politicians were involved and we built up the school, and I get goose bumps just thinking about it, because it was such a risk for them.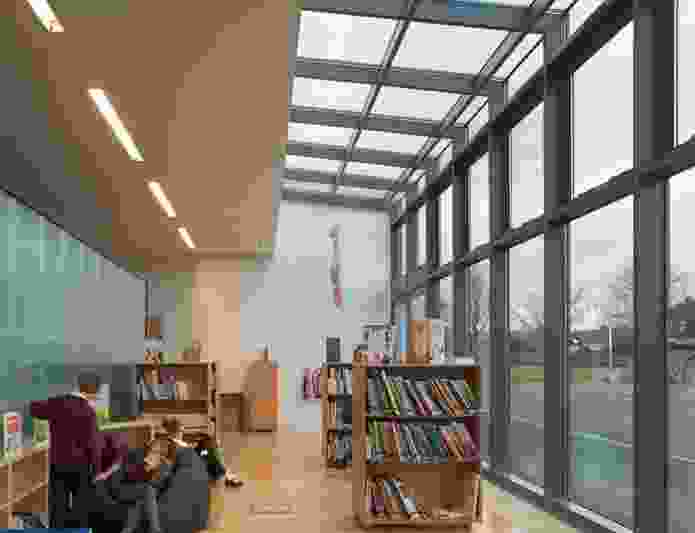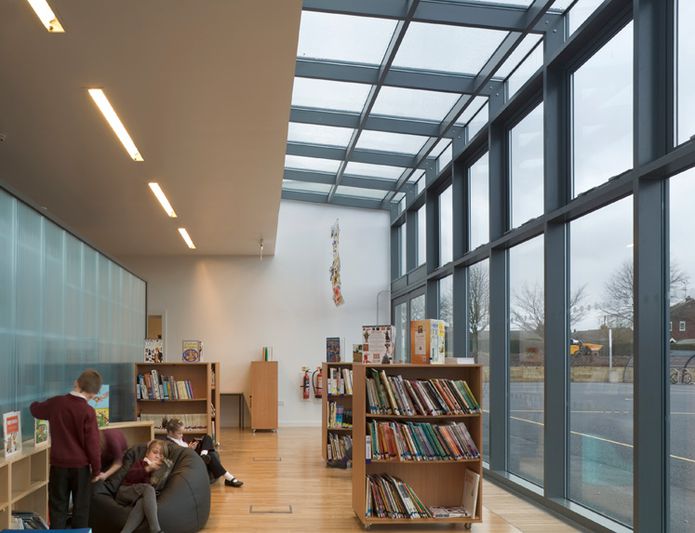 We were doing something quite different and I was thinking oh my god, what if this doesn't work? But I can remember going back to the school about four or five years later and the Head, who was still there, said, "you know Michál, we still haven't had a child in the naughty book" – if the kids were naughty their names got put down in the naughty book – "since we moved into the school, we have not had a child in the naughty book."
I asked her, "Why do you think that is?" And she said, "First of all, they really appreciate that someone has cared enough to actually give them a new school and secondly, the transparency through the school." The way we had designed it meant that there were no kind of hidey holes, there were no places where mischief could go on, because without actually being watched, you could be watched from many different places. And she said, "Lastly, it is a more mature environment." Not in terms of putting in things that were not suitable for younger children but that we had an expectation of them, that they were part of this process and that this was something that they would respond to.
And she said, "It's just incredible." When she sees pupils arriving in the morning they've grown in confidence. They're proper members of a school community where everyone is engaged and when they leave they go back to these really depressed homes. She said, "This school is their safe haven" and that was all through the design process, just the process, the discussion. I think the discussion is as important as the end product.
TD: I am interested in how your interest in education affects your wider role as an architect.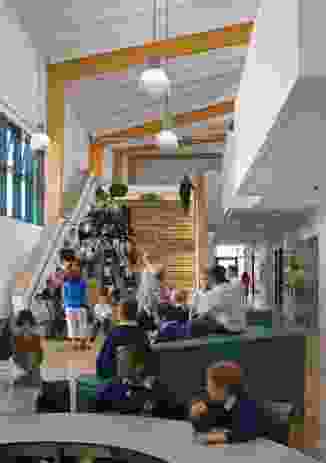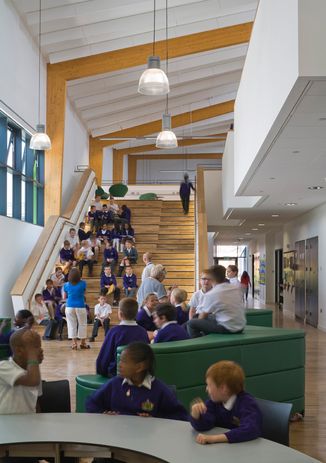 MC: I think what working in the education sector has done for us in bundles, is that we've had to learn to communicate really well. Because we have to communicate to four-year-old children, up to 80-year old people and everyone in-between and we've got to find the right ways of communicating. So it's about communicating ideas, it's about communicating proposals; it's about moving the language together so we all understand. I think that engagement is fundamentally essential to what we do as architects and I think we forget that we trained for a long time to actually learn to draw and understand drawings and things, and it's getting easier and easier with three dimensional drawing packages to tell people what this is going to look like but difficult to tell them what it's going to feel like.
TD: That's nice, I like that. It's very true isn't?
MC: We work so hard at the feeling of the space, because it could look brilliant, but if it doesn't feel good, you have wasted your time and energy and so, the communication process is so important and so varied. We do visits together, we do one-on-ones, we do workshops, we do whatever it takes to get clear communication and I think it's essential. I do think that the education sector has been very good for us in that respect, it's forced us to communicate and actually forced us to work really closely, to be a strong team. I may have ideas, but actually the whole, all of us, own this process and therefore the end result.
Michál Cohen will be speaking at the Design Speaks Old School/New School forum in Melbourne on Wednesday 18 May 2016. For more information on the forum or to buy tickets, click here.
Old School/New School, presented by Architecture Media, is part of Design Speaks, a series of talks, seminars, forums and conferences on and about architecture and design, for design professionals and their clients and interested members of the wider community.
Old School/New School is supported by principal partner Shape, major partner Architectural Window Systems and Design Speaks Symposia 2016 presenting partner Taubmans.
Related topics