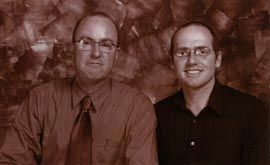 JURY CITATION The joint submission from the two winning applicants presented an overview of nine years of progressive programme development in which building technology units (construction, structures and materials) have been integrated with architectural design.
The submission included copious illustrations as well as testimonials from several students, demonstrating effective and engaging teaching and learning practices.
Several external practitioners who have been invited to participate in the structured studio sessions and intensive weekend workshops echoed the students' enthusiastic support for Tout and Parkin's team teaching.
Through the introduction of sophisticated computer modelling, Tout and Parkin have progressively enriched traditional design studio practices of testing design propositions through drawing and scale models. Students have achieved impressive results in their explorations into architectural form. Their adventurous designs are clearly informed by the structural tectonics and constructional logic championed by their tutors. More recent student projects have been designed, modelled and illustrated and presented entirely with 3D computer modelling, and without apparent decline in design finesse or resolution.
Tout and Parkin support their design studio teaching with input from external professionals such as structural engineers and CAD documenters. They have secured very inexpensive software for each student and they engage industry experts in training sessions to ensure all students are skilled enough to undertake their programs. In addition they have established a comprehensive web site enabling students full access to teaching resources and manufacturers' data relevant to their design programs.
The ongoing research by both applicants is clearly being integrated into their team teaching. Tout has previously researched and documented the application of computers, traditional drawing, physical models and design prototypes in some of the leading contemporary architectural practices in USA. He has progressively moved his students towards a fully integrated digital design process. For his PhD, Parkin is researching developments in ventilated double skin glazing facades and cladding systems, considering their applicability for Australian office buildings.
Students' virtual designs are supplemented by regular field trips to selected building sites to review physical materials and construction methods. Tout and Parkin's undergraduate students demonstrate a sound understanding of building fabric and structure together with a sufficient command of computer software to equip them with enough knowledge and skill to freely explore and develop their expressive designs.
Furthermore, the jury considered that Tout and Parkin's teaching program has the capacity to include in |the early design phase the environmental research and analytical testing being taught elsewhere in the course.
EDUCATION PRIZE JURY - Graham Jahn (chair), Alisa Ward, Paula Whitman, Michael Ostwald, Geoff Warn