Elenberg Fraser has updated its design for two towers in a heritage-rich precinct of Melbourne's Southbank, reducing the overall scale, retaining heritage facades and adding a hotel to the mix.
The project at 3-83 Kings Way and 127-129 Kavanagh Street first won planning approval in 2011, at which time it was to house 794 residential dwellings.
Updated plans, which will be considered by Melbourne councillors at a meeting on 21 May, include 328 dwellings and the introduction of a 350-room residential hotel, including two bars.
The towers' built form response has also been updated, with changes made to building heights and setbacks, and an overall reduction in gross floor area and plot ratio. Heritage facades that were previously to be demolished will now be retained.
The heritage building in question is the former Austral Otis engineering works, which is currently being considered for individual significance status as part of an amendment to the Southbank Heritage overlay.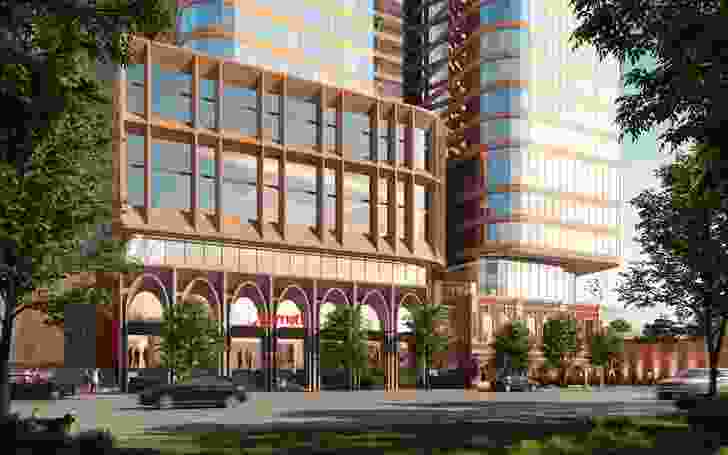 That amendment proposes that Austral Otis is of historical and aesthetic significance as "a distinctive and long-lived engineering firm which pioneered the development of steam and electric power installations in Melbourne."
The Kavanagh Street office building, it says, "is of architectural significance as an elaborately resolved Victorian Italianate masonry façade to a shallow two story office space and backed by characteristic timber and steel framed and corrugated iron double height factory shell."
The state government's planning minister has authority over the project's approval and has referred the application to council for comment. Council officers have recommended that councillors do not object to the proposal, on the grounds that the amended development will not increase the level of non-compliance with the design and development overlay.
"Overall, the proposal provides a less intensive and more contextual design response that significantly enhances the development outcome through the incorporation of the heritage building, improving the engagement with the street and Boyd Park and the increased visual interest of the podium and tower," the council planners state.
The matter will be considered at the Future Melbourne committee on 21 May.