It's something of a feat to combine points of architectural interest and a sense of discovery with catering for the needs of a young family and achieving privacy. It is even more impressive to do this on a tight and exposed site containing a typical Melbourne four-bedroom, Victorian timber house with a run-down – in fact, just plain nasty – existing extension. Somehow Bower Architecture has managed it, though, with a thoughtful renovation/extension that overturns either conscious or unconscious expectations of what could or should be done with the raw material that they had been handed.
The long, narrow, rectangular site is on the corner of two residential streets. The owners were convinced that the original house, which faces east from one of the shorter sides of the rectangle, was worth keeping, but knew that they wanted to get rid of the unworkable old extension at the back in favour of a new one.
Rather than taking a "look-at-me" approach with the new extension along the long south profile, Bower Architecture has opted for modesty. "A lot of what the extension is about is turning its back on the street and getting privacy and best light," explains the firm's Jade Vidal. "Those were the things that drove us the whole way through. Our general approach was to put the service areas on the side and keep them quite low and quite discreet, and let the existing house have a presence."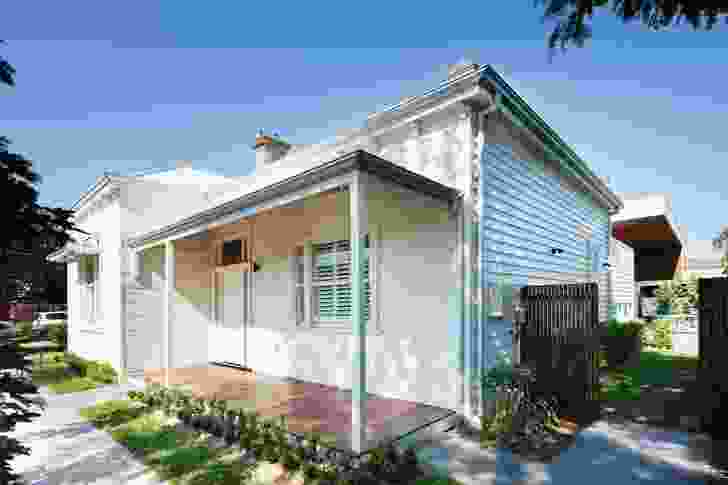 It is only when you scoot round the footpath to peer down the other side of the house that you notice that there is something rather interesting going on here. A perfectly scaled, spotted-gum-lined roof overhang projects out from the living spaces on the north (garden) side of the house, and while it has a practical use in terms of sun control, it also beautifully cradles the existing dwelling, and in doing so eliminates any sense of overscaling.
"A lot of extensions just piggyback the original house and there's no transition between the two," says Jade. "It's obviously of a different period – simple clean lines – but it still makes that gesture to the existing house. It says, 'I've got a similar sort of height to your roof, I'm not trying to dominate you, but I'm still my own new thing.'"
Many other new things are found when you step inside. The main bedroom has been extended into the former fourth bedroom and now boasts a walk-in robe and ensuite. The two children's bedrooms have had new robes and fashionable pendant lighting added, and there is also a playroom and a generously sized main bathroom. New oak floors have been installed. For the architects, simplicity was the overriding ethos here.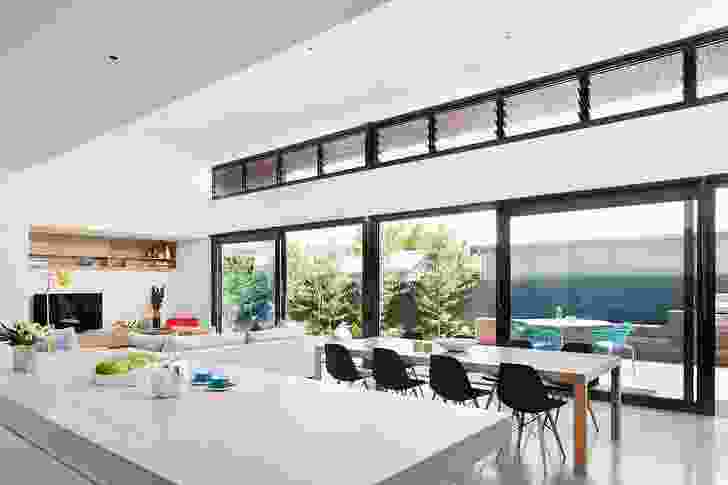 Excitement then beckons again in the form of a "low zone" between the original house and the new extension. The roof has been pushed down to 2.4 metres – "Especially when you've got generous ceilings either side, it can really add to the drama of the space by pushing it down and inverting things a bit," says Jade – and the space is mostly dark apart from a much-debated-over small window above. A large pivot door adds a further element of drama. This area is both sophisticated and practical, providing the house with a proper transitional space – in this sense it is an internal counterpart to the exterior canopy.
Cloistered semi-darkness turns into glorious space and light as you enter the new part of the house, which contains the open-plan kitchen and main living area. The skill of the architects is obvious here: rather than being one of those oh-so-trendy, warehouse-style cavernous spaces, it is an open plan that is truly at the human scale. Incorporated within it is a private study. "This is a good example of how if you get the size of the spaces right you get an extra room like this," says Jade.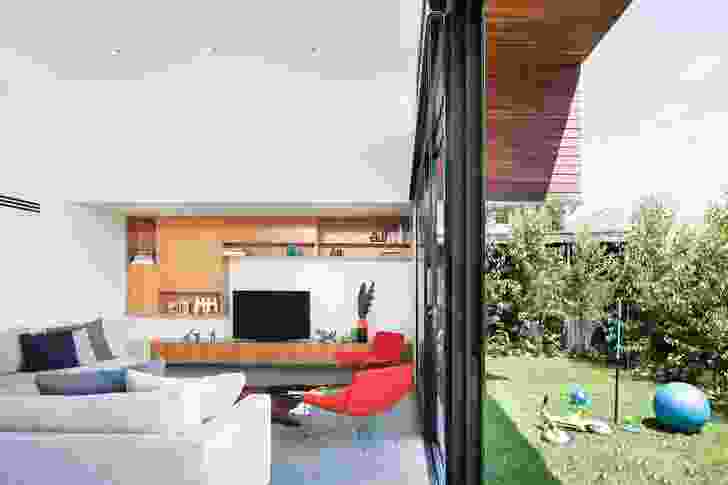 Closer to the west side, the ceiling rises to four metres, a gesture that increases the sense of openness and airiness but doesn't cause the space to lose its human feel. Service areas and a garage are hidden along the south side behind the large, monochrome kitchen, which looks out onto the back garden.
Essentially, the extension has been rotated ninety degrees from the traditional orientation, meaning that the four-metre-wide "back" garden is actually a north-facing side garden. Accessed through full-length and height glass doors, it is private, captures the western sun, and looks up to the timber underside of that stunning roof canopy – an interesting contrast to a rustic deck of unstained shipping-pier ironbark. Overall, the garden is generous enough for outdoor parties and the hijinks of children and pets, and entirely private.
The garden marks the end of our journey through this home. Admittedly, that word is horribly overused, but it is apt here: this house is a journey of discovery, and into a clearer sense of what makes an inviting family dwelling.
Products and materials
Roofing

Lysaght Trimdek.
External walls

Linea Scyon weatherboards in Wattyl 'Flokati'; shiplapped spotted gum.
Internal walls

Mafi pre-finished oak floorboards in white oil finish; Wattyl 'Orchid' paint.
Windows

Capral aluminium frames with powdercoated charcoal satin finish; Aneeta sliding windows; Melbourne Plantation Shutters shutters; Silent Gliss blinds.
Doors

Brio Single Run 180 sliding systems with Capral 200 Series doors; Parisi door hardware.
Flooring

Mafi pre-finished oak floorboards in white oil finish; polished concrete slab.
Lighting

Inlite downlights; Beacon Lighting pendants.
Kitchen

Smeg freestanding cooker; Miele integrated dishwasher; Fisher and Paykel fridge; Honed Carrara marble island benchtop and splashback; stainless steel and white 2-pac joinery; Abey mixer.
Bathroom

Sinks, accessories, toilet and Milano tapware all from Rogerseller.
Other

Family room joinery in crown-cut Melaluka from New Age Veneers.
Credits
Architect

Bower Architecture
Melbourne, Vic, Australia
Project Team

Jade Vidal, Anna Dutton, Chema Bould, Rose Heeley, Ben Shields
Consultants

Builder Owner
Engineer Maurice Farrugia and Associates

Site Details

Location Elsternwick, Melbourne, Vic, Australia
Site type Suburban
Building area 262 m2

Project Details

Status Built
Design, documentation 6 months
Construction 12 months
Category Residential
Type Alts and adds, New houses

Source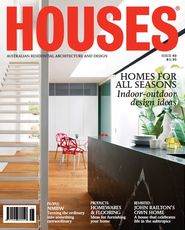 Issue
Houses, December 2012
Related topics