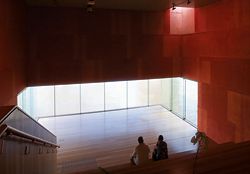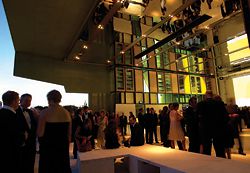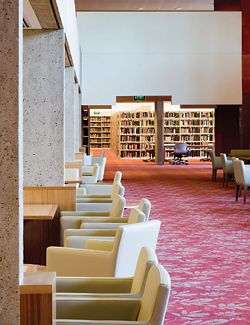 Jury Citation
The State Library of Queensland speculates on new forms of a "public" interior by transposing qualities normally associated with domestic interiors onto a public scale and use. A notable series of "public rooms" have been created. Beyond the necessities of the functional brief, these spaces have a transformative effect. They are spaces with a generous spirit, intended to provide the public with more than a chair in which to read or a desk with a computer. Among these is an upper-level room (actually an open terrace) that acts as a function space, lined with cabinets of teacups. Each cup has a story, a public story to be added to over time – the walls talk. The Red Room, hanging out over the river promenade, disrupts the orderliness of the library reading areas, demanding that you enter it, or take a book to it, or sit in the view, or attend an informal talk. It's a space stubbornly resistant to a specific function, but also full of functional possibilities.
The central entry space – a cross-precinct link called the Knowledge Walk – is another unorthodox but highly successful public room. It has all the expected comfort and qualities of an interior multi-level foyer, in terms of materiality and finish (not a vandal-proof light fitting to be seen), but is also open to the elements and to 24/7 access.
These specific rooms fit within the exemplary interior of the functioning library, which is accommodated in spaces with the character of the great nineteenth-century reading rooms.
The project offers new ways to think about interiors, especially public interiors. It moves well beyond formulaic interior design or ubiquitous corporate space. Rather, it presents ideas that are relevant to making generous and civic-spirited contemporary public buildings.
For further coverage see Architecture Australia vol 96 no 2, March/April 2007.
Credits
Architect

Donovan Hill Peddle Thorp

Project Team

Timothy Hill, Brian donovan, Damian Eckersley, Jeffrey Briant, Frank Way, Brett Hudson, Lucas Leo, Mark Floate, Greg Lamb, Fedor Medek, George Taran, Ron van Sluys, Ines Hallmond, Graham Mudge, Graham Hobbs, Rosario Distaso, David Evans, Mark Damant, Seth Remaut, Tania McLachlan, Phil Hindmarsh, Kevin O'Brien, Michael Hogg, Lisa Matray, Yee Chong, Louise Hamilton, Paul Jones, Michael Moore, Chris Hing Fay, Ceirwen Burton, Ben Killeen, Eden Norris, Stephanie Donigi, Michael Rasi, Gary Cannon
Consultants

Acoustics ERM
Audiovisual Point of View
Construction manager Lend Lease
Electrical, security, communications & fire engineering Aurecon
Environmental consultant AEC
Equitable access consultant DAC
Hydraulic consultant Aurecon
Landscape EDAW Gillespies
Lift engineer TDC
Mechanical consultant Lincolne Scott
Project manager Project Services
Structural and civil consultant Arup Sydney
Traffic consultant Arup Sydney
Wayfinding Dot Dash

Site Details

Location Brisbane, Qld, Australia

Project Details

Status Built
Category Public / commercial

Client

Client Arts Queensland

Related topics