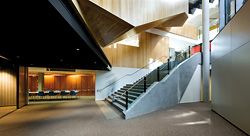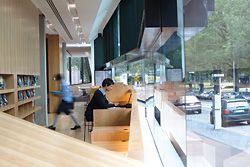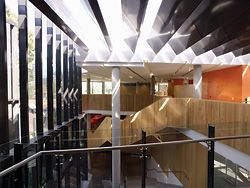 Jury Citation
This new library, knowledge hub and learning centre for Melbourne Grammar School is a triumphant addition to this impressive campus. The interior architecture of the Nigel Peck Centre is experienced as an intriguing architectural drama, where the unfolding hierarchy of events seamlessly resolves into a delightful and impressive array of inspiring places. The dense program of functional requirements and supporting equipment is skilfully accommodated within a geometric strategy that celebrates a complex interweaving of spatial variety. The dexterity shown in the refined constructional detailing; the confidence with which colours, textures and materials are juxtaposed and brought to life with artificial and natural lighting; and the orchestrated glimpses and views to the exterior are a delight to behold.
The interior environment is completely fused with the architectural envelope to result in a singular continuum. The interior landscape's refreshing tone and playful character is a fitting accomplice to the visual and intellectual content and purpose of the collaborative learning centre. The school has fully embraced architecture as an educational experience and the architects have met this invitation with an edifying environment that will inspire its privileged users for many generations ahead.
For full coverage see Architecture Australia vol 97 no 3, May/June 2008 and Artichoke 23.
Credits
Architect

John Wardle Architects
Melbourne, Vic, Australia
Project Team

John Wardle, Stefan Mee, Andy Wong, Diego Bekinschtein, Barry Hayes, Nick Harding, Kirrilly Wilson, Stuart Mann, Toby Horrocks, Fiona Dunin, Paul Evans, Renee Weeden, James Juricevich, Oscar Paolone, Georgia Novak
Consultants

Acoustic consultant Watson Moss Growcott
Arborist Treelogic
Builder ProBuild
Building surveyor McKenzie Group
Disability consultant Davis Langdon (formerly Blythe Sanderson Group) Melbourne
ESD AEC
Graphic design Emery Studio
Heritage consultant Bryce Raworth
Hydraulic engineer GHD
IT Umow Lai Melbourne
Landscape Taylor Cullity Lethlean Melbourne
Lighting Webb Australia Group
Quantity surveyor Wilde and Woollard
Services engineering Lincolne Scott
Structural, civil & facade engineer Aurecon
Town planning Fulcrum Town Planners

Site Details

Location Melbourne, Vic, Australia

Project Details

Status Built
Category Public / commercial

Related topics