The epidemic propensity to reductivism that haunts the Age of Twitter is nothing new for residential architecture, where the challenges, tribulations and creative nuance of projects that run over many, many months are invariably condensed into pursuit of "the hero shot" - a single photographic representation that looks good in a folio, on a magazine cover, on a European design blog. Holiday houses are perfect fodder for this treatment because they often stand alone in the landscape and can be circumnavigated until the most dramatic perspective is achieved. In contrast, the desire to communicate an entire project in one image is not so easy to satisfy with inner-city architecture, and particularly with alterations and additions. This new-old house by Melbourne practice BKK Architects is such a project: it offers many wonderful views, both of the building itself and out from it to the surrounding area, but no singular, definitive perspective.
This wasn't always the case. The original Queen Anne residence couldn't help being defined by its ornate and romantic heritage-listed facade. Newly restored, it sits between neighbouring houses like a book of fairytales shelved in the reference section of a library. However, behind its conical tower, grand bay window and airy front rooms, a much more complex, contemporary story has been written.
BKK's modus operandi is to approach every residential project with a rigorously thought out design rationale (their Wrap House, for example, was derived from a two-dimensional shape folded in steps like origami) and this project is no different. A new, double-storey volume, appended to the rear of the old house, was conceived as a single solid rectilinear block from which a new geometry was to be carved. As architect Julian Kosloff says, the house hasn't so much been designed as "excavated." Planning requirements, specifically overlooking and overshadowing limitations, had an early influence but the overall shape was continually refined - chiselled? Shaved? Polished? - by the architects over many months.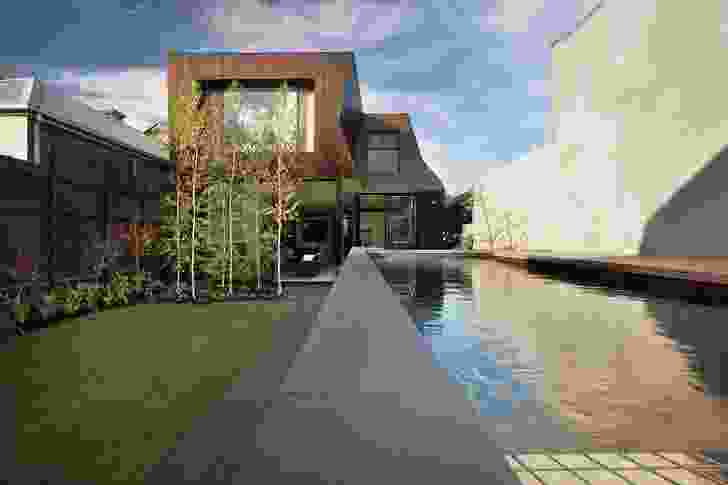 Programmatically, the house is quite simple. The rooms in the original building are arranged either side of a central hallway, which steps down a handful of stairs into a sleek, open-plan kitchen-dining-living space. Floor-to-ceiling windows provide views out to a central courtyard garden and luxuriously tiled above-ground lap pool. Along one side of the living area, the building's footprint steps in from the site boundary to accommodate a lightwell-cum-fishpond planted with bamboo, which serves to define the dining area as a separate zone within the larger space. A concealed stairway leads up to the master bedroom and ensuite, while another flight of stairs leads down to a bunker-like media room and walk-in wine cellar. ("Digging down so deeply, and with the water table so high in this area, we had to approach this like building a swimming pool in reverse," reports Julian. "There's a full pump system in place to keep water out.") At the rear of the site, a garage runs the full width of the block and incorporates a private, self-contained upper level designed to accommodate a range of uses, from studio/office space to guest quarters.
Even with all these wonderful interior spaces, the garden is unquestionably the centre of the home. With high walls on both sides and double-level buildings at both ends, it is imbued with that peculiar, intriguing sense of urban tranquillity - despite the calm and quiet, with the walls comes the knowledge that there is something beyond them: the city.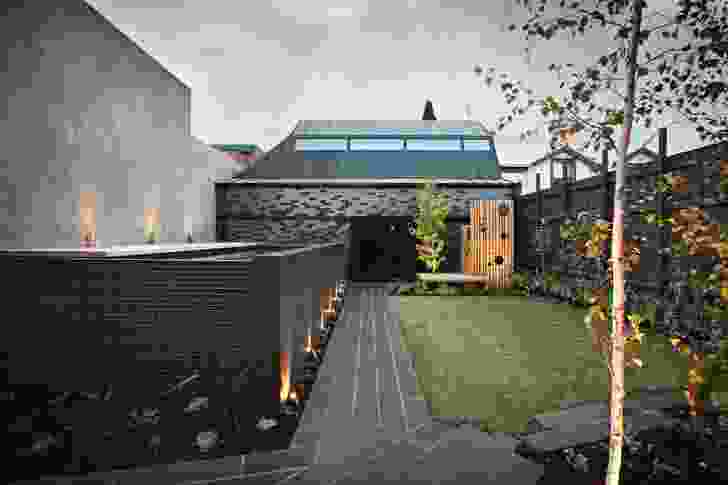 There is, unsurprisingly, a strong sense of connection between the ground floor living space and the outdoor area. It's almost as if the garden is pushed back into the house itself; upon arrival, visitors look down the hallway and through the living space as if through a telescope focused on the burgeoning verdancy of the outdoor landscape. Even on the first floor, the garden is pervasive. A stand of deciduous trees immediately adjacent to the rear of the house partially obscures the outward view from the master bedroom. The window here creates a sense of looking through the garden rather than at it. As the months pass, this experience will be enhanced: leaves will redden, fall and grow again; with the changing seasons, so the interior will change too.
A similar effect is achieved elsewhere in the house, where views out over rooftops create a feeling of being deeply entwined in the urban fabric. One view, through a window in the guest quarters, frames a row of similar, but not identical, Edwardian chimneys in a composition that would make Jeffrey Smart proud; another view, from the landing on the stairway to the master bedroom, looks back onto the lichen-stained tile roof and twin chimneypots of the original residence.
So, no hero shot, then - no all-encompassing, instant visual gratification. Rather, a portfolio of captivating, delightful scenes to be discovered and appreciated over a lifetime. I don't have to tell you which will be more rewarding.
Products and materials
Roofing

Lysaght Klip-Lok, 'Woodland Grey'.
External walls

VM Quartz Zinc, 'Black'.
Internal walls

Boral plasterboard, painted Dulux 'Vivid White'.
Windows and doors

Capral 625 Series 'Black'.
Flooring

Urban Edge tiles; Supertuft carpet.
Lighting

Lights and Tracks.
Kitchen

Gaggenau cooking appliances.
Bathroom

Rogerseller appliances.
Credits
Architect

BKK Architects
Melbourne, Vic, Australia
Project Team

Julian Kosloff, Simon Knott, Tim Black, Scott Woodward, Michael Roper
Consultants

Builder DDB Design
Engineer Tim Gibney and Associates
Interiors BKK Architects
Landscaping Modern Urban Design
Lighting Lights and Tracks

Site Details

Location Canterbury Road, Melbourne, Vic, Australia
Site type Suburban
Site area 509 m2
Building area 511 m2

Project Details

Status Built
Design, documentation 6 months
Construction 12 months
Category Residential
Type New houses

Source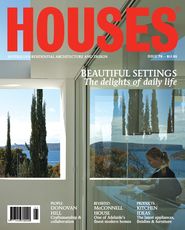 Issue
Houses, February 2011
Related topics